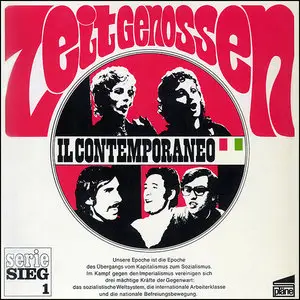 Il Contemporaneo Di Modena – Zeitgenossen (1971)
XLD Flac 24Bit/96kHz = 1 GB | Mp3 VBR0 16Bit/48kHz = 112 MB | Scans 400 dpi jpg | rar
Vinyl LP | Pläne Verlag | Agitprop | Italy
Never released on CD
From the German communist label "Pläne Verlag" a release recorded in West-Berlin by Italian communist activists. Only 5 musicians were left from the 10 who started the band. Online info only in Italian, scans with German infos & lyrics. On back cover and Discogs track 10 is listed as 3 different tracks, on record and label it's only 1 track.
Translation from the cover:
Our time is the period of transition from capitalism to socialism. The fight against imperialism unites 3 powerful contemporary forces: the socialist world system, the international working class and the national liberation movement.
Biography from Istituto Storico Modena:
Il Contemporaneo nasce nel 1967 dal Gruppo giovanile Arri di Modena, sul quale si innestano elementi provenienti dal Circolo della canzone popolare di Carpi. Il gruppo da subito si ritaglia un ruolo importante nell'ambito della Canzone politica giovanile, partecipa a numerosi festival musicali all'interno e al di fuori dei confini nazionali ponendo al centro della propria produzione temi come l'emigrazione, Vietnam, problemi dei lavoratori ecc. Il primo recital organico del gruppo è "La TV del mio stivale" (1969), una satira politica sul sistema televisivo, segue il 33 giri Zeitgenossen (che in tedesco significa Contemporaneo) interamente registrato a Berlino ovest, ed un secondo recital "Pelle o Classe" sulla discriminazione razziale. Nel 1972 il Contemporaneo si esibisce in cento concerti attraversando tutta la penisola, da Bolzano a Lecce. Nello stesso anno arriva il terzo recital dal titolo "Agnelli ti vede e ti punisce". Nel 1973 partecipano, insieme agli Inti Illimani tra altri, al Festival Internazionale della Canzone Politica di Carpi e si producono in ben 150 concerti, comprese due lunghe turnè in Germania e a Cuba. Nei testi si fanno spazio i temi dell'Internazionalismo e lo studio sul campo delle tradizioni di costume, di lotta e di vita delle province emiliane. Nel 1974 musicano un testo sull'eccidio del gennaio 1950 alle Fonderie Riunite di Modena. …
Tracks
01. Bella Ciao 02:03
02. Comandante "Che Guevara" 03:47
03. Sortiris Petrula 02:10
04. Io Non Sono 01:47
05. Dove Vola L'Avvoltoio 03:15
06. Se Il Cielo Fosse Bianco Di Carta 03:41
07. Drink Americano 03:12
08. Dormi Dormi 01:56
09. So Stato A Lavora A Montesicuro 02:10
10. Io Son Metalmeccanico · Non Ne Posso Più · Per Santa Caterina Dei Pastai 06:04
11. Uguaglianza 03:09
12. Signor Studente 03:44
13. Valle Giulia 02:55
14. Questo È Il Nostro Vietnam 03:49
15. Contessa 04:02
Total time: 47:37