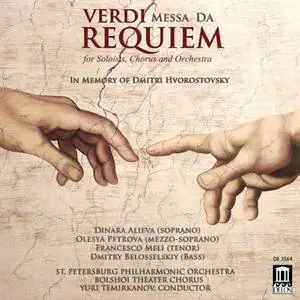 St. Petersburg Philharmonic Orchestra & Yuri Temirkanov - Verdi: Messa da Requiem (2018)
FLAC (Tracks) 24-bit/96 kHz | Official Digital Download | Time: 01:33:13
Classical/Orchestral/Choral/Vocal | Delos | Scans | ~ 1.77 Gb
In the wake of the beloved Russian baritone Dmitri Hvorostovsky's untimely passing in November 2017, tributes, memorials and musical event dedications have flowed non-stop. But none thus far has matched the sheer scope, power and sonic splendor of this all-Russian performance of Verdi's blockbuster Requiem Mass. The all-star cast of soloists—soprano Dinara Alieva, mezzo-soprano Olesya Petrova, tenor Francesco Meli and bass Dmitry Belosselsky—sing their hearts out for Dmitri, under the baton of the vaunted Maestro Yuri Temirkanov leading the St. Petersburg Philharmonic Orchestra and the Bolshoi Theater Chorus. The result is an incredibly heartfelt and moving musical tribute to one of the greatest baritones who has ever lived.
St. Petersburg Philharmonic Orchestra & Yuri Temirkanov - Verdi: Messa da Requiem (2018):
Tracklist:
01] I. Requiem-Kyrie
02] II. Dies irae
03] III. Offertorio
04] IV. Sanctus
05] V. Agnus Dei
06] VI. Lux aeterna
07] VII. Libera me
foobar2000 1.3.13 / Замер динамического диапазона (DR) 1.1.1
Дата отчёта: 2022-04-21 22:45:11

––––––––––––––––––––––––––––––––––––––––
Анализ: St Petersburg Philharmonic Orchestra & Yuri Temirkanov / Verdi: Messa da Requiem (Live)
––––––––––––––––––––––––––––––––––––––––

DR Пики RMS Продолжительность трека
––––––––––––––––––––––––––––––––––––––––
DR9 -0.20 дБ -15.67 дБ 9:42 01-Messa da Requiem: I. Requiem-Kyrie (Live)
DR9 -0.20 дБ -15.45 дБ 40:05 02-Messa da Requiem: II. Dies irae (Live)
DR13 -0.20 дБ -19.00 дБ 10:21 03-Messa da Requiem: III. Offertorio (Live)
DR8 -0.20 дБ -12.93 дБ 2:52 04-Messa da Requiem: IV. Sanctus (Live)
DR13 -5.39 дБ -26.73 дБ 5:12 05-Messa da Requiem: V. Agnus Dei (Live)
DR15 -0.20 дБ -20.54 дБ 6:45 06-Messa da Requiem: VI. Lux aeterna (Live)
DR9 -0.20 дБ -15.33 дБ 18:16 07-Messa da Requiem: VII. Libera me (Live)
––––––––––––––––––––––––––––––––––––––––

Количество треков: 7
Реальные значения DR: DR11

Частота: 96000 Гц
Каналов: 2
Разрядность: 24
Битрейт: 2686 кбит/с
Кодек: FLAC

All thanks go to the original releaser
Download St. Petersburg Philharmonic Orchestra & Yuri Temirkanov - Verdi: Messa da Requiem (2018):