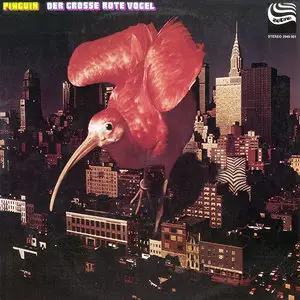 Pinguin – Der große rote Vogel (1972)
XLD Flac 24Bit/96kHz = 901 MB | Mp3 VBR0 16Bit/48kHz = 106 MB | Scans 400 dpi jpg | rar
Vinyl LP | Zebra 2949001 | Krautrock | Germany
Review by Apps79 on RateYourMusic:
The seeds of Pinguin begin in the mid-60s, when guitarist Markus Schaub, bassist Tom Wohlert, sax player Elmar Kast and drummer Klaus-Dieter Blahak all played together in the beat group The Jay Five. After its dissolution they formed Talix along with singer Klaus Gebauer and guitarists Markus Schaub and Joe Voggenthaler. Talix released one album, "Spuren," at the dawn of 1971, coming as a mix of Psych/Pop with Krautrock, and later in the year the band changed its name to Pinguin, signed by Metronome's prog-inclined branch label Zebra. The seven musicians recorded the album ''Der große rote Vogel'' between September and November '71 at Love Studios in Cologne and released it at the end of the year.
Another great example of innovative and dark Kraut/Prog Rock, "Der große rote Vogel" follows the lines of better-known Krautrock bands such as Eulenspygel, Eiliff and Tomorrow's Gift, incorporating influences from Jazz, Heavy/Psych Rock and Classical Music, delivering long and rich tracks full of impressive twists and convincing breaks and keeping a balance between complex, symph-oriented arrangements and loose executions. With seven musicians onboard, the music is extremely dense with extended instrumental passages, mixing the classical side of Rock Music with more abstract themes, based on powerful sax soloing and edgy electric guitars, sometimes sounding like Kraan having met with early Eloy on stage. There are also some beautiful, melancholic organ parts among the most furious ideas, supported by romantic flute drives, having an atmosphere somewhere between Psychedelic and Symphonic Rock. The closest Brtish comparison would be Van Der Graaf Generator minus the acoustic underlines, as Pinguin's style heavily relies on scratching saxes, deep Hammond organ and a semi-Jazz attitude with Classical overtones, resulting a rather haunting and dark-sounding album. All lyrics come in German and the vocals are the only part of the album escaping its deep, sinister guideline.
Reputedly Pinguin disbanded around 1973. A truly obscure German group, the only member of which to appear in yet another studio project was Elmar Kast, who was part of the light Jazz band Ocean Orchestra, a group of musicians that recorded a self-titled album in 1979 (including members of Kaarst, Association P.C., Release Music Orchestra and Key).
The album was reissued only some 35 years later by the bootleg label Minority, another reason why the band was not among Prog fans' priorities. Great, pounding and rich Krautrock with long and progressive tracks. Strongly recommended.
Tracks
01. Der große rote Vogel 10:44
02. Die Angst 04:10
03. Der Frosch in der Kehle 07:20
04. Der blaue Wind 06:36
05. Die Nachtmusik 06:29
06. Der Traum 06:12
Total time: 41:27
Musicians
Klaus Gebauer: Lead Vocals
Markus Schaub: Guitar, Percussion, Choir
Joe Voggenthaler: Guitar, Percussion
Volker Plitz: Organ, Percussion, Production
Elmar Kast: Tenor Saxophone, Flute, Percussion, Choir
Tom Wohlert: Bass, Bongos, Choir
Klaus Dieter Blahak: Drums