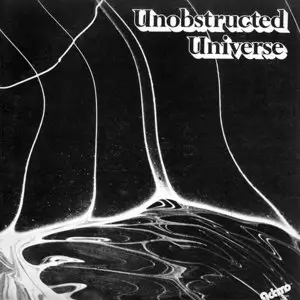 Unobstructed Universe – s/t (1976)
XLD Flac 24Bit/96kHz = 805 MB | Mp3 VBR0 16Bit/48kHz = 90 MB | Scans 400 dpi jpg | rar
Vinyl LP | Adamo ADS 9503 | Experimental Fusion | USA
From the back cover:
The first time I listened to this music, I was awed. It's so unlike all the other synthesis music, the Jazz Rock whatever. It's cosmic without being pretentious and down to earth without being trivial, at once freaky and funky, and altogether of the spirit, created in a free get together of the spirit. All that happens happens because they're creating it as they will, out of and into all that they happen to be. And the more I listened, the more I was out of and into myself, which is what this music is about.
Well, I've heard quite some strange records, but this one is really special. There's an unofficial Japanese CD release on the market.
Before Mr. Antipop complains about the quality of my rip, here are some more details:
Side A is over 30 minutes long, that means small and narrow grooves with more background noise than usual, and often you can hear the echo of the next groove.
Side B are mono recordings but from a 2-track tape with a lot of tape hiss and drop outs. I repaired the drop outs by copying the signal from the other channel and then reduced everything to real mono with one channel only.
For better handling I separated the long tracks to several parts, they should be played without any interruption.
Tracks
01. Unobstructed Universe Part 1 13:09
02. Unobstructed Universe Part 2 06:10
03. Unobstructed Universe Part 3 06:00
04. Unobstructed Universe Part 4 04:55
05. Dr. Suess Ballet Part 1 03:49
06. Dr. Suess Ballet Part 2 07:54
07. Dr. Suess Ballet Part 3 03:48
08. Untitled 01:46
Total time: 47:29
Musicians
Ron McClure: Bass (ex Blood, Sweat & Tears; Joe Henderson Quintet; …)
Arnie Lawrence: Alto, Soprano & Electronic Saxophone (ex Blood, Sweat & Tears; David Chesky; Spin Doctors; Charlie; …)
Ted Irwin: Guitar
Luther Rix: Percussion (ex Bob Dylan, Betty Midler)
Dick Hyman: Keyboards (ex Teddy Wilson, Red Norvo, Benny Goodman)
Mike Knotts: Keyboards