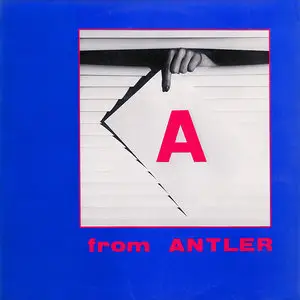 Various Artists – A From Antler (1984)
XLD Flac 24Bit/96kHz = 1.3 GB | Mp3 VBR0 16Bit/48kHz = 134 MB | Scans 400 dpi jpg | rar
Vinyl LP | Antler ANT 028 | New Wave | Belgium · Germany · UK
Never released on CD
From Discogs:
Antler Records is an Independent Alternative Music label from Belgium (Aarschot). It was founded in the early 80's by Roland Beelen and Maurice Engelen. Initially they launched the label Kleo, then in the early 80's, evolved into Antler Records. Sometime later, they merged with Subway around 1989, to form a new independent company: Antler-Subway Records NV, in order to follow the most recent dance movements of the time. They also did appropriate new beat clothing.
My copy of this New Wave label sampler came with a bonus 12" Maxi Single, a split record by Tank Of Danzig and Biting Tongues. On the cover of the sampler "Thank of Danzig" was mispelled. Mr. Feso Trombone's real name is Fesobi Olawaiye, and he formerly played with Fela Kuti in Nigeria.
Tracks
Sampler:
01. Tank Hymn · Tank Of Danzig · 04:16
02. Lac Leman · Nacht & Nebel · 03:34
03. The Third From The Left In The Top Row · 2 Belgen · 04:15
04. Last Dance · The Singles · 03:45
05. Still · Chow-Chow · 03:56
06. Acid Tabla · Suns Of Arqa · 03:38
07. Beginning Of The End · Feso Trombone · 05:01
08. The Room · Siglo XX · 05:23
09. We Don't Need No Carpet Baggers · C.U.B.S. · 04:13
10. Factory Walk · The Neon Judgement · 03:51
Total time: 41:46
Bonus 12" Maxi:
01. Tank Hymn · Tank (T)Rap · Tank Of Danzig · 07:43
02. Evening State · Lock Up State · Biting Tongues · 07:22