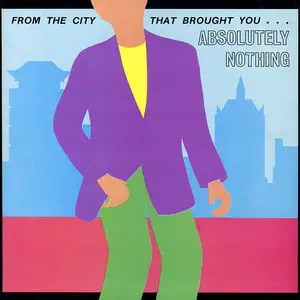 V.A. – From The City That Brought You … Absolutely Nothing (1980)
XLD Flac 24Bit/96kHz = 701 MB | Mp3 VBR0 16Bit/48kHz = 87 MB | Scans incl. Insert 400 dpi jpg | rar
Vinyl LP limited 400 copies | Out Of Print OOPS 1 | Blues Rock · New Wave · Garage · Punk | US
Never released on CD
From the insert with band infos:
This album presents to its listener a sample of the Rochester Rock'n'Roll scene from 1979 to 1980. It goes without question that some of the tracks are a bit crude, but it reflects the feel of the groups at their particular stages of growth.
From a Discogs seller:
Only 400 pressed! I should know, I produced it!
Tracks
01. The Checkers · You Can Dance 03:13
02. The Most · Rockerfeller 02:09
03. King Juke · You Can't Stay Here 04:23
04. The Klik · Keep Me Outta Your Dreams 02:33
05. The Targets · White Corvette 02:25
06. Toys · Jewel Jule 03:13
07. Killer Wasp · Rich Kids 04:53
08. The Hi-Techs · Pompeii 02:30
09. The Vores · Amazing Offer 02:01
10. The Times · Rock'n'Roll Reds 02:50
Total time: 30:07