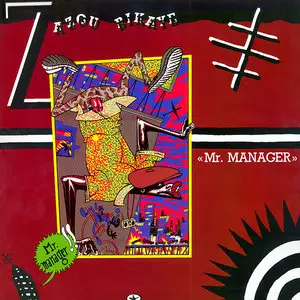 Zazou Bikaye – Mr. Manager (1985)
XLD Flac 24Bit/96kHz = 748 MB | Mp3 VBR0 16Bit/48kHz = 81 MB | Scans 400 dpi jpg | rar
Vinyl LP | Crammed Discs CRAM 039 | Belgium | Electronic Afro Beat
Never released on CD
Review by Robert Christgau:
Zairean Bony Bikaye's Felaesque chants (sans agitprop, avec Afrobeat girls) provide the identity, but the substructure is all French-Algerian Hector Zazou, whose synth arrangements are praised for their orchestral density and distinguished by their propulsive linearity. Most of the Afrogallic music I've heard makes too much (Toure Kunda) or too little (Manu Dibango) of its Africanness. This strikes me as an original balance: minimalist Eurodisco that trades pseudosophistication for pseudoprimitivism.
From Wikipedia:
Hector Zazou's groundbreaking 1983 album Noir et blanc (recorded with Congolese singer Bony Bikaye) garnered a lot of international attention, and is widely recognized as one of the earliest and most impressive experiments in fusing African and electronic music.
Tracks
01. Mr. Manager 06:01
02. Nostalgie 04:15
03. Soki Akei 04:47
04. (Little) Angel · Remix by Marc Hollander & Vincent Kenis 04:59
05. Angel 12:35
Total time: 32:34
Musicians
Bony Bikaye: Vocals
Hector Zazou: Synthesizer, Computer
Vincent Kenis: Guitar, Bass, Accordion
Philippe De LaCroix Herpin: Saxophone, Clarinet
Luc Van Lieshout: Trumpet
M'Bombo K., Mwamba Kasuba, Nicole MT: Backing Vocals
Bigoune, Chris Joris: Percussion