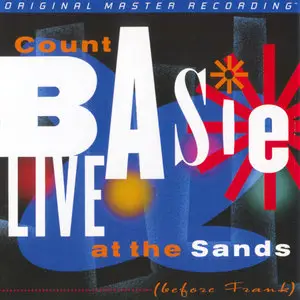 Count Basie - Live At The Sands (Before Frank) (1998) [MFSL 2013]
PS3 Rip | SACD ISO | DSD64 2.0 > 1-bit/2.8224 MHz | 53:00 minutes | Scans included | 1,62 GB
or DSD64 2.0 (from SACD-ISO to Tracks.dsf) > 1-bit/2.8224 MHz | Full Scans included | 1,52 GB
or FLAC (carefully converted & encoded to tracks) 24bit/48 kHz | Full Scans included | 648 MB
Mobile Fidelity Sound Lab # UDSACD 2113
Live at the Sands (Before Frank) is a live album by the pianist and bandleader Count Basie with performances recorded in Las Vegas in 1966 at the same concerts that produced Frank Sinatra's 1966 album "Sinatra at the Sands". The album is of the warm-up sets by Basie's band before Sinatra's performances. It was originally released on the Reprise label in 1998.
Frank Sinatra's collaborations with Count Basie were among the singer's better ventures back into jazz in the early 1960s, and led not only to a couple of great studio albums, and one superb live Sinatra album, but also to Basie's being signed to the Sinatra-founded Reprise label in the mid-'60s. The 53 minutes of music captured on Live at the Sands was recorded during the opening sets from three different shows in late January and early February of 1966, by Basie and his band during the engagement with Sinatra at the Sands Hotel that yielded that live Sinatra album. Maybe that raises the expectations, because this release is a slight disappointment – the band sounds OK, but except for Basie himself and drummer Sonny Payne, it seems like they're walking their way through some of this repertoire. There are a number of good moments here: "I Needs to Be Bee'd With," "Flight of the Foo Birds," "Satin Doll," "Blues for Home," and "This Could Be the Start of Something Big" (which is worth hearing for the ensemble work and Eric Dixon and Eddie "Lockjaw" Davis' solos); the band finally takes flight, but compared with some of the recordings of complete shows by Basie that are nothing less than great, a lot of this is secondary. Given the fact that it was Sinatra's set that was going to be taped for release for certain, the band may, indeed, have been holding back during its own set, for good reason. Even the audience response says it, positive and polite but not excessive – they were there for Sinatra, and nothing Basie and company did were likely to bowl them over, so why make the effort? It's not a bad set, and some of it – "Makin' Whoopee" (especially the call and response on the piano), "Corner Pocket," and "Jumpin' at the Woodside" – has great appeal. But this is overall a legendary band doing a somewhat less-than-legendary set, during some gigs that, in fairness, yielded up a great live album elsewhere. The quality is solid live sound, in crisp stereo from a nicely controlled mid-'60s venue, using state-of-the-art equipment.
Tracklist:
01. Introduction
02. Splanky
03. I Can't Stop Loving You
04. I Needs To Be Bee'd With
05. Flight of the Foo Birds
06. Satin Doll
07. Makin' Whoopee!
08. Corner Pocket
09. One O'Clock Jump
10. Go Away Little Girl
11. Whirlybird
12. Blues for Ilene
13. This Could Be The Start Of Something Big
14. Jumpin' At The Woodside
Count Basie – piano
Al Aarons, Sonny Cohn, Wallace Davenport, Phil Guilbeau, Harry Edison – trumpet
Al Grey, Henderson Chambers, Grover Mitchell – trombone
Bill Hughes – bass trombone
Marshal Royal – alto saxophone, clarinet
Bobby Plater – alto saxophone, flute
Eric Dixon – tenor saxophone, flute
Eddie "Lockjaw" Davis – tenor saxophone
Charlie Fowlkes – baritone saxophone
Freddie Green – guitar
Norman Keenan – double bass
Sonny Payne – drums


Conducted & Arranged by Quincy Jones.
Recorded January 26-29 & February 1, 1966 in the Copa Room, Sands Hotel, Las Vegas.
Mastered for this SACD by Shawn R. Britton at Mobile Fidelity Sound Lab, Sebastopol, CA.
foobar2000 1.6.6 / Dynamic Range Meter 1.1.1

––––––––––––––––––––––––––––––––––––––––
Analyzed: Count Basie / Live at The Sands (Before Frank)
––––––––––––––––––––––––––––––––––––––––

DR Peak RMS Duration Track
––––––––––––––––––––––––––––––––––––––––
DR14 -11.22 dB -28.70 dB 0:48 01-Introduction
DR12 -6.71 dB -22.19 dB 3:53 02-Splanky
DR12 -6.26 dB -19.84 dB 3:41 03-I Can't Stop Loving You
DR11 -6.25 dB -20.40 dB 3:52 04-I Needs To Be Bee'd With
DR12 -6.02 dB -20.99 dB 3:08 05-Flight of the Foo Birds
DR13 -6.22 dB -21.61 dB 3:59 06-Satin Doll
DR13 -6.08 dB -22.58 dB 4:21 07-Makin' Whoopee!
DR11 -6.08 dB -19.79 dB 5:33 08-Corner Pocket
DR12 -6.93 dB -22.53 dB 2:19 09-One O'Clock Jump
DR13 -6.91 dB -23.60 dB 3:30 10-Go Away Little Girl
DR10 -5.69 dB -18.83 dB 5:11 11-Whirlybird
DR13 -6.54 dB -21.64 dB 6:03 12-Blues for Ilene
DR12 -5.75 dB -20.31 dB 3:10 13-This Could Be The Start Of Something Big
DR8 -5.66 dB -17.28 dB 3:33 14-Jumpin' At The Woodside
––––––––––––––––––––––––––––––––––––––––

Number of tracks: 14
Official DR value: DR12

Samplerate: 2822400 Hz / PCM Samplerate: 176400 Hz
Channels: 2
Bits per sample: 1
Bitrate: 5645 kbps
Codec: DSD64


Thanks to PS³SACD!
Uncompressed SACD ISO size > 2,12 GB
>