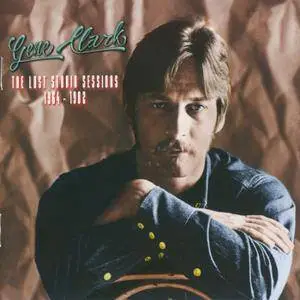 Gene Clark - The Lost Studio Sessions 1964-1982 (2016)
PS3 Rip | SACD ISO | DST64 2.0 > 1-bit/2.8224 MHz | 70:44 minutes | Scans included | 1,15 GB
or DSD64 2.0 (from SACD-ISO to Tracks.dsf) > 1-bit/2.8224 MHz | Full Scans included | 1,58 GB
or FLAC (carefully converted & encoded to tracks) 24bit/96 kHz | Full Scans included | 1,48 GB
Always forward-looking, always prolific, Clark left behind a rich legacy of professionally recorded music both released and unreleased. This album introduces previously unreleased studio sessions from Clark's pre-Byrds days in 1964, to his 1982 reunion with former bandmates, Chris Hillman and Michael Clarke, as Nyteflyte. Since his passing in 1991, many of Gene Clark's home demo recordings and various live recordings have been released. Actual studio recording sessions were rare and their existence was more rumor than fact until now! This collection of "lost" studio recordings has been lovingly restored by Sierra Records to ensure the best possible sound quality and is presented here for the very first time. This is essentially an alternate history of Gene Clark's most productive years as a songwriter. To call them revelatory would be to understate their importance.
24 tracks-Two CDs worth of music. Playable on both standard CD and SACD players, 36 page booklet. At long last, these 24 thought-to-be-lost recordings by the late, great Gene Clark is now in release on Sierra Hybrid SACD and Sierra High Fidelity on 2 LP audiophile vinyl set. These incredible recordings, which have never been released commercially, are from the original analog master studio recording sessions held in Los Angeles between 1964 and 1982. Gene Clark was one of the most influential musical pioneers of the rock era. A pivotal figure at the births of rock music's golden trifecta of hyphenated subgenres (folk, psychedelic and country) in the1960s, he earned his rightful place in the Rock 'n' Roll Hall of Fame as a founding member and principal songwriter of The Byrds. After leaving the Byrds at the height of their fame in early 1966, Clark embarked upon a fearless solo career that embraced everything from chamber pop and progressive bluegrass to acoustic ballads and sweeping cosmic prog. His rich body of work has spawned cover versions by a wide range of artists, including Robert Plant/Alison Krauss, The Eagles, Tom Petty, Linda Ronstadt and others.
Tracklist:
01. The Way I Am
02. I'd Feel Better
03. That Girl
04. A Worried Heart
05. If There's No Love
06. Back Street Mirror
07. Don't Let It Fall Through
08. Back To Earth Again
09. The Lighthouse
10. The Awakening Within
11. Sweet Adrienne
12. Walking Through This Lifetime
13. The Sparrow
14. Only Yesterday's Gone
15. She Darked the Sun
16. Roll in My Sweet Baby's Arms
17. She Don't Care About Time
18. Don't This Road Look Rough and Rocky
19. Bars Have Made a Presoner Out Of Me
20. One Hundred Years From Now
21. (The) Letter
22. Still Feeling Blue
23. No Memories Hangin' Round
24. I'll Feel A Whole Lot Better
Tracks "1-5" - Gene Clark, solo vocals, guitar. Recorded Spring 1964.
Tracks "6-7" - Gene Clark, vocals, guitar; Leon Russell, arranger; Hugh Masekela, horn section. Recorded January 26, 1967.
Tracks "8-14" - Gene Clark, solo vocals, guitar. Recorded Spring 1970.
Track "15" - Gene Clark, lead vocals, acoustic guitar; The Flying Burrito Bros with Chris Hillman & Gram Parsons. Recorded Spring 1970.
Tracks "16-19" - Gene Clark, vocals, guitar, harmonica; Clarence White, Spooner Oldham, Byron Berline, Sneak Pete Kleinow, Chris Ethridge, Michael Clarke, Claudia Lennear, Mary Clayton. Recorded July-September 1972.
Tracks "20-24" - Nyteflyte: Gene Clark, Chris Hillman, Herb Pedersen, Al Perkins, Michael Clarke. Recorded July 10, 1982.
foobar2000 1.6.11 / Dynamic Range Meter 1.1.1

––––––––––––––––––––––––––––––––––––––––
Analyzed: Gene Clark / ?
––––––––––––––––––––––––––––––––––––––––

DR Peak RMS Duration Track
––––––––––––––––––––––––––––––––––––––––
DR11 -6.24 dB -22.36 dB 2:38 01-The Way I Am
DR11 -7.04 dB -21.31 dB 1:50 02-I'd Feel Better
DR12 -7.56 dB -23.65 dB 3:05 03-That Girl
DR14 -6.85 dB -24.59 dB 3:41 04-A Worried Heart
DR11 -6.95 dB -22.00 dB 2:30 05-If There's No Love
DR12 -6.92 dB -21.63 dB 3:20 06-Back Street Mirror
DR12 -6.71 dB -20.36 dB 2:59 07-Don't Let It Fall Through
DR15 -5.73 dB -23.05 dB 3:11 08-Back To Earth Again
DR14 -5.93 dB -23.34 dB 3:02 09-The Lighthouse
DR13 -6.01 dB -21.11 dB 2:55 10-The Awakening Within
DR12 -5.63 dB -21.55 dB 2:23 11-Sweet Adrienne
DR14 -5.72 dB -22.87 dB 3:18 12-Walking Through This Lifetime
DR13 -6.63 dB -23.76 dB 3:27 13-The Sparrow
DR12 -7.22 dB -21.69 dB 1:55 14-Only Yesterday's Gone
DR11 -7.15 dB -20.33 dB 3:04 15-She Darked the Sun
DR11 -6.63 dB -20.27 dB 3:15 16-Roll in My Sweet Baby's Arms
DR11 -7.46 dB -21.38 dB 1:52 17-She Don't Care About Time
DR10 -7.16 dB -20.55 dB 4:27 18-Don't This Road Look Rough and Rocky
DR12 -7.08 dB -21.55 dB 3:07 19-Bars Have Made a Presoner Out Of Me
DR12 -5.60 dB -19.40 dB 2:39 20-One Hundred Years From Now
DR9 -7.59 dB -18.91 dB 3:23 21-(The) Letter
DR11 -5.42 dB -18.20 dB 2:11 22-Still Feeling Blue
DR12 -5.49 dB -20.90 dB 3:55 23-No Memories Hangin' Round
DR11 -5.71 dB -18.33 dB 2:36 24-I'll Feel A Whole Lot Better
––––––––––––––––––––––––––––––––––––––––

Number of tracks: 24
Official DR value: DR12

Samplerate: 2822400 Hz / PCM Samplerate: 176400 Hz
Channels: 2
Bits per sample: 1
Bitrate: 5645 kbps
Codec: DST64


Sierra Records # SACD 7001
Thanks to PS³SACD!
Uncompressed SACD ISO size > 1,08 GB
>