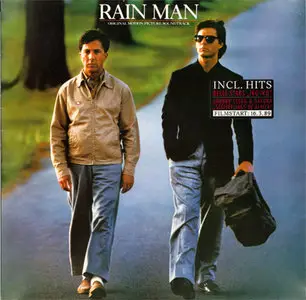 VA - Rain Man OST
FLAC | Artwork | 24Bit 96kHz: 880 MB | 16Bit 44.1kHz: 262 MB
Cat#: Capitol 064-7 91866 1 | Country/Year: Europe 1989
Genre: Pop, Soundtrack | Hoster: Filesonic/Uploaded
MD5 [X] FFP [] CUE [] LOG [] INFO TEXT [X] ARTWORK [X]
webfind [] selfrip [X]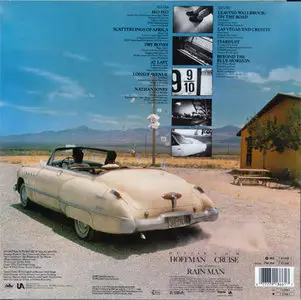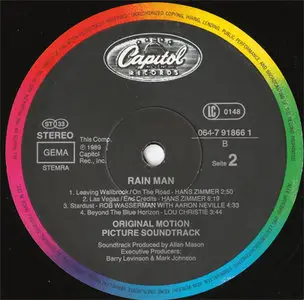 Info:
Various – Rain Man (Original Motion Picture Soundtrack)
Label: Capitol Records
Catalog#: 064-7 91866 1, 064 7 91866 1, PM 264 7 91866 1
Format: Vinyl, LP, Compilation
Country: Europe
Origin: US
Released: 1989
Genre: Electronic, Rock, Stage & Screen
Style: Soundtrack, Pop Rock, Downtempo
Tracklist:
A1 Belle Stars, The – Iko Iko 2:50
A2 Johnny Clegg & Savuka – Scatterlings Of Africa 4:02
A3 Delta Rhythm Boys, The – Dry Bones 2:52
A4 Etta James – At Last 2:58
A5 Ian Gillan & Roger Glover – Lonely Avenue 3:07
A6 Bananarama – Nathan Jones 5:09
B1 Hans Zimmer – Leaving Wallbrook / On The Road 2:50
B2 Hans Zimmer – Las Vegas / End Credits 8:19
B3 Rob Wasserman & Aaron Neville – Stardust 4:33
B4 Lou Christie – Beyond The Blue Horizon 3:44
Credits:
* Art Direction – Tommy Steele
* Coordinator [Music Coordinators] – Ken Friedmann, Tim Devine
* Design – DZN, The Design Group
* Executive Producer – Barry Levinson, Mark Johnson
* Photography [Black & White] – Steven Vaughan
* Producer – Allan Mason
Notes:
This compilation:
? 1989 Capitol Records, Inc. © 1989 Capitol Records, Inc.
© 1989 United Artists Pictures, Inc.
Marketed, manufactured and distributed by EMI
Printed in Holland by EMI Services Benelux B.V., Uden
En France: distribution exclusive EMI Pathé Marconi S.A.
Deutschland: EMI Electrola GmbH, Köln
Made in EEC.
Barcode and Other Identifiers:
* Barcode: 0 77779 18661 7
* Other (Label Code): LC 0148
* Other (Right Societies): GEMA STEMRA
Discogs Url:
http://www.discogs.com/Various-Rain-Man-Original-Motion-Picture-Soundtrack/release/2524967
Review

by Darryl Cater

Most of the songs on this soundtrack album are nostalgic pop numbers, either from or in the style of the '50s and '60s (the film takes place in the '80s, but director Barry Levinson used the songs to create a nostalgic mood). The exceptions are the most interesting songs: the Belle Stars perform a lively "Iko Iko," which is an energetic bit of '80s pop. Hans Zimmer's Oscar-nominated score is performed on the instrument du jour of the 1980s, the electronic keyboard. A dangerous move, considering the synthesizer's lack of cinematic sweep, and its high potential for cheesiness. But this is a great score. The lonely, atmospheric "End Title" track is evocative of the sort of wistful sadness that pervades the film. And "Las Vegas" is even better – it provides a major adrenaline rush, as driving drum machines mix with wildly emotive wordless vocals. It's a very original approach to scoring a cinematic moment.

allmusicguide

=Hardware=
LP>
Shure M97xE>
Thorens TP 16 MK III Tonearm>
Thorens TD 126 MK III Turntable>
Black & White NF11 cables>
Kenwood C1 Custom Revision I>
- Phono Stage input and RIAA equalisation capacitors replaced by Styroflex and Polypropylen types resp.
- Electrolytic capacitors not mounted by manufacturer onto the RIAA stage power Supply refitted (Philips NOS types)
- All electrolytic capacitors in signal chain replaced by foil capacitors
- All old JRC OpAmps replaced by Burr Brown (Phono Stage) and Analog Devices OpAmps resp.>
Handcrafted low capacitance custom cables, polyethylene insulated twinaxial conductors>
Audiotrak Prodigy 7.1 HiFi w/ AD712 OpAmps @ 24/96>
HDD
=Software=
Adobe Audition CS 5.5
ClickRepair
Trader´s Little Helper (FLAC)
+16Bit Version:
Weiss Saracon 01.61-27
Dither: POWr3

Date of rip: 2011-06-04
Please keep the info sheet included if you share this!


If you have problems extracting the RAR files on your HD, please verify these checksums. If they do not match, redownload the not-matching part and try again.

(copy & paste to your editor and save as *.md5 in the folder where the RAR files are located)

16Bit

453e30c4e02573f22cfc5b66c2f26524 *FHQA-VA-RaMa-16B.rar

24Bit

871d548cc3abe250e70fd4ec15239b92 *FHQA-VA-RaMa-24B.part1.rar
5ad4a7ce78e7540ea4e3ebbd4573de7c *FHQA-VA-RaMa-24B.part2.rar
eeff7efd63d8bd19a2c81521542e7e99 *FHQA-VA-RaMa-24B.part3.rar
e322789dfc7c88e2847d8fabedd9ff87 *FHQA-VA-RaMa-24B.part4.rar


Dynamic Range Analysis


–––––––––––––––––––––––––––––––––––––––––––––––
Analyzed folder: F:\=== VINYL RIPS ===\Rain Man\16Bit\
–––––––––––––––––––––––––––––––––––––––––––––––
DR Peak RMS Filename
–––––––––––––––––––––––––––––––––––––––––––––––

DR13 -3.20 dB -19.58 dB A1 - Belle Stars, The - Iko Iko.wav
DR16 -1.96 dB -20.57 dB A2 - Johnny Clegg & Savuka - Scatterlings Of Africa.wav
DR11 -3.07 dB -17.12 dB A3 - Delta Rhythm Boys, The - Dry Bones.wav
DR11 -6.21 dB -19.77 dB A4 - Etta James - At Last.wav
DR14 -4.61 dB -20.34 dB A5 - Ian Gillan & Roger Glover - Lonely Avenue.wav
DR12 -3.87 dB -18.89 dB A6 - Bananarama - Nathan Jones.wav
DR13 -3.94 dB -19.22 dB B1 - Hans Zimmer - Leaving Wallbrook & On The Road.wav
DR12 -2.64 dB -17.66 dB B2 - Hans Zimmer - Las Vegas & End Credits.wav
DR13 -2.06 dB -18.71 dB B3 - Rob Wasserman & Aaron Neville - Stardust.wav
DR13 -1.52 dB -18.07 dB B4 - Lou Christie - Beyond The Blue Horizon.wav
–––––––––––––––––––––––––––––––––––––––––––––––

Number of files: 10
Official DR value: DR13

==============================================================================================