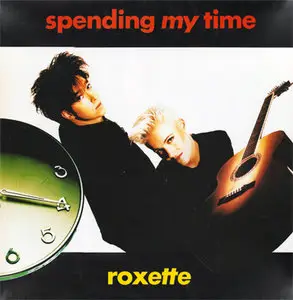 Roxette - Spending My Time 12"
FLAC | Artwork | 24Bit 96kHz: 341 MB
Cat#: EMI Svenska AB 1C 060-13 6411 6 | Country/Year: Europe 1991
Genre: Pop Rock | Hoster: Filesonic/Uploaded
MD5 [X] FFP [] CUE [] LOG [] INFO TEXT [X] ARTWORK [X]
webfind [] selfrip [X]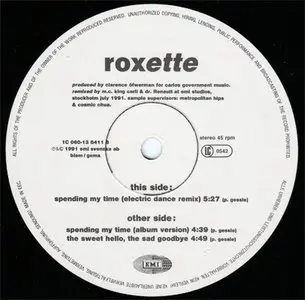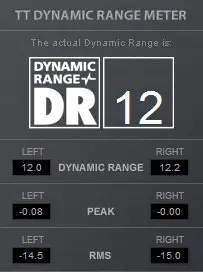 Info:
Roxette – Spending My Time
Label: EMI Svenska AB
Catalog#: 1C 060-13 6411 6
Format: Vinyl, 12", Single
Country: Europe
Released: 1991
Genre: Electronic, Pop, Rock
Style: Soft Rock, Pop Rock, Synth-pop, Ballad
Tracklist:
A Spending My Time (Electric Dance Remix) 5:27
B1 Spending My Time (Album Version) 4:39
B2 The Sweet Hello, The Sad Goodbye 4:49
Credits:
Design – Monica Eskedahl
Photography – Mattias Edwall
Producer – Clarence Öfwerman
Recorded By – Alar Suurna, Anders Herrlin
Written-By – P. Gessle
Notes:
Thin cover with no inner sleeve.
Catalog# on cover: 1364116. Labels: 1C 060-13 6411 6.
?&© 1991 EMI Svenska AB.
Barcode and Other Identifiers:
Barcode: 5099913641160
Barcode: biem / gema
Other: LC 0542
Discogs Url:
http://www.discogs.com/Roxette-Spending-My-Time/release/441949
"Spending My Time", written by Per Gessle, was the fourth single released from Swedish pop duo Roxette's 1991 album Joyride. It peaked at #32 on Billboard's Hot 100. A remix was created by MC King Carli and Dr Renault at EMI Studios in Stockholm, Sweden, in July 1991, and was included on the single. A Spanish version of the song, called "Un día sin ti" ("A day without you"), was released as a single from the album Baladas En Español.

"Spending My Time" was a sizeable hit in Brazil, due to extensive airplay, as well as being part of the Brazilian telenovela "Outrageous Preppy Women" soundtrack (Perigosas Peruas – Trilha Sonora Internacional - 1992) by Globo TV.
This song reached the top 10 in Canada and Germany, and was a sizeable hit in many other places worldwide. In South America, the song became as successful as "Joyride" or "It Must Have Been Love", especially in Brazil, where it reached #1 in the charts. In 1996 - sung in perfect Spanish and called "Un día sin ti" - it was the first single released from Baladas en Español, reaching #1 in Mexico, top 3 in Chile, Argentina, Spain and many other Latin-American countries. wikipedia

=Hardware=
LP>
Shure M97xE>
Thorens TP 16 MK III Tonearm>
Thorens TD 126 MK III Turntable>
Handcrafted low capacitance custom cables, polyethylene insulated twinaxial conductors>
Kenwood C1 Custom Revision I>
- Phono Stage input and RIAA equalisation capacitors replaced by Styroflex and Polypropylen types resp.
- Electrolytic capacitors not mounted by manufacturer onto the RIAA stage power Supply refitted (Philips NOS types)
- All electrolytic capacitors in signal chain replaced by foil capacitors
- All old JRC OpAmps replaced by Burr Brown (Phono Stage) and Analog Devices OpAmps resp.>
Handcrafted low capacitance custom cables, polyethylene insulated twinaxial conductors>
Audiotrak Prodigy 7.1 HiFi w/ AD712 OpAmps @ 24/96>
HDD
=Software=
Adobe Audition 3.0
Trader´s Little Helper (FLAC)
+16Bit Version:
Weiss Saracon 01.61-27
Dither: POWr3

Date of rip: 2011-08-05
Please keep the info sheet included if you share this!


If you have problems extracting the RAR files on your HD, please verify these checksums. If they do not match, redownload the not-matching part and try again.

(copy & paste to your editor and save as *.md5 in the folder where the RAR files are located)

24Bit

85cf73d845ea622ea8cc65317a7c0ea6 *FHQA-Ro-SpMyTi.part1.rar
2ce07e89dee4494ece9f673abd20be12 *FHQA-Ro-SpMyTi.part2.rar