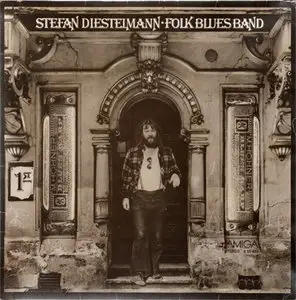 Stefan Diestelmann Folk Blues Band - Stefan Diestelmann Folk Blues Band
FLAC | Artwork | 24Bit 96kHz: 803 MB | 16Bit 44.1kHz: 233 MB
Cat#: Amiga 8 55 633 | Country/Year: GDR 1978
Genre: Blues | Hoster: Hotfile/Filesonic
MD5 [X] FFP [] CUE [] LOG [] INFO TEXT [X] ARTWORK [X]
webfind [] selfrip [X]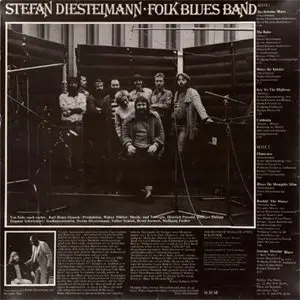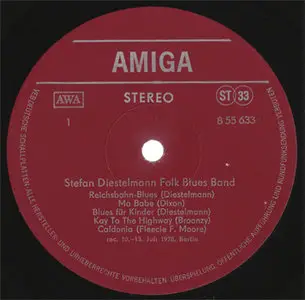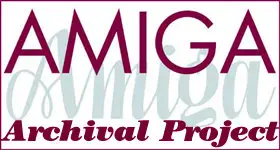 AMIGA was the state owned ("peoples owned") record label of the former GDR. Who wanted to release music had to compromise to the state policy and control. Nevertheless a lot of great music was produced there and this project aims to collect some of this to prevent it from falling into oblivion. This collection is of course subjectively and will never be complete. Anyway, i hope you will have some fun with it!
Part # 1:
Barbara Thalheim - Kinder der Nacht
Part # 2:
Klaus Renft Combo - Klaus Renft Combo
Part # 3:
Klaus Renft Combo - Renft
Info:
Stefan Diestelmann Folk Blues Band - Stefan Diestelmann Folk Blues Band
Label: AMIGA
Catalog#: 8 55 633
Format: Vinyl, LP, Album
Country: German Democratic Republic (GDR)
Released: 1978
Genre: Blues
Style: Blues Rock, Folk Rock
Tracklist:
A1 Reichsbahn-Blues 4:08
A2 Ma Babe 4:13
A3 Blues Für Kinder 2:37
A4 Key To The Highway 3:20
A5 Caldonia 4:40
B1 Flamenco 9:06
B2 Blues Für Memphis Slim 4:40
B3 Rockin' The House 3:06
Written By, Piano, Vocals - Memphis Slim
B4 Stormy Monday Blues 4:35
Credits:
Bass - Rüdiger Philipp (tracks: A2, A4 to B1, B4)
Featuring - Dietrich Petzold (tracks: A2, A4 to B1)
Guitar, Harmonica, Vocals - Stefan Diestelmann
Harmonica, Vocals [Background] - Bernd Kleinow (tracks: A1, A2, A4, A5)
Mellotron, Piano, Other [Handclapping] - Wolfgang Fiedler (tracks: A2, A4 to B1, B3, B4)
Producer - Karl Heinz Ocasek
Discogs Url:
http://www.discogs.com/Stefan-Diestelmann-Folk-Blues-Band-Stefan-Diestelmann-Folk-Blues-Band/release/478635
Stefan Diestelmann (* 29. Januar 1949 in München) ist ein Sänger, Gitarrist, Mundharmonikaspieler, Textautor, Komponist und Filmproduzent. Bis 1985 lebte er in der DDR. Seine jahrelange praktische Erfahrung, die intensive Beschäftigung mit den Ausdrucksformen im Blues und Jazz und die gemeinsamen Auftritte mit Bluesmusikern wie Louisiana Red, Memphis Slim, Alexis Korner und Phil Wiggins machten ihn zu einem versierten Bluesmusiker.
Stefan Diestelmann beschäftigte sich schon frühzeitig mit dem Blues und brachte sich seine Fähigkeiten autodidaktisch bei. Als Zwölfjähriger erhielt er von seinen Eltern die erste Gitarre geschenkt und begann zu spielen, sammelte Schallplatten und studierte Literatur über das Leben und Wirken afroamerikanischer Bluesinterpreten. Seine ersten Auftritte hatte Stefan Diestelmann bei den Teddys. Danach spielte er in verschiedenen Amateurbands, bis ihn 1975 Axel Stammberger in dessen Band Vai hu holte. Seiner Neigung zu authentischem, urwüchsigem Blues konnte er jedoch bei Stammberger nicht entsprechen. So gründete er im Mai 1977, nach einem kurzen Zwischenspiel bei der Bluesband Engerling, seine eigene Band. Zur Gründungsbesetzung der Stefan Diestelmann Folk Blues Band gehörten:

* Stefan Diestelmann (Gitarre, Gesang, Mundharmonika)
* Dietrich Petzold (Violine, Perkussion)
* Rüdiger Phillipp (Bass)
* Bernd Kleinow (Mundharmonika).

Dietrich Petzold hatte sein Handwerk bei Klaus Lenz und Uschi Brüning erlernt, bevor er mit Diestelmann zusammen spielte. Rüdiger Phillipp kam ebenfalls von Uschi Brüning zunächst zu Vai hu. Obwohl sich die Stefan Diestelmann Folk Blues Band durch ihre betonte Anlehnung an die afroamerikanischen Bluesmusiker (T-Bone Walker, Muddy Waters, B. B. King) und stilistisch (zum Beispiel durch den Verzicht auf ein Schlagzeug) deutlich von anderen Bands wie Engerling, Monokel oder Freygang unterschied, fand sie in der Blueserszene der DDR großen Anklang. Die Nähe zum Publikum und seine Texte brachten Stefan Diestelmann zunehmend den Unmut der DDR-Staatsmacht ein und führte in einigen DDR-Bezirken zu Auftrittsverboten. Bereits am 5. März 1967 war Stefan Diestelmann wegen "Staatsverleumdung" und "Vorbereitung zur Republikflucht" zu drei Jahren Haft verurteilt worden. Seine Texte (Der Alte und die Kneipe oder Hof vom Prenzlauer Berg) spiegelten den Alltag wider und erzählten von verfallenen Häusern, dem Kohlenmann, Kneipen und Besoffenen, und passten nicht in das offizielle Bild der DDR.

Dennoch erhielt Stefan Diestelmann die Möglichkeit zu Rundfunkproduktionen, Auslandsgastspielen und Auftrittsmöglichkeiten bei offiziellen Veranstaltungen, beispielsweise im Berliner Palast der Republik, wo er am 25. Mai 1978 gemeinsam mit Memphis Slim auf der Bühne stand. 1978 erschien bei Amiga seine erste LP, auf der als Gäste Wolfgang Fiedler und Volker Schlott von der Jazz-Rock-Band Fusion zu hören sind. Ein Jahr später trat er in Der Mann aus Colorado 2 erstmalig im DDR-Fernsehen auf, und 1981 spielt Diestelmann an der Seite von Dean Reed im DEFA-Film Sing, Cowboy, sing einen Barkeeper. 1985 erhielt Stefan Diestelmann, allerdings ohne die Band, die Möglichkeit, in Hildesheim in der Bundesrepublik Deutschland aufzutreten. Von diesem Konzert kehrte der "Blueskönig der DDR" nicht mehr in die DDR zurück.

Er lebt seitdem am Ammersee in Bayern. In der Bundesrepublik konnte er nicht an seine Erfolge in der DDR anknüpfen. Mitte der 1990er Jahre beendete er seine musikalische Laufbahn, um die Firma Diestelfilm zu gründen. Diestelfilm produziert Präsentations- und Dokumentarfilme. wikipedia

=Hardware=
LP>
Shure M97xE>
Dual CS 505-3>
Handcrafted low capacitance custom cables, teflon® insulated & silver-plated coaxial conductors>
Kenwood C1 Custom Revision I>
- Phono Stage input and RIAA equalisation capacitors replaced by Styroflex and Polypropylen types resp.
- Electrolytic capacitors not mounted by manufacturer onto the RIAA stage power Supply refitted (Philips NOS types)
- All electrolytic capacitors in signal chain replaced by foil capacitors
- All old JRC OpAmps replaced by Burr Brown (Phono Stage) and Analog Devices OpAmps resp.>
Handcrafted low capacitance custom cables, polyethylene insulated twinaxial conductors>
Audiotrak Prodigy 7.1 HiFi w/ AD712 OpAmps @ 24/96>
HDD
=Software=
Adobe Audition 3
ClickRepair
Trader´s Little Helper (FLAC)
+16Bit Version:
Weiss Saracon 01.61-27
Dither: POWr3

Date of rip: 2011-02-24
Please keep the info sheet included if you share this!
Links:


If you have problems extracting the RAR files on your HD, please verify these checksums. If they do not match, redownload the not-matching part and try again.

(copy & paste to your editor and save as *.md5 in the folder where the RAR files are located)

16Bit

bf39e364d6cdaeb4d5c650d9ff29026e *FHQA-StDiFoBlBa-StDiFoBlBa-16B.rar

24Bit

13d707e697100eeb23a3711314abadd1 *FHQA-StDiFoBlBa-StDiFoBlBa-24B.part1.rar
32392a083fedd2d1e2d1ea2f2ec26276 *FHQA-StDiFoBlBa-StDiFoBlBa-24B.part2.rar
d6670b4c0114e72be14ab56c592fa565 *FHQA-StDiFoBlBa-StDiFoBlBa-24B.part3.rar
47474c17c025d5428f9df6c64728c0c1 *FHQA-StDiFoBlBa-StDiFoBlBa-24B.part4.rar




–––––––––––––––––––––––––––––––––––––––––––––––
Analyzed folder: F:\=== VINYL RIPS ===\Stefan Diestelmann Folk Blues Band - Same (GDR 1978) (Vinyl 16-44.1)\16Bit\
–––––––––––––––––––––––––––––––––––––––––––––––
DR Peak RMS Filename
–––––––––––––––––––––––––––––––––––––––––––––––

DR15 -0.32 dB -18.91 dB A1 - Reichsbahn-Blues.wav
DR13 -2.12 dB -18.19 dB A2 - Ma Babe.wav
DR12 -3.35 dB -18.61 dB A3 - Blues Für Kinder.wav
DR13 -2.32 dB -18.76 dB A4 - Key To The Highway.wav
DR13 -2.19 dB -17.69 dB A5 - Caldonia.wav
DR14 -4.21 dB -21.81 dB B1 - Flamenco.wav
DR13 -4.70 dB -19.17 dB B2 - Blues Für Memphis Slim.wav
DR12 -3.05 dB -17.55 dB B3 - Rockin' The House.wav
DR13 -2.98 dB -20.02 dB B4 - Stormy Monday Blues.wav
–––––––––––––––––––––––––––––––––––––––––––––––

Number of files: 9
Official DR value: DR13

==============================================================================================




Password:
finest-hq-audio
Check my blog for other lossless uploads:
http://www.avaxhome.ws/blogs/luckburz