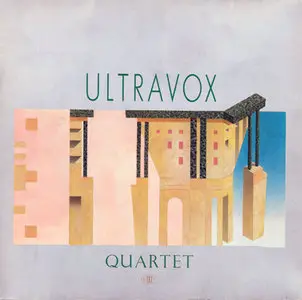 Ultravox - Quartet
FLAC | Artwork | 24Bit 96kHz: 856 MB | 16Bit 44.1kHz: 278 MB
Cat#: Chrysalis 205 043-320 | Country/Year: Germany 1982
Genre: Pop Rock | Hoster: Filesonic/Uploaded
MD5 [X] FFP [] CUE [] LOG [] INFO TEXT [X] ARTWORK [X]
webfind [] selfrip [X]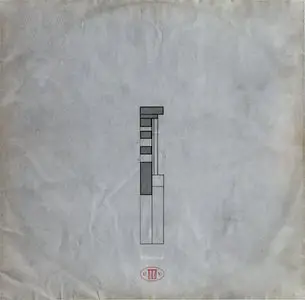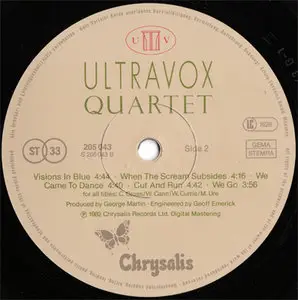 Info:
Ultravox – Quartet
Label: Chrysalis
Catalog#: 205 043-320
Format: Vinyl, LP, Album
Country: Germany
Released: 1982
Genre: Electronic
Style: Synth-pop
Tracklist:
A1 Reap The Wild Wind 3:50
A2 Serenade 5:05
A3 Mine For Life 4:42
A4 Hymn 5:46
B1 Visions In Blue 4:22
B2 When The Scream Subsides 4:16
B3 We Came To Dance 4:40
B4 Cut And Run 4:42
B5 The Song (We Go) 3:56
Credits:
Artwork By [Painting Colouring] – Bill Philpot
Artwork By [Painting] – Ken Kennedy
Design – Peter Saville Associates
Engineer – Geoff Emerick
Engineer [Assistant] – Jon Jacobs
Producer – George Martin
Written By – C. Cross/W. Cann/W. Currie/M. Ure
Written-By – W. Currie*, C. Cross*, M. Ure*, W. Cann*
Notes:
Printed inner sleeve
? 1982 Chrysalis Records Ltd.
© 1982 Chrysalis Records Ltd.
Distributed by the Ariola Group of Companies
Printed in Western Germany
Barcode and Other Identifiers:
Other (Label Code): LC 1626
Other (Rights Societies): GEMA STEMRA
Matrix Number: 2 05043 A-1
Matrix Number: 205043 B-1
Discogs Url:
http://www.discogs.com/Ultravox-Quartet/release/503672
Quartet, released in 1982, is the sixth LP by British band Ultravox, and the third of the band's most-recognizable incarnation, fronted by Midge Ure. The album peaked at no.6 on the UK album chart and was certified Gold by the BPI in December 1982 for 100,000 copies sold. It also charted at #13 in Germany, and at #61 in the United States

The album was promoted by Ultravox's "Monument Tour", a concert from which was recorded and released as an album and video a year later in 1983. wikipedia
Review

by Dave Thompson

With the successes of Vienna and its follow-up, Rage in Eden, Ultravox's position in the music scene was unassailable, further fortified by frontman Midge Ure's foray into solo-dom with the summer 1982 hit cover of the Walker Brothers' "No Regrets." The band's "Reap the Wild Wind" followed it up the U.K. chart that fall, a taster for the band's sixth album. And what a portentous taste it was. While "Wind" buffeted and whooshed once again around nostalgia for a past never lived, "Hymn" (its melody lifted from "Mourning Star" by Ure's last band, the Zones) wrestled with faith in a faithless age and prayed its way up the chart later that fall, while the dirge "Visions in Blue" saw the spring caught in its icy grip. But it was the fourth song spun off the album, "We Came to Dance," that best defined the overall themes of the set. Having helped create a movement renowned for its fashion victims and superficiality, Ultravox recoiled from the Frankenstein they'd birthed. "The Song (We Go)" may have been a cry of welcome, but both "Dance" and "Serenade" make clear the music scene's terrifying capacity to unleash both Dionysian abandon and militaristic conformity. "When the Scream Subsides" further fuels the album's existential angst, which reaches its emotional nadir on the suicidal "Cut and Run." With their toe-tapping rhythms, billowing synths, and rousing melodies, one is often tempted to ignore the darkness of Ultravox's themes, but with Quartet, the band deliberately made that nigh on impossible. allmusicguide

=Hardware=
Ultrasonic cleaned LP>
Shure M97xE>
Thorens TP 16 MK III Tonearm>
Thorens TD 126 MK III Turntable>
Handcrafted low capacitance custom cables, polyethylene insulated twinaxial conductors>
Kenwood C1 Custom Revision I>
- Phono Stage input and RIAA equalisation capacitors replaced by Styroflex and Polypropylen types resp.
- Electrolytic capacitors not mounted by manufacturer onto the RIAA stage power Supply refitted (Philips NOS types)
- All electrolytic capacitors in signal chain replaced by foil capacitors
- All old JRC OpAmps replaced by Burr Brown (Phono Stage) and Analog Devices OpAmps resp.>
Handcrafted low capacitance custom cables, polyethylene insulated twinaxial conductors>
Audiotrak Prodigy 7.1 HiFi w/ AD712 OpAmps @ 24/96>
HDD
=Software=
Adobe Audition 3.0
ClickRepair
Trader´s Little Helper (FLAC)
+16Bit Version:
Weiss Saracon 01.61-27
Dither: POWr3

Date of rip: 2011-06-22
Please keep the info sheet included if you share this!
Dynamic Range Analysis

–––––––––––––––––––––––––––––––––––––––––––––––
Analyzed folder: I:\=== VINYL RIPS ===\Ultravox - Quartet\16Bit\
–––––––––––––––––––––––––––––––––––––––––––––––
DR Peak RMS Filename
–––––––––––––––––––––––––––––––––––––––––––––––

DR15 -1.56 dB -19.40 dB A1 - Reap The Wild Wind.wav
DR13 -2.92 dB -18.23 dB A2 - Serenade.wav
DR13 -3.25 dB -18.80 dB A3 - Mine For Life.wav
DR13 -3.28 dB -18.53 dB A4 - Hymn.wav
DR14 -3.20 dB -22.02 dB B1 - Visions In Blue.wav
DR13 -2.79 dB -18.05 dB B2 - When The Scream Subsides.wav
DR13 -3.82 dB -19.14 dB B3 - We Came To Dance.wav
DR14 -3.91 dB -21.03 dB B4 - Cut And Run.wav
DR14 -2.20 dB -19.68 dB B5 - The Song (We Go).wav
–––––––––––––––––––––––––––––––––––––––––––––––

Number of files: 9
Official DR value: DR14

==============================================================================================


If you have problems extracting the RAR files on your HD, please verify these checksums. If they do not match, redownload the not-matching part and try again.

(copy & paste to your editor and save as *.md5 in the folder where the RAR files are located)

16Bit

4d4bdd6eebbb40970f83eaf8c24ea2a7 *FHQA-Ul-Qu-16B.rar


24Bit

fe4b34088b5e7d28deea5b457c96cc49 *FHQA-Ul-Qu-24B.part1.rar
64d10f51d4f7d21f7bc6969388106b9d *FHQA-Ul-Qu-24B.part2.rar
86e6cccaaa4e2df68818c8b02fecca13 *FHQA-Ul-Qu-24B.part3.rar
6fdf795c5995f3d444bb0adcd4f6fa32 *FHQA-Ul-Qu-24B.part4.rar