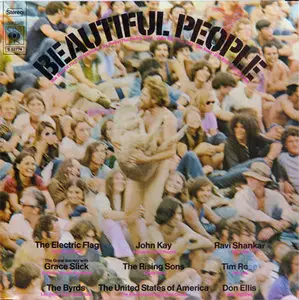 VA - Beautiful People
FLAC | Artwork | 24Bit 96kHz: 915 MB
Cat#: CBS S 52774 | Country/Year: Netherlands 1970
Genre: Psychedelic Rock / Folk Rock | Hoster: Filesonic/Uploaded
MD5 [X] FFP [] CUE [] LOG [] INFO TEXT [X] ARTWORK [X]
webfind [] selfrip [X]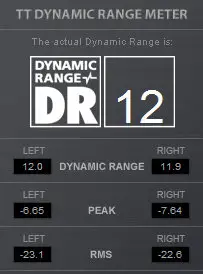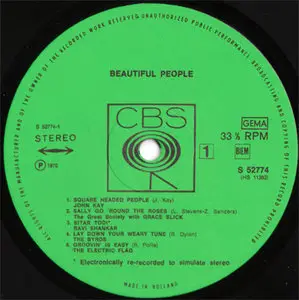 Info:
Various – Beautiful People
Label: CBS
Catalog#: S 52774
Format: Vinyl, LP, Compilation
Country: Netherlands
Released: 1970
Genre: Rock
Style: Psychedelic Rock, Psych Folk
Tracklist:
A1 John Kay – Square Headed People
A2 Great Society, The With Grace Slick – Sally Go 'Round The Roses
A3 Ravi Shankar – Sitar Todi
A4 Byrds, The – Lay Down Your Weary Tune
A5 Electric Flag, The – Groovin' Is Easy
B1 United States Of America, The – The American Metaphysical Circus
B2 Rising Sons, The – Candy Man
B3 Tim Rose – Hey Joe
B4 Don Ellis – Star Children
Notes:
A3 & B2 electronically re-recorded to simulate stereo.
Discogs Url:
http://www.discogs.com/Various-Beautiful-People/release/2433061
John Kay (born Joachim Fritz Krauledat, 12 April 1944, Tilsit then Germany, today Russia) is a Canadian singer, songwriter and guitarist known as the frontman of Steppenwolf. Kay has lived since 1990 in Franklin, Tennessee.

The Great Society (aka The Great! Society!!) were a 1960s San Francisco rock band that existed between 1965 and 1966, and were closely associated with the burgeoning Bay Area acid rock scene. Best known as the original group of model turned singer, Grace Slick, the initial line-up of the band also featured her then-husband Jerry Slick on drums, his brother Darby Slick on guitar, David Miner on vocals and guitar, Bard DuPont on bass, and Peter van Gelder on flute, bass, and saxophone. Miner and DuPont would not remain with the band for the duration of its existence.

Ravi Shankar (born Robindro Shaunkor Chowdhury on 7 April 1920), often referred to by the title Pandit, is an Indian musician and composer who plays the plucked string instrument sitar

The Byrds were an American rock band, formed in Los Angeles, California in 1964. The band underwent multiple line-up changes throughout its existence, with frontman Roger McGuinn (aka Jim McGuinn) remaining the sole consistent member until the group disbanded in 1973.

The Electric Flag was a blues rock soul group, led by guitarist Mike Bloomfield, keyboardist Barry Goldberg and drummer Buddy Miles, and featuring other well-known musicians such as vocalist Nick Gravenites and bassist Harvey Brooks. Bloomfield formed the Electric Flag in 1967, following his stint with the Butterfield Blues Band.

The United States of America was an American experimental rock and psychedelic band whose works are an example of early electronic music in rock and roll.

Rising Sons was a Los Angeles, California-based band founded in 1964. The original lineup was Ry Cooder (vocals, six and 12-string guitar, mandolin, slide and bottleneck guitar, dobro), Taj Mahal (vocals, harmonica, guitar, piano), Gary Marker (bass), Jesse Lee Kincaid (vocals and guitar) and Ed Cassidy (drums). Cassidy left the band after he broke his hand and was replaced by Kevin Kelley.

Timothy Alan Patrick Rose (September 23, 1940 – September 24, 2002), best known professionally as Tim Rose, was an American singer-songwriter, who spent much of his life in London, England and had more success in Europe than in his native country. Known for his gruff voice, Rose was often compared to Ray Charles, Rod Stewart and Joe Cocker.

Don Ellis (July 25, 1934 - December 17, 1978) was an American jazz trumpeter, drummer, composer and bandleader. He is best known for his extensive musical experimentation, particularly in the area of unusual time signatures. Later in his life he worked as a film composer, among other works contributing a score to 1971's The French Connection and 1973's The Seven-Ups. wikipedia

=Hardware=
Ultrasonic cleaned LP>
Shure M97xE>
Thorens TP 16 MK III Tonearm>
Thorens TD 126 MK III Turntable>
Handcrafted low capacitance custom cables, polyethylene insulated twinaxial conductors>
Kenwood C1 Custom Revision I>
- Phono Stage input and RIAA equalisation capacitors replaced by Styroflex and Polypropylen types resp.
- Electrolytic capacitors not mounted by manufacturer onto the RIAA stage power Supply refitted (Philips NOS types)
- All electrolytic capacitors in signal chain replaced by foil capacitors
- All old JRC OpAmps replaced by Burr Brown (Phono Stage) and Analog Devices OpAmps resp.>
Handcrafted low capacitance custom cables, polyethylene insulated twinaxial conductors>
Audiotrak Prodigy 7.1 HiFi w/ AD712 OpAmps @ 24/96>
HDD
=Software=
Adobe Audition 3.0
Trader´s Little Helper (FLAC)
+16Bit Version:
Weiss Saracon 01.61-27
Dither: POWr3

Date of rip: 2011-08-07
Please keep the info sheet included if you share this!


If you have problems extracting the RAR files on your HD, please verify these checksums. If they do not match, redownload the not-matching part and try again.

(copy & paste to your editor and save as *.md5 in the folder where the RAR files are located)

af6f7e19a792aaab7b6459973244b4f9 *FHQA-VA-BePe-24.part1.rar
df21d264e1a40ee7c059d0acf67bfe36 *FHQA-VA-BePe-24.part2.rar
5015a0d816addad64f70f2da17a86e6e *FHQA-VA-BePe-24.part3.rar
0441e5c4183213a1b5b71eeedf43af9e *FHQA-VA-BePe-24.part4.rar

24Bit