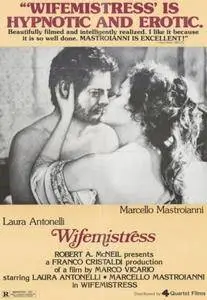 Wifemistress (1977)
DVDRip | MKV | 708x544 | x264 @ 2440 Kbps | 101 min | 1,86 Gb
Audio: Italiano AC3 2.0 @ 192 Kbps | Subs: English, Italiano
Genre: Comedy, Drama, Romance
Director:
Marco Vicario
Writers:
Rodolfo Sonego, Marco Vicario
Stars:
Laura Antonelli, Marcello Mastroianni, Leonard Mann
Since her husband pronounced her frigid on her wedding night, Antonia DeAngelis has been an invalid. When he disappears, she believes him dead: she leaves her bed and takes over his business, traveling to see clients. She discovers her husband's passions, his political writing, mistresses, and his indifference to the peasants on her family's land. She improves their lot, begins an affair with a young foreign doctor, and publishes her husband's writings. All this time, he's hiding from a murder charge in a house across the square. Amazed, he watches her become his sexual and social equal. After the police drop the murder charge, will he disappear, end his life, or rejoin her on new terms?
If you foreign movie buffs have not seen this one, rent it immediately. It is amazingly well done, definitely memorable, and it's hard to believe that I am only the third person to comment. A young "frail" married girl who is loved but protected by those around her discovers herself and her passionate nature upon the disappearance of her husband. Determined to discover what happened to her husband she sets off in his horse and buggy to cover his route. Luckily for her, the horse is well versed in the stops her husband made along the way. Unwittingly she learns about her husband's many sensual encounters and finds that the knowledge is causing her own passionate nature to stir. As her paradigm shifts, she opens her arms to new experiences, each one taking her a closer step toward womanhood and a full understanding of what a man and woman can mean to each other. Wait! That's just one story in this film. The overlying story is about the husband who has gone into hiding immediately across the street from his own home and desperately watches his wife's transformation from the slats of a boarded window. The story is well weaved together and it is beautiful to watch. The cobblestone roads, the clothing, the landscape, the church and just about everything in this movie makes it a masterpiece. There is even a side storyline that has a bit of shock value - you will know it when you see it! Go see this film and then come back and tell me what you thought!
(click to enlarge)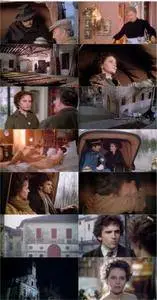 More in My Blog