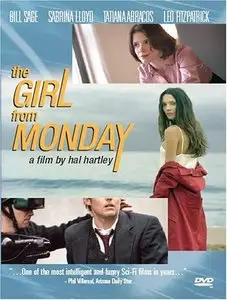 The Girl from Monday (2005) + Extra
DVDRip | AVI | 720x416 | XviD @ 1064 Kbps | 81 min | 700 Mb + 200 Mb
Audio: English AC3 MP3 @ 128 Kbps | Subs: None
Genre: Action, Comedy, Sci-fi
In the not-distant-future, the market has taken over everything, thanks to the marketers. The consumer is king, and those who see value outside of the marketplace are "enemies of the consumer", terrorists, and "partisan" enemies that the state must dispose of. Protagonist Jack seems to be at one with the media corporations (after all, his marketing ideas led to the institutionalization of the exchange of sex for enhanced buying power), but is he somehow involved with the feeble and pathetic resistance movement? Does he love Cecile, his colleague, or is she a pawn in his game? And what of the mysterious girl from Monday? Are immigrants from the star system "Monday" really assisting the partisans?