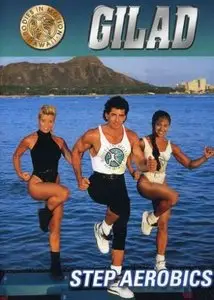 Step Aerobics with Gilad
Video: x264; MP4; 706*480 (4:3); 2259 kbps; 29.970 fps | Audio: aac; 160 kbps; 2 ch
ASIN: B00030A5J8 | Duration: 60 mins | Language: English | Size: 1.05 GB
Genre: Sports / Workout / Health | 3% Recovery Record
This creative routine builds cardiovascular endurance and burns excess fat at a fast rate. A nice variety of moves without complex choreography will keep your body in motion. The BONUS abdominal section will help firm and reshape your stomach area as well. Set on Waikiki Beach with Diamond Head in the background, this workout is recommended for the intermediate to advanced participant.