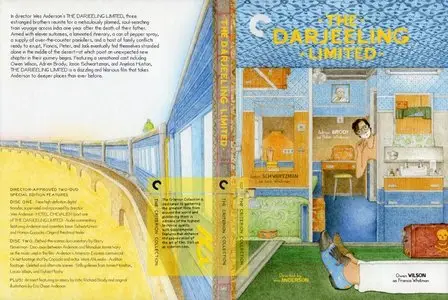 The Darjeeling Limited (2007)
2xDVD9 | VIDEO_TS | NTSC 16:9 | Artwork | 01:31:41 | 6,00 Gb + 5,61 Gb
Audio: English AC3 5.1 @ 448 Kbps + Commentary track | Subs: English SDH
Genre: Adventure, Comedy, Drama | The Criterion Collection #540
Director:
Wes Anderson
Writers:
Wes Anderson, Roman Coppola
Stars:
Owen Wilson, Adrien Brody, Jason Schwartzman
In director Wes Anderson's The Darjeeling Limited, three estranged American brothers reunite for a meticulously planned, soul-searching train voyage across India one year after the death of their father. Armed with eleven suitcases, a laminated itinerary, a can of pepper spray, a supply of over-the-counter painkillers, and a host of family conflicts ready to erupt, Francis, Peter, and Jack eventually find themselves stranded alone in the middle of the desert - at which point an unexpected new chapter in their journey begins. Featuring a sensational cast, including Owen Wilson, Adrien Brody, Jason Schwartzman, and Anjelica Huston, The Darjeeling Limited is a dazzling and hilarious film that takes Anderson's work to deeper places than ever before.
With "Darjeeling Limited," director Wes Anderson enters an artistic cocoon of sorts, along the lines of Woody Allen, in which he routinely creates a certain type of movie with custom sophistication. The plots, characters, and passions may vary, but the mise-en-scene remains the same. Some may elect to dismiss Anderson as a one-trick-pony because of his personalized execution. I choose to celebrate it.




Francis (Owen Wilson), Peter (Adrien Brody), and Jack (Jason Schwartzman) are three estranged brothers meeting up in India for a cross-country journey on the Darjeeling Limited train. Assuming a trip of leisure, it soon dawns on Peter and Jack that Francis is looking to spend time healing old wounds, especially the ones created by the death of their father. Misplaced in India and finding themselves on a series of misadventures with lust and sudden death, the trio looks to their missionary mother (Anjelica Huston) to unearth some solace in their combustible lives.




While "Darjeeling Limited" embarks on an entirely new direction in some respects, it remains affectionately recognizable in other dimensions. Sumptuously photographed by Robert Yeoman (with thrilling attention to precise framing), "Darjeeling" is another visual firecracker for Anderson. Shot in India and taking comfort in the country's often blinding color schemes, the picture is splashed with dancing visions of golds and greens, not to mention every other conceivable tint in the book. Anderson utilizes the colors as a metaphor for life, contrasting the misery of the brothers with the dusty opulence of their surroundings.




Also returning is the frightening production design detail that has made Anderson the filmmaker he is today. He's delighted by the corners of the frame and fascinated with the textures of the sets. Moving away from the bigness that defined his nautical "Where's Waldo?" world of "The Life Aquatic," "Darjeeling" hunkers down in a passenger train, where a culture of travelers take up residence in cramped cars. The train is a meticulous toy society to Anderson, and he treats every moment on it with a visual curiosity and care that has become his trademark. It still manages to produce awe.




What's new to "Darjeeling" is the screenplay's static, but rambling nature. Written by Anderson, Schwartzman, and Roman Coppola, the picture seeks to address the awkwardness of family, the self-medication of heartbreak, and bliss of communication breakthroughs. "Darjeeling" is skilled introducing these moments, especially through the fantastic performances from the three leads (where expressions speak louder than words), but the film's episodic nature, which takes the brothers all over India, seems more interior than usual for Anderson, as though he's boxed in by his artifice without his usual escape route. The fatigued momentum only bubbles up now and again, but those expecting the picture to eventually kick off into something more adventurous or perhaps spiritually resonating should be forewarned that "Darjeeling" never quite reaches the levels of emotional discharge Anderson intends.




An occasional hiccup in pace notwithstanding, "Darjeeling" remains a gas, with spiky moments of comedy (it's fun to see Wilson return a little of the old Dignan to his acting), a lovely familial melancholy about it, blink-and-you-miss-em star cameos (Bill Murray, Natalie Portman, and Kumar Pallana) and the luscious soundtrack, which mixes Satyajit Ray lifts with tunes from the Kinks and The Rolling Stones. It's bliss for the Anderson devotee; a lateral cinematic move for the filmmaker, but one of immense merit and continuous enchantment.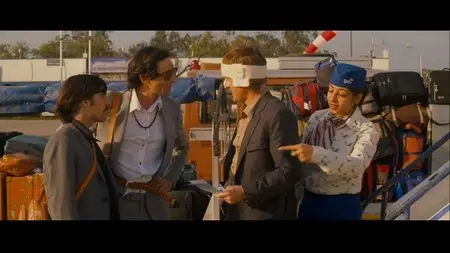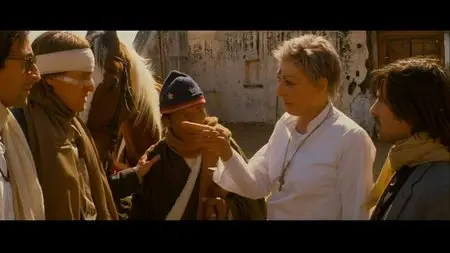 Special Features:
- New high-definition digital transfer, supervised and approved by director Wes Anderson
- Hotel Chevalier (part one of The Darjeeling Limited)
- Audio commentary featuring Anderson and cowriters Jason Schwartzman and Roman Coppola
- Behind-the-scenes documentary by Barry Braverman
- Discussion between Anderson and filmmaker James Ivory on the music used in the film
- Anderson's American Express commercial
- On-set footage shot by Coppola and actor Waris Ahluwalia
- Video essay by critic Matt Zoller Seitz
- Audition footage
- Deleted and alternate scenes
- Original theatrical trailer
- Stills galleries from James Hamilton, Laura Wilson, and Sylvia Plachy
- PLUS: An insert featuring a new essay by critic Richard Brody and original illustrations by Eric Chase Anderson
Many Thanks to Original uploader.
–––––––––––––––––––––––––––––––––––––––