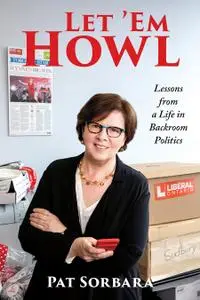 Let 'Em Howl: Lessons from a Life in Backroom Politics by Patricia Sorbara
English | April 25th, 2020 | ISBN: 0889713588 | 272 pages | EPUB | 1.34 MB
Patricia Sorbara has been a political operative for more than forty years—a mainstay in the background of both federal and provincial politics in Ontario, dedicating her career to the Liberal Party. She's worked for and with Liberal Opposition Leaders, Premiers, Members of Parliament, Members of Provincial Parliament and more candidates than any staffer could imagine. Sorbara became known as the woman to have on side, the one who knows the ground game and never backs down from a challenge. In December of 2014, all of that changed. A potential candidate in Sudbury, ON, went to the media with the allegation that Sorbara, acting on behalf of the Party, had offered a bribe in exchange for stepping down from a nomination race. She was blindsided.