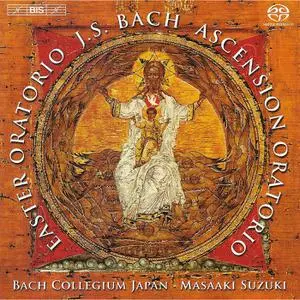 Bach Collegium Japan, Masaaki Suzuki - J.S. Bach: Easter Oratorio and Ascension Oratorio (2006)
FLAC (Tracks) 24-bit/88.2 kHz | Official Digital Download | Time: 01:10:27
Orchestral/Choral/Vocal | BIS | Artwork Included | ~ 1.22 Gb

~ J.S. Bach: Easter Oratorio and Ascension Oratorio
Patrick van Goethem, Jan Kobow, Yukari Nonoshita, Chiyuki Urano
Bach Collegium Japan, Masaaki Suzuki ~
Hard on the heels of Volume 29 in the Bach Cantata series and their recording of the Orchestral Suites comes this new disc from Bach Collegium Japan. Genre-wise the present two works balance between oratorios and cantatas. Though their format is not far removed from that of the longer cantatas, some differences are obvious: for instance, in its earliest version the soloists in the Easter Oratorio were assigned roles (such as Mary Magdalene and Peter), while the Ascension Oratorio features an Evangelist, filling the same function as in the more monumental Passions. Both works - like the Christmas Oratorio - are, at least in part, so-called parodies: reworkings of secular occasional pieces as sacred compositions by adapting their texts. Such origins may to some extent explain the festive note of these two celebrations of the resurrection of Christ, and his ascension to heaven. The opening instrumental movement of the Easter Oratorio, which uses the theme from 'Erschallet, ihr Lieder' of Cantata BWV 172, resounds with jubilant trumpets and timpani, and the Ascension Oratorio begins with a chorus in which choir and orchestra "praise God in His kingdoms" with the splendour worthy of a great prince. Recent reviews have described Bach Collegium Japan's offerings as 'Bach to an unbelievable perfection' (the Suites) and 'musical beyond belief' (Volume 29), and here is more from the seemingly indefatigable Masaaki Suzuki. On the present disc, Cantata cycle veterans Yukari Nonoshita and Chiyuki Urano are joined by Jan Kobow, whose participation on Volume 22 (BIS-CD-1322) received much praise, and counter-tenor Patrick van Goethem, making his BIS début.
Bach Collegium Japan, Masaaki Suzuki - J.S. Bach: Easter Oratorio and Ascension Oratorio (2006):
Tracklist:
Kommt, Eilet Und Laufet, BWV 249, "Easter Oratorio":
01. Sinfonia
02. Adagio
03. Kommt, Eilet Und Laufet (Chorus)
04. Recitative: O Kalter Manner Sinn! (Soprano, Alto, Tenor, Bass)
05. Aria: Seele, Deine Spezereien (Soprano)
06. Recitative: Hier Ist Die Gruft (Alto, Tenor, Bass)
07. Aria: Sanfte Soll Mein Todeskummer (Tenor)
08. Recitative: Indessen Seufzen Wir (Soprano, Alto)
09. Aria: Saget, Saget Mit Geschwinde (Alto)
10. Recitative: Wir Sind Erfreut (Bass)
11. Preis Und Dank (Chorus)
Ascension Oratorio: Lobet Gott In Seinen Reichen, BWV 11 :
12. Lobet Gott In Seinen Reichen (Chorus)
13. Recitative: Der Herr Jesus Hub Seine Hande Auf (Tenor)
14. Recitative: Ach, Jesu, Ist Dein Abschied Schon So Nah? (Bass)
15. Aria: Ach Bleibe Doch, Mein Liebstes Leben (Alto)
16. Recitative: Und Ward Aufgehaben Zusehends (Tenor)
17. Chorale: Nun Lieget Alles Unter Dir (Chorus)
18. Recitative: Und Da Sie Ihm Nachsahen (Tenor, Bass, Alto)
19. Aria: Jesu, Deine Gnadenblicke (Soprano)
20. Chorale: Wenn Soll Es Doch Geschehen (Chorus)
foobar2000 1.3.13 / Замер динамического диапазона (DR) 1.1.1
Дата отчёта: 2022-05-05 21:46:56

––––––––––––––––––––––––––––––––––––––––
Анализ: Yukari Nonoshita / BACH, J.S.: Easter Oratorio / Ascension Oratorio
––––––––––––––––––––––––––––––––––––––––

DR Пики RMS Продолжительность трека
––––––––––––––––––––––––––––––––––––––––
DR13 -3.76 дБ -22.74 дБ 4:10 01-Kommt, Eilet Und Laufet, BWV 249, "Easter Oratorio": Sinfonia
DR12 -10.97 дБ -26.71 дБ 3:29 02-Kommt, Eilet Und Laufet, BWV 249, "Easter Oratorio": Adagio
DR14 -1.99 дБ -20.60 дБ 4:59 03-Kommt, Eilet Und Laufet (Chorus)
DR13 -5.44 дБ -26.02 дБ 0:58 04-Kommt, Eilet Und Laufet, BWV 249, "Easter Oratorio": Recitative: O Kalter Manner Sinn! (Soprano, Alto, Tenor, Bass)
DR16 -7.90 дБ -28.53 дБ 11:28 05-Kommt, Eilet Und Laufet, BWV 249, "Easter Oratorio": Aria: Seele, Deine Spezereien (Soprano)
DR12 -5.85 дБ -27.62 дБ 0:43 06-Kommt, Eilet Und Laufet, BWV 249, "Easter Oratorio": Recitative: Hier Ist Die Gruft (Alto, Tenor, Bass)
DR12 -10.70 дБ -28.76 дБ 6:18 07-Kommt, Eilet Und Laufet, BWV 249, "Easter Oratorio": Aria: Sanfte Soll Mein Todeskummer (Tenor)
DR14 -5.03 дБ -25.97 дБ 0:56 08-Kommt, Eilet Und Laufet, BWV 249, "Easter Oratorio": Recitative: Indessen Seufzen Wir (Soprano, Alto)
DR14 -6.83 дБ -25.49 дБ 5:56 09-Kommt, Eilet Und Laufet, BWV 249, "Easter Oratorio": Aria: Saget, Saget Mit Geschwinde (Alto)
DR12 -12.61 дБ -28.13 дБ 0:35 10-Kommt, Eilet Und Laufet, BWV 249, "Easter Oratorio": Recitative: Wir Sind Erfreut (Bass)
DR12 -3.33 дБ -19.93 дБ 2:32 11-Kommt, Eilet Und Laufet, BWV 249, "Easter Oratorio": Preis Und Dank (Chorus)
DR14 0.00 дБ -18.28 дБ 4:39 12-Ascension Oratorio: Lobet Gott In Seinen Reichen, BWV 11 : Lobet Gott In Seinen Reichen (Chorus)
DR12 -12.50 дБ -29.31 дБ 0:31 13-Ascension Oratorio: Lobet Gott In Seinen Reichen, BWV 11 : Recitative: Der Herr Jesus Hub Seine Hande Auf (Tenor)
DR13 -13.20 дБ -28.80 дБ 1:03 14-Ascension Oratorio: Lobet Gott In Seinen Reichen, BWV 11 : Recitative: Ach, Jesu, Ist Dein Abschied Schon So Nah? (Bass)
DR15 -7.80 дБ -27.75 дБ 7:15 15-Ascension Oratorio: Lobet Gott In Seinen Reichen, BWV 11 : Aria: Ach Bleibe Doch, Mein Liebstes Leben (Alto)
DR10 -8.80 дБ -27.35 дБ 0:28 16-Ascension Oratorio: Lobet Gott In Seinen Reichen, BWV 11 : Recitative: Und Ward Aufgehaben Zusehends (Tenor)
DR13 -4.39 дБ -23.01 дБ 1:11 17-Ascension Oratorio: Lobet Gott In Seinen Reichen, BWV 11 : Chorale: Nun Lieget Alles Unter Dir (Chorus)
DR13 -9.10 дБ -26.75 дБ 2:12 18-Ascension Oratorio: Lobet Gott In Seinen Reichen, BWV 11 : Recitative: Und Da Sie Ihm Nachsahen (Tenor, Bass, Alto)
DR16 -3.78 дБ -24.99 дБ 6:28 19-Ascension Oratorio: Lobet Gott In Seinen Reichen, BWV 11 : Aria: Jesu, Deine Gnadenblicke (Soprano)
DR12 -1.12 дБ -18.08 дБ 4:37 20-Ascension Oratorio: Lobet Gott In Seinen Reichen, BWV 11 : Chorale: Wenn Soll Es Doch Geschehen (Chorus)
––––––––––––––––––––––––––––––––––––––––

Количество треков: 20
Реальные значения DR: DR13

Частота: 88200 Гц
Каналов: 2
Разрядность: 24
Битрейт: 2412 кбит/с
Кодек: FLAC

All thanks go to the original releaser
Download Bach Collegium Japan, Masaaki Suzuki - J.S. Bach: Easter Oratorio and Ascension Oratorio (2006):