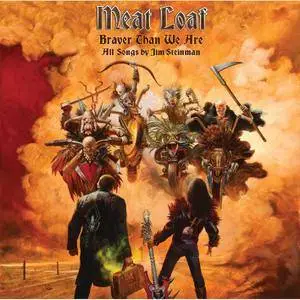 Meat Loaf - Braver Than We Are (2016/2018)
FLAC (tracks) 24-bit/44.1 kHz | Time - 55:17 minutes | 619 MB
Studio Master, Official Digital Download | Artwork: Front Cover
Meat Loaf, the rock legend who along with songwriter/producer Jim Steinman broke sales records with the classic multi-platinum albums Bat Out of Hell and Bat Out of Hell II: Back Into Hell, announces their reunion on the new album Braver Than We Are featuring 10 new Steinman songs performed as only Meat Loaf can! The project also showcases another reunion with vocalists Ellen Foley and Karla DeVito (vocalists from the smash hit Paradise by the Dashboard Light) on the epic song and first single Going All The Way.
"Jim Steinman parted ways with Meat Loaf sometime after their improbable 1993 blockbuster Bat Out of Hell II: Back Into Hell. He contributed a couple of songs to its 1995 sequel, Welcome to the Neighborhood, but by the time Meat Loaf was ready to do a third installment of Bat Out of Hell, Steinman opted out for unspecified reasons, leaving the singer to use five previously released Steinman songs as produced by Desmond Child – a satisfactory compromise that at the very least illustrated how Celine Dion's "It's All Coming Back to Me Now" should've been on a Bat Out of Hell album. Through a series of circumstances, Meat Loaf and Steinman wound up reuniting for 2016's Braver Than We Are, which was produced by Paul Crook, just like its 2012 predecessor Hell in a Handbasket. While the record bears some slick modern hallmarks, it is very much a throwback, evoking memories of Todd Rundgren's overblown Springsteen parody of 1977 as well as the earnest re-creation of 1993. Steinman's songs are suitably theatrical – the opening "Who Needs the Young" feels like it's a Broadway reject – and while he slyly winks at his past with "Going All the Way Is Just the Start (A Song in 6 Movements)," a song that features a cameo from "Paradise by the Dashboard Light" singer Ellen Foley, he also seems unaware that Ratt also got to the title "Loving You Is a Dirty Job" in 1990 (albiet after Steinman whose composition first appeared as a Bonnie Tyler single in 1985). That isolation is ultimately a benefit because Braver Than We Are feels caught between nostalgia and indifference, an album so old-fashioned it seems happily ignorant of modernity even when it threads EDM rhythms and metallic guitars into "More." The other way it's possible to tell this album was released in 2016 is Meat Loaf's performance. Thin and sometimes breathless, he's no longer the colossus of the '70s, but the diminishment of his range humanizes him and adds a bittersweet tinge to this reunion. Through Meat Loaf's voice alone, mortality becomes evident and it makes this third reunion with Steinman all the sweeter. Braver Than We Are may have its flaws – it's too staid and self-conscious, for one – but Steinman never found a better interpreter for his songs than Meat Loaf, and Meat Loaf never sounds more like himself than he does when singing Steinman, and that's why the album works." (Stephen Thomas Erlewine, AMG)
Tracklist:
1. Who Needs The Young 05:27
2. Going All The Way Is Just The Start (A Song In 6 Movements) 11:28
3. Speaking In Tongues 04:23
4. Loving You's A Dirty Job (But Somebody's Gotta Do It) 06:09
5. Souvenirs 08:17
6. Only When I Feel 01:56
7. More 06:06
8. Godz 03:33
9. Skull Of Your Country 03:35
10. Train Of Love 04:22
Personnel:
Meat Loaf, vocals
John Miceli, drums
Paul Crook, guitars, loops, synths
Randy Flowers, guitars, vocals
David Luther, saxophone, B3 Organ, strings, horn arrangements
Justin Avery, piano, synth, strings, backing vocal arrangements
Danny Miranda, bass
Ellen Foley, vocals (on track 2)
Karla DeVito, vocals (on track 2)
Stacy Michelle, vocals (on tracks 3, 4)
Cian Coey, vocals (on tracks 7, 9), backing vocals
Alicia Avery, backing vocals
Rickey Medlocke, slide guitar Solo (on track 10)
Produced by Paul Crook
foobar2000 1.3.7 / Dynamic Range Meter 1.1.1
log date: 2018-07-02 18:52:21

––––––––––––––––––––––––––––––––––––––––
Analyzed: Meat Loaf / Braver Than We Are
––––––––––––––––––––––––––––––––––––––––

DR Peak RMS Duration Track
––––––––––––––––––––––––––––––––––––––––
DR10 -0.67 dB -13.76 dB 5:27 01-Who Needs the Young
DR9 -0.50 dB -11.96 dB 11:28 02-Going All the Way Is Just the Start [A song in 6 Movements]
DR8 -3.30 dB -14.78 dB 4:24 03-Speaking in Tongues
DR10 -0.50 dB -13.46 dB 6:09 04-Loving You's a Dirty Job (But somebody's Gotta Do It)
DR8 -0.50 dB -12.21 dB 8:17 05-Souvenirs
DR7 -4.87 dB -16.19 dB 1:57 06-Only When I Feel
DR10 -0.50 dB -13.41 dB 6:07 07-More
DR9 -0.50 dB -12.31 dB 3:34 08-Godz
DR8 -0.50 dB -11.65 dB 3:35 09-Skull of Your Country
DR9 -0.50 dB -11.80 dB 4:23 10-Train of Love
––––––––––––––––––––––––––––––––––––––––

Number of tracks: 10
Official DR value: DR9

Samplerate: 44100 Hz
Channels: 2
Bits per sample: 24
Bitrate: 1624 kbps
Codec: FLAC
================================================================================
Thanks to the Original customer.