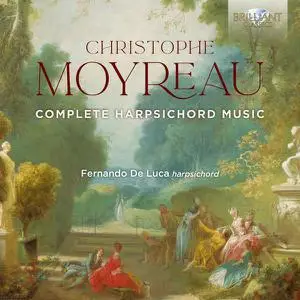 Fernando De Luca - Moyreau: Complete Harpsichord Music (2022) [Official Digital Download]
FLAC (tracks), Lossless [24bit-44kHz] | 8:40:19 | 5,69 Gb
Genre: Classical / Label: Brilliant Classics
The first-ever survey on record of the complete surviving output by a significant contemporary of Rameau: a missing piece in the jigsaw of the French Baroque.
Christophe Moyreau (1700-1774) was born and died in the city of Orleans, and perhaps one reason why he never attained the fame of contemporaries such as Couperin and Rameau was that he never occupied posts in the French capital. Too much of his career is still shrouded in mystery, but he listed his occupation as "organist" in the marriage register of his home church in 1726 – becoming father to 11 children over the next 18 years – and at some point he became titular organist at the important Church of Saint-Aignan before taking up the post as organist of the cathedral in 1737.
It seems to have been the lengthy restoration of the cathedral's organ which prompted Moyreau in 1753 to gather together much of his previously composed music into six books of Pièces de clavecin. He published them in two volumes during a lengthy period of what would otherwise have been enforced inactivity; he also wrote and issued a small but influential teaching manual in the same year.
The 126 separate pieces in the six books are remarkably varied in style but consistent in quality of invention. There are dances and character-pieces, organised into long suites, but also standalone overtures, sonatas and a solo concerto. The last of the suites concludes with a grand evocation of the bells of Orleans which has become his best-known work.
The second volume includes six "simphonies" for harpsichord, also recorded here by Fernando de Luca, making this set by far the most comprehensive collection of Moyreau's music ever released.
Track List:
[04:00] 01. Fernando De Luca - Pièces de clavecin, Op. 1, suite in D Minor: I. Ouverture
[04:40] 02. Fernando De Luca - Pièces de clavecin, Op. 1, suite in D Minor: II. Allemande
[03:25] 03. Fernando De Luca - Pièces de clavecin, Op. 1, suite in D Minor: III. Gigue
[05:50] 04. Fernando De Luca - Pièces de clavecin, Op. 1, suite in D Minor: IV. Menuet I-II
[03:21] 05. Fernando De Luca - Pièces de clavecin, Op. 1, suite in D Minor: V. La fausse musette
[02:47] 06. Fernando De Luca - Pièces de clavecin, Op. 1, suite in D Minor: VI. La petitte Françoise
[01:55] 07. Fernando De Luca - Pièces de clavecin, Op. 1, suite in D Minor: VII. L'iroquoise
[02:26] 08. Fernando De Luca - Pièces de clavecin, Op. 1, suite in D Minor: VIII. La petitte Follette
[03:57] 09. Fernando De Luca - Pièces de clavecin, Op. 1, suite in D Minor: IX. La mignone
[06:59] 10. Fernando De Luca - Pièces de clavecin, Op. 1, suite in D Minor: X. La guepine, rondeau
[06:15] 11. Fernando De Luca - Pièces de clavecin, Op. 1, suite in D Minor: XI. L'Orléanois, rondeau
[03:32] 12. Fernando De Luca - Pièces de clavecin, Op. 1, suite in D Minor: XII. La japonoisse
[03:37] 13. Fernando De Luca - Pièces de clavecin, Op. 1, suite in D Minor: XIII. La chinoises
[08:37] 14. Fernando De Luca - Pièces de clavecin, Op. 1, suite in D Minor: XIV. Les cyclopes forgeants le foudre meurtrier d'esculape - Apollon vient les exterminer
[03:05] 15. Fernando De Luca - Pièces de clavecin, Op. 1, suite in D Minor: XV. Concert des sicilliens delivrez du bruit des cyclopes
[05:09] 16. Fernando De Luca - Pièces de clavecin, Op. 1, suite in D Major: I. Ouverture
[03:26] 17. Fernando De Luca - Pièces de clavecin, Op. 1, concerto: I. Allegro
[01:46] 18. Fernando De Luca - Pièces de clavecin, Op. 1, concerto: II. Grave
[03:37] 19. Fernando De Luca - Pièces de clavecin, Op. 1, concerto: III. Allegro assai
[02:17] 20. Fernando De Luca - Pièces de clavecin, Op. 1, suite in F Minor and F Major: I. Ouverture
[03:46] 21. Fernando De Luca - Pièces de clavecin, Op. 1, suite in F Minor and F Major: II. Allemande
[03:28] 22. Fernando De Luca - Pièces de clavecin, Op. 1, suite in F Minor and F Major: III. Gigue
[03:37] 23. Fernando De Luca - Pièces de clavecin, Op. 1, suite in F Minor and F Major: IV. Menuet I-II-III
[06:28] 24. Fernando De Luca - Pièces de clavecin, Op. 1, suite in F Minor and F Major: V. La sensible, rondeau
[03:19] 25. Fernando De Luca - Pièces de clavecin, Op. 1, suite in F Minor and F Major: VI. La galanterie, rondeau
[05:02] 26. Fernando De Luca - Pièces de clavecin, Op. 1, suite in F Minor and F Major: VII. L'Espion
[03:26] 27. Fernando De Luca - Pièces de clavecin, Op. 1, suite in F Minor and F Major: VIII. La dupe, 2de partie
[04:36] 28. Fernando De Luca - Pièces de clavecin, Op. 1, suite in F Minor and F Major: IX. Le filou, 3e partie
[03:03] 29. Fernando De Luca - Pièces de clavecin, Op. 1, suite in F Minor and F Major: X. La doucereusse
[03:16] 30. Fernando De Luca - Pièces de clavecin, Op. 1, suite in F Minor and F Major: XI. La jalouse
[06:25] 31. Fernando De Luca - Pièces de clavecin, Op. 1, suite in F Minor and F Major: XII. L'animée
[06:52] 32. Fernando De Luca - Pièces de clavecin, Op. 1, suite in F Major: I. Ouverture
[01:02] 33. Fernando De Luca - Pièces de clavecin, Op. 1, sonata: I. Adagio
[03:00] 34. Fernando De Luca - Pièces de clavecin, Op. 1, sonata: II. Allegro
[01:43] 35. Fernando De Luca - Pièces de clavecin, Op. 1, sonata: III. Largo
[02:59] 36. Fernando De Luca - Pièces de clavecin, Op. 1, sonata: IV. Allegro assai
[02:50] 37. Fernando De Luca - Pièces de clavecin, Op. 2, suite in A Major and A Minor: I. Ouverture
[03:06] 38. Fernando De Luca - Pièces de clavecin, Op. 2, suite in A Major and A Minor: II. Allemande
[02:18] 39. Fernando De Luca - Pièces de clavecin, Op. 2, suite in A Major and A Minor: III. Courante
[02:55] 40. Fernando De Luca - Pièces de clavecin, Op. 2, suite in A Major and A Minor: IV. Gigue
[02:29] 41. Fernando De Luca - Pièces de clavecin, Op. 2, suite in A Major and A Minor: V. Menuet 1er - 2e Partie
[02:42] 42. Fernando De Luca - Pièces de clavecin, Op. 2, suite in A Major and A Minor: VI. La Marianne
[04:30] 43. Fernando De Luca - Pièces de clavecin, Op. 2, suite in A Major and A Minor: VII. Les epineusse, rondeau
[01:59] 44. Fernando De Luca - Pièces de clavecin, Op. 2, suite in A Major and A Minor: VIII. La Canadienne, marche
[02:14] 45. Fernando De Luca - Pièces de clavecin, Op. 2, suite in A Major and A Minor: IX. La jeunette
[05:00] 46. Fernando De Luca - Pièces de clavecin, Op. 2, suite in A Major and A Minor: X. L'Enbarassante, rondeau
[04:40] 47. Fernando De Luca - Pièces de clavecin, Op. 2, suite in A Major and A Minor: XI. La plaisante
[03:14] 48. Fernando De Luca - Pièces de clavecin, Op. 2, suite in A Major and A Minor: XII. L'Agissante
[04:41] 49. Fernando De Luca - Pièces de clavecin, Op. 2, suite in A Major and A Minor: XIII. La bourruë
[01:46] 50. Fernando De Luca - Pièces de clavecin, Op. 2, suite in A Major and A Minor: XIV. La Preludante
[04:12] 51. Fernando De Luca - Pièces de clavecin, Op. 2, suite in A Major and A Minor: XV. L'Italienne
[01:45] 52. Fernando De Luca - Pièces de clavecin, Op. 2, suite in A Major and A Minor: XVI. Le tour Italien
[03:32] 53. Fernando De Luca - Pièces de clavecin, Op. 2, suite in A Major and A Minor: XVII. L'Interompuë
[07:11] 54. Fernando De Luca - Pièces de clavecin, Op. 2, suite in A Minor: I. Ouverture
[02:04] 55. Fernando De Luca - Pièces de clavecin, Op. 2, sonate: I. Adagio
[03:30] 56. Fernando De Luca - Pièces de clavecin, Op. 2, sonate: II. Allegro
[01:03] 57. Fernando De Luca - Pièces de clavecin, Op. 2, sonate: III. Grave
[05:31] 58. Fernando De Luca - Pièces de clavecin, Op. 2, sonate: IV. Presto
[02:59] 59. Fernando De Luca - Pièces de clavecin, Op. 3, suite in C/C Minor: I. Ouverture
[02:25] 60. Fernando De Luca - Pièces de clavecin, Op. 3, suite in C/C Minor: II. Allemande
[04:15] 61. Fernando De Luca - Pièces de clavecin, Op. 3, suite in C/C Minor: III. Courante
[03:03] 62. Fernando De Luca - Pièces de clavecin, Op. 3, suite in C/C Minor: IV. Gigue
[03:17] 63. Fernando De Luca - Pièces de clavecin, Op. 3, suite in C/C Minor: V. Menuet I-II
[02:06] 64. Fernando De Luca - Pièces de clavecin, Op. 3, suite in C/C Minor: VI. Les nones
[02:10] 65. Fernando De Luca - Pièces de clavecin, Op. 3, suite in C/C Minor: VII. Preparation du voyage de donery
[01:23] 66. Fernando De Luca - Pièces de clavecin, Op. 3, suite in C/C Minor: VIII. Marche
[03:10] 67. Fernando De Luca - Pièces de clavecin, Op. 3, suite in C/C Minor: IX. La tristesse
[01:13] 68. Fernando De Luca - Pièces de clavecin, Op. 3, suite in C/C Minor: X. Le retour
[04:30] 69. Fernando De Luca - Pièces de clavecin, Op. 3, suite in C/C Minor: XI. La joie marquée par la danse (Menuets I-II-III)
[04:17] 70. Fernando De Luca - Pièces de clavecin, Op. 3, suite in C/C Minor: XII. Le gaigne-pain des voyageurs, tambourins
[04:09] 71. Fernando De Luca - Pièces de clavecin, Op. 3, suite in C/C Minor: XIII. La flotante, rondeau
[06:23] 72. Fernando De Luca - Pièces de clavecin, Op. 3, suite in C/C Minor: XIV. Le baccante
[05:04] 73. Fernando De Luca - Pièces de clavecin, Op. 3, suite in C/C Minor: XV. Le jaloux, rondeau
[04:21] 74. Fernando De Luca - Pièces de clavecin, Op. 3, suite in C/C Minor: XVI. La coquette
[01:31] 75. Fernando De Luca - Pièces de clavecin, Op. 3, suite in C/C Minor: XVII. Le preludant
[04:47] 76. Fernando De Luca - Pièces de clavecin, Op. 3, suite in C/C Minor: XVIII. L'Euridice
[02:48] 77. Fernando De Luca - Pièces de clavecin, Op. 3, suite in C/C Minor: XIX. La comique
[03:19] 78. Fernando De Luca - Pièces de clavecin, Op. 3, suite in C/C Minor: XX. L'Orphée
[03:04] 79. Fernando De Luca - Pièces de clavecin, Op. 3, suite in C/C Minor: XXI. Le caprice
[07:05] 80. Fernando De Luca - Ouverture in C Minor
[04:01] 81. Fernando De Luca - Pièces de clavecin, Op. 4, suite in G Minor/G: I. Ouverture
[02:57] 82. Fernando De Luca - Pièces de clavecin, Op. 4, suite in G Minor/G: II. Allemande
[02:16] 83. Fernando De Luca - Pièces de clavecin, Op. 4, suite in G Minor/G: III. Courante
[04:31] 84. Fernando De Luca - Pièces de clavecin, Op. 4, suite in G Minor/G: IV. Seconde courante
[02:38] 85. Fernando De Luca - Pièces de clavecin, Op. 4, suite in G Minor/G: V. Sarabande
[01:51] 86. Fernando De Luca - Pièces de clavecin, Op. 4, suite in G Minor/G: VI. Gigue
[01:00] 87. Fernando De Luca - Pièces de clavecin, Op. 4, suite in G Minor/G: VII. Le nouveau, rigaudon
[02:04] 88. Fernando De Luca - Pièces de clavecin, Op. 4, suite in G Minor/G: VIII. La mode, menuet
[02:10] 89. Fernando De Luca - Pièces de clavecin, Op. 4, suite in G Minor/G: IX. L'Insensé
[03:05] 90. Fernando De Luca - Pièces de clavecin, Op. 4, suite in G Minor/G: X. La discorde
[03:50] 91. Fernando De Luca - Pièces de clavecin, Op. 4, suite in G Minor/G: XI. L'Étourdi, I-II partie
[08:58] 92. Fernando De Luca - Pièces de clavecin, Op. 4, suite in G Minor/G: XII. Le pegase, rondeau I-II
[03:05] 93. Fernando De Luca - Pièces de clavecin, Op. 4, suite in G Minor/G: XIII. L'Holandoise
[05:24] 94. Fernando De Luca - Pièces de clavecin, Op. 4, suite in G Minor/G: XIV. Les papillons
[05:26] 95. Fernando De Luca - Pièces de clavecin, Op. 4, suite in G Minor/G: XV. La momus, rondeau
[05:17] 96. Fernando De Luca - Pièces de clavecin, Op. 4, suite in G Minor/G: XVI. La loire
[06:21] 97. Fernando De Luca - Ouverture in G Major
[01:14] 98. Fernando De Luca - Pièces de clavecin, Op. 4, sonate in G Major: I. Adagio
[02:46] 99. Fernando De Luca - Pièces de clavecin, Op. 4, sonate in G Major: II. Allegro
[02:42] 100. Fernando De Luca - Pièces de clavecin, Op. 4, sonate in G Major: III. Adagio
[02:50] 101. Fernando De Luca - Pièces de clavecin, Op. 4, sonate in G Major: IV. Allegro assai
[03:31] 102. Fernando De Luca - Pièces de clavecin, Op. 5, suite in E Minor/E Major: I. Ouverture en mi mineur
[04:42] 103. Fernando De Luca - Pièces de clavecin, Op. 5, suite in E Minor/E Major: II. Allemande
[03:45] 104. Fernando De Luca - Pièces de clavecin, Op. 5, suite in E Minor/E Major: III. Courante
[02:50] 105. Fernando De Luca - Pièces de clavecin, Op. 5, suite in E Minor/E Major: IV. Sarabande
[03:30] 106. Fernando De Luca - Pièces de clavecin, Op. 5, suite in E Minor/E Major: V. Gigua
[01:46] 107. Fernando De Luca - Pièces de clavecin, Op. 5, suite in E Minor/E Major: VI. Rigaudon
[00:46] 108. Fernando De Luca - Pièces de clavecin, Op. 5, suite in E Minor/E Major: VII. Le Fagotto
[02:09] 109. Fernando De Luca - Pièces de clavecin, Op. 5, suite in E Minor/E Major: VIII. Seconde rigaudon
[01:39] 110. Fernando De Luca - Pièces de clavecin, Op. 5, suite in E Minor/E Major: IX. Menuet
[00:48] 111. Fernando De Luca - Pièces de clavecin, Op. 5, suite in E Minor/E Major: X. Seconde menuet
[01:41] 112. Fernando De Luca - Pièces de clavecin, Op. 5, suite in E Minor/E Major: XI. Troisieme menuet
[04:28] 113. Fernando De Luca - Pièces de clavecin, Op. 5, suite in E Minor/E Major: XII. La petitte riante
[08:38] 114. Fernando De Luca - Pièces de clavecin, Op. 5, suite in E Minor/E Major: XIII. La parissienne, partie I-II
[01:26] 115. Fernando De Luca - Pièces de clavecin, Op. 5, suite in E Minor/E Major: XIV. Le croustilleux
[03:27] 116. Fernando De Luca - Pièces de clavecin, Op. 5, suite in E Minor/E Major: XV. Le pandoure, rondeau
[04:36] 117. Fernando De Luca - Pièces de clavecin, Op. 5, suite in E Minor/E Major: XVI. Le prussien, rondeau
[02:46] 118. Fernando De Luca - Pièces de clavecin, Op. 5, suite in E Minor/E Major: XVII. L'azem-beba carmagniole
[06:01] 119. Fernando De Luca - Pièces de clavecin, Op. 5, suite in E Minor/E Major: XVIII. Euphrosine
[02:46] 120. Fernando De Luca - Pièces de clavecin, Op. 5, suite in E Minor/E Major: XIX. Talië
[01:11] 121. Fernando De Luca - Pièces de clavecin, Op. 5, suite in E Minor/E Major: XX. Aglaeé
[03:55] 122. Fernando De Luca - Pièces de clavecin, Op. 5, suite in E Minor/E Major: XXI. Ballet des graces. Menuet I-II-III
[03:32] 123. Fernando De Luca - Pièces de clavecin, Op. 5, suite in E Minor/E Major: XXII. L'Organisée
[05:25] 124. Fernando De Luca - Pièces de clavecin, Op. 5, suite in E Minor/E Major: XXIII. Les cloches d'Orléans, pièce pour l'orgue et le clavecin
[02:12] 125. Fernando De Luca - Sinfonia No. 1 in B Minor: I. Vivace
[01:11] 126. Fernando De Luca - Sinfonia No. 1 in B Minor: II. Andante
[01:38] 127. Fernando De Luca - Sinfonia No. 1 in B Minor: III. Tempo di minuetto
[01:40] 128. Fernando De Luca - Sinfonia No. 2 in B-Flat Major: I. Vivace
[01:58] 129. Fernando De Luca - Sinfonia No. 2 in B-Flat Major: II. Largo
[01:19] 130. Fernando De Luca - Sinfonia No. 2 in B-Flat Major: III. Minuetto
[02:05] 131. Fernando De Luca - Sinfonia No. 3 in E Major: I. Vivace
[02:34] 132. Fernando De Luca - Sinfonia No. 3 in E Major: II. Adagio
[01:46] 133. Fernando De Luca - Sinfonia No. 3 in E Major: III. Minuetto
[02:02] 134. Fernando De Luca - Sinfonia No. 4 in E-Flat Major: I. Allegro
[03:09] 135. Fernando De Luca - Sinfonia No. 4 in E-Flat Major: II. Adagio
[02:36] 136. Fernando De Luca - Sinfonia No. 4 in E-Flat Major: III. Tempo di minuetto, gratioso
[03:38] 137. Fernando De Luca - Sinfonia No. 5 in F-Sharp Minor: I. Allegro molto
[02:05] 138. Fernando De Luca - Sinfonia No. 5 in F-Sharp Minor: II. Largo
[02:12] 139. Fernando De Luca - Sinfonia No. 5 in F-Sharp Minor: III. Tempo di minuetto, Vivace
[01:51] 140. Fernando De Luca - Sinfonia No. 6 in F Minor: I. Vivace
[01:04] 141. Fernando De Luca - Sinfonia No. 6 in F Minor: II. Largo
[01:33] 142. Fernando De Luca - Sinfonia No. 6 in F Minor: III. Tempo di minuetto
[04:17] 143. Fernando De Luca - Appendix from, Op. 5: I. Ouverture en E
[05:00] 144. Fernando De Luca - Concerto in E Minor: I. Allegro
[02:23] 145. Fernando De Luca - Concerto in E Minor: II. Adagio
[02:50] 146. Fernando De Luca - Concerto in E Minor: III. Allegro
[04:55] 147. Fernando De Luca - Sonate in E Minor: I. Allegro
[03:06] 148. Fernando De Luca - Sonate in E Minor: II. Adagio-Vivace
[03:16] 149. Fernando De Luca - From, Op. 3, concerto in C Major: I. Allegro
[02:07] 150. Fernando De Luca - From, Op. 3, concerto in C Major: II. Adagio
[04:04] 151. Fernando De Luca - From, Op. 3, concerto in C Major: III. Allegro
[07:43] 152. Fernando De Luca - From, Op. 2, le purgatoire in A Minor: I. Plaintes de morts - Cris lamantables - Redoublemens de cris - Sommeil - Reveil - Douleurs amere - Souffrances aigue - Accablement - Sommeil eternal
foobar2000 1.6.10 / Dynamic Range Meter 1.1.1
log date: 2022-03-25 17:46:44

––––––––––––––––––––––––––––––––––––––––
Analyzed: Fernando De Luca / Moyreau: Complete Harpsichord Music
––––––––––––––––––––––––––––––––––––––––

DR Peak RMS Duration Track
––––––––––––––––––––––––––––––––––––––––
DR12 -1.45 dB -16.00 dB 4:00 01-Pièces de clavecin, Op. 1, suite in D Minor: I. Ouverture
DR11 -4.46 dB -17.77 dB 4:40 02-Pièces de clavecin, Op. 1, suite in D Minor: II. Allemande
DR11 -2.35 dB -15.67 dB 3:26 03-Pièces de clavecin, Op. 1, suite in D Minor: III. Gigue
DR13 -4.94 dB -20.43 dB 5:51 04-Pièces de clavecin, Op. 1, suite in D Minor: IV. Menuet I-II
DR11 -3.13 dB -16.80 dB 3:21 05-Pièces de clavecin, Op. 1, suite in D Minor: V. La fausse musette
DR11 -4.44 dB -19.09 dB 2:47 06-Pièces de clavecin, Op. 1, suite in D Minor: VI. La petitte Françoise
DR10 -2.94 dB -15.57 dB 1:56 07-Pièces de clavecin, Op. 1, suite in D Minor: VII. L'iroquoise
DR12 -3.66 dB -19.66 dB 2:26 08-Pièces de clavecin, Op. 1, suite in D Minor: VIII. La petitte Follette
DR11 -3.04 dB -15.79 dB 3:58 09-Pièces de clavecin, Op. 1, suite in D Minor: IX. La mignone
DR12 -3.87 dB -19.48 dB 6:59 10-Pièces de clavecin, Op. 1, suite in D Minor: X. La guepine, rondeau
DR12 -3.44 dB -18.79 dB 6:16 11-Pièces de clavecin, Op. 1, suite in D Minor: XI. L'Orléanois, rondeau
DR12 -2.82 dB -16.83 dB 3:33 12-Pièces de clavecin, Op. 1, suite in D Minor: XII. La japonoisse
DR11 -5.08 dB -18.98 dB 3:37 13-Pièces de clavecin, Op. 1, suite in D Minor: XIII. La chinoises
DR12 -3.59 dB -18.22 dB 8:37 14-Pièces de clavecin, Op. 1, suite in D Minor: XIV. Les cyclopes forgeants le foudre meurtrier d'esculape - Apollon vient les exterminer
DR11 -3.65 dB -17.22 dB 3:06 15-Pièces de clavecin, Op. 1, suite in D Minor: XV. Concert des sicilliens delivrez du bruit des cyclopes
DR12 -4.49 dB -18.72 dB 5:09 16-Pièces de clavecin, Op. 1, suite in D Major: I. Ouverture
DR12 -4.83 dB -18.33 dB 3:26 17-Pièces de clavecin, Op. 1, concerto: I. Allegro
DR12 -5.02 dB -19.21 dB 1:47 18-Pièces de clavecin, Op. 1, concerto: II. Grave
DR12 -4.62 dB -19.42 dB 3:37 19-Pièces de clavecin, Op. 1, concerto: III. Allegro assai
DR13 -3.40 dB -18.92 dB 2:18 20-Pièces de clavecin, Op. 1, suite in F Minor and F Major: I. Ouverture
DR12 -4.42 dB -18.60 dB 3:47 21-Pièces de clavecin, Op. 1, suite in F Minor and F Major: II. Allemande
DR12 -4.41 dB -17.99 dB 3:28 22-Pièces de clavecin, Op. 1, suite in F Minor and F Major: III. Gigue
DR13 -3.12 dB -20.11 dB 3:37 23-Pièces de clavecin, Op. 1, suite in F Minor and F Major: IV. Menuet I-II-III
DR12 -7.24 dB -22.20 dB 6:28 24-Pièces de clavecin, Op. 1, suite in F Minor and F Major: V. La sensible, rondeau
DR12 -5.80 dB -22.44 dB 3:20 25-Pièces de clavecin, Op. 1, suite in F Minor and F Major: VI. La galanterie, rondeau
DR12 -4.62 dB -18.76 dB 5:02 26-Pièces de clavecin, Op. 1, suite in F Minor and F Major: VII. L'Espion
DR12 -6.01 dB -21.76 dB 3:26 27-Pièces de clavecin, Op. 1, suite in F Minor and F Major: VIII. La dupe, 2de partie
DR12 -5.62 dB -19.33 dB 4:37 28-Pièces de clavecin, Op. 1, suite in F Minor and F Major: IX. Le filou, 3e partie
DR12 -4.68 dB -18.34 dB 3:04 29-Pièces de clavecin, Op. 1, suite in F Minor and F Major: X. La doucereusse
DR13 -4.14 dB -18.86 dB 3:17 30-Pièces de clavecin, Op. 1, suite in F Minor and F Major: XI. La jalouse
DR13 -3.38 dB -18.85 dB 6:26 31-Pièces de clavecin, Op. 1, suite in F Minor and F Major: XII. L'animée
DR12 -3.04 dB -17.25 dB 6:52 32-Pièces de clavecin, Op. 1, suite in F Major: I. Ouverture
DR11 -5.65 dB -19.78 dB 1:03 33-Pièces de clavecin, Op. 1, sonata: I. Adagio
DR11 -4.67 dB -17.92 dB 3:00 34-Pièces de clavecin, Op. 1, sonata: II. Allegro
DR12 -7.35 dB -22.69 dB 1:43 35-Pièces de clavecin, Op. 1, sonata: III. Largo
DR12 -3.69 dB -17.89 dB 3:00 36-Pièces de clavecin, Op. 1, sonata: IV. Allegro assai
DR12 -4.83 dB -19.63 dB 2:50 37-Pièces de clavecin, Op. 2, suite in A Major and A Minor: I. Ouverture
DR11 -5.19 dB -18.04 dB 3:06 38-Pièces de clavecin, Op. 2, suite in A Major and A Minor: II. Allemande
DR12 -4.00 dB -19.28 dB 2:18 39-Pièces de clavecin, Op. 2, suite in A Major and A Minor: III. Courante
DR13 -2.27 dB -17.10 dB 2:55 40-Pièces de clavecin, Op. 2, suite in A Major and A Minor: IV. Gigue
DR12 -5.79 dB -21.76 dB 2:29 41-Pièces de clavecin, Op. 2, suite in A Major and A Minor: V. Menuet 1er - 2e Partie
DR11 -5.18 dB -20.08 dB 2:42 42-Pièces de clavecin, Op. 2, suite in A Major and A Minor: VI. La Marianne
DR12 -5.68 dB -21.28 dB 4:30 43-Pièces de clavecin, Op. 2, suite in A Major and A Minor: VII. Les epineusse, rondeau
DR11 -4.40 dB -18.46 dB 1:59 44-Pièces de clavecin, Op. 2, suite in A Major and A Minor: VIII. La Canadienne, marche
DR11 -7.11 dB -21.98 dB 2:14 45-Pièces de clavecin, Op. 2, suite in A Major and A Minor: IX. La jeunette
DR11 -3.19 dB -19.63 dB 5:00 46-Pièces de clavecin, Op. 2, suite in A Major and A Minor: X. L'Enbarassante, rondeau
DR12 -4.12 dB -17.95 dB 4:40 47-Pièces de clavecin, Op. 2, suite in A Major and A Minor: XI. La plaisante
DR13 -9.94 dB -24.71 dB 3:14 48-Pièces de clavecin, Op. 2, suite in A Major and A Minor: XII. L'Agissante
DR13 -3.94 dB -19.37 dB 4:42 49-Pièces de clavecin, Op. 2, suite in A Major and A Minor: XIII. La bourruë
DR12 -3.10 dB -19.15 dB 1:47 50-Pièces de clavecin, Op. 2, suite in A Major and A Minor: XIV. La Preludante
DR12 -4.02 dB -18.51 dB 4:13 51-Pièces de clavecin, Op. 2, suite in A Major and A Minor: XV. L'Italienne
DR13 -5.64 dB -22.92 dB 1:45 52-Pièces de clavecin, Op. 2, suite in A Major and A Minor: XVI. Le tour Italien
DR12 -5.30 dB -20.80 dB 3:32 53-Pièces de clavecin, Op. 2, suite in A Major and A Minor: XVII. L'Interompuë
DR13 -3.72 dB -18.96 dB 7:11 54-Pièces de clavecin, Op. 2, suite in A Minor: I. Ouverture
DR12 -5.15 dB -20.21 dB 2:04 55-Pièces de clavecin, Op. 2, sonate: I. Adagio
DR12 -3.60 dB -18.34 dB 3:30 56-Pièces de clavecin, Op. 2, sonate: II. Allegro
DR13 -4.76 dB -21.69 dB 1:04 57-Pièces de clavecin, Op. 2, sonate: III. Grave
DR12 -4.46 dB -19.55 dB 5:31 58-Pièces de clavecin, Op. 2, sonate: IV. Presto
DR12 -3.03 dB -17.85 dB 2:59 59-Pièces de clavecin, Op. 3, suite in C/C Minor: I. Ouverture
DR12 -3.86 dB -19.75 dB 2:26 60-Pièces de clavecin, Op. 3, suite in C/C Minor: II. Allemande
DR13 -4.55 dB -18.77 dB 4:16 61-Pièces de clavecin, Op. 3, suite in C/C Minor: III. Courante
DR11 -5.42 dB -18.07 dB 3:04 62-Pièces de clavecin, Op. 3, suite in C/C Minor: IV. Gigue
DR12 -5.79 dB -20.91 dB 3:17 63-Pièces de clavecin, Op. 3, suite in C/C Minor: V. Menuet I-II
DR12 -6.20 dB -22.31 dB 2:07 64-Pièces de clavecin, Op. 3, suite in C/C Minor: VI. Les nones
DR12 -4.01 dB -17.68 dB 2:10 65-Pièces de clavecin, Op. 3, suite in C/C Minor: VII. Preparation du voyage de donery
DR12 -4.85 dB -18.74 dB 1:24 66-Pièces de clavecin, Op. 3, suite in C/C Minor: VIII. Marche
DR12 -7.16 dB -23.89 dB 3:10 67-Pièces de clavecin, Op. 3, suite in C/C Minor: IX. La tristesse
DR12 -6.53 dB -21.69 dB 1:13 68-Pièces de clavecin, Op. 3, suite in C/C Minor: X. Le retour
DR12 -5.49 dB -19.86 dB 4:31 69-Pièces de clavecin, Op. 3, suite in C/C Minor: XI. La joie marquée par la danse (Menuets I-II-III)
DR12 -3.17 dB -18.59 dB 4:18 70-Pièces de clavecin, Op. 3, suite in C/C Minor: XII. Le gaigne-pain des voyageurs, tambourins
DR12 -7.64 dB -23.73 dB 4:10 71-Pièces de clavecin, Op. 3, suite in C/C Minor: XIII. La flotante, rondeau
DR12 -3.59 dB -18.18 dB 6:24 72-Pièces de clavecin, Op. 3, suite in C/C Minor: XIV. Le baccante
DR12 -8.60 dB -23.38 dB 5:05 73-Pièces de clavecin, Op. 3, suite in C/C Minor: XV. Le jaloux, rondeau
DR11 -5.71 dB -18.75 dB 4:21 74-Pièces de clavecin, Op. 3, suite in C/C Minor: XVI. La coquette
DR11 -3.62 dB -18.92 dB 1:31 75-Pièces de clavecin, Op. 3, suite in C/C Minor: XVII. Le preludant
DR12 -6.29 dB -22.23 dB 4:48 76-Pièces de clavecin, Op. 3, suite in C/C Minor: XVIII. L'Euridice
DR12 -3.08 dB -18.90 dB 2:48 77-Pièces de clavecin, Op. 3, suite in C/C Minor: XIX. La comique
DR13 -3.29 dB -18.74 dB 3:20 78-Pièces de clavecin, Op. 3, suite in C/C Minor: XX. L'Orphée
DR12 -3.88 dB -20.21 dB 3:05 79-Pièces de clavecin, Op. 3, suite in C/C Minor: XXI. Le caprice
DR13 -3.77 dB -18.75 dB 7:05 80-Ouverture in C Minor
DR13 -3.66 dB -18.47 dB 4:01 81-Pièces de clavecin, Op. 4, suite in G Minor/G: I. Ouverture
DR11 -5.86 dB -21.32 dB 2:57 82-Pièces de clavecin, Op. 4, suite in G Minor/G: II. Allemande
DR12 -4.58 dB -18.25 dB 2:17 83-Pièces de clavecin, Op. 4, suite in G Minor/G: III. Courante
DR11 -5.25 dB -18.30 dB 4:31 84-Pièces de clavecin, Op. 4, suite in G Minor/G: IV. Seconde courante
DR12 -7.68 dB -23.13 dB 2:38 85-Pièces de clavecin, Op. 4, suite in G Minor/G: V. Sarabande
DR12 -3.52 dB -18.66 dB 1:51 86-Pièces de clavecin, Op. 4, suite in G Minor/G: VI. Gigue
DR12 -4.09 dB -19.21 dB 1:00 87-Pièces de clavecin, Op. 4, suite in G Minor/G: VII. Le nouveau, rigaudon
DR11 -6.48 dB -20.59 dB 2:04 88-Pièces de clavecin, Op. 4, suite in G Minor/G: VIII. La mode, menuet
DR11 -4.60 dB -17.80 dB 2:11 89-Pièces de clavecin, Op. 4, suite in G Minor/G: IX. L'Insensé
DR11 -4.98 dB -18.09 dB 3:05 90-Pièces de clavecin, Op. 4, suite in G Minor/G: X. La discorde
DR12 -4.43 dB -18.79 dB 3:50 91-Pièces de clavecin, Op. 4, suite in G Minor/G: XI. L'Étourdi, I-II partie
DR12 -4.88 dB -19.29 dB 8:59 92-Pièces de clavecin, Op. 4, suite in G Minor/G: XII. Le pegase, rondeau I-II
DR12 -6.52 dB -20.25 dB 3:06 93-Pièces de clavecin, Op. 4, suite in G Minor/G: XIII. L'Holandoise
DR13 -4.73 dB -20.60 dB 5:24 94-Pièces de clavecin, Op. 4, suite in G Minor/G: XIV. Les papillons
DR12 -6.12 dB -21.27 dB 5:27 95-Pièces de clavecin, Op. 4, suite in G Minor/G: XV. La momus, rondeau
DR12 -4.23 dB -19.05 dB 5:18 96-Pièces de clavecin, Op. 4, suite in G Minor/G: XVI. La loire
DR13 -3.53 dB -18.85 dB 6:22 97-Ouverture in G Major
DR13 -5.11 dB -21.30 dB 1:14 98-Pièces de clavecin, Op. 4, sonate in G Major: I. Adagio
DR11 -4.44 dB -18.15 dB 2:46 99-Pièces de clavecin, Op. 4, sonate in G Major: II. Allegro
DR14 -7.53 dB -24.07 dB 2:42 100-Pièces de clavecin, Op. 4, sonate in G Major: III. Adagio
DR12 -4.43 dB -18.44 dB 2:51 101-Pièces de clavecin, Op. 4, sonate in G Major: IV. Allegro assai
DR12 -4.22 dB -19.01 dB 3:31 102-Pièces de clavecin, Op. 5, suite in E Minor/E Major: I. Ouverture en mi mineur
DR12 -6.58 dB -21.32 dB 4:43 103-Pièces de clavecin, Op. 5, suite in E Minor/E Major: II. Allemande
DR12 -5.60 dB -19.19 dB 3:45 104-Pièces de clavecin, Op. 5, suite in E Minor/E Major: III. Courante
DR16 -5.52 dB -24.19 dB 2:50 105-Pièces de clavecin, Op. 5, suite in E Minor/E Major: IV. Sarabande
DR12 -3.37 dB -17.22 dB 3:31 106-Pièces de clavecin, Op. 5, suite in E Minor/E Major: V. Gigua
DR12 -5.53 dB -20.30 dB 1:47 107-Pièces de clavecin, Op. 5, suite in E Minor/E Major: VI. Rigaudon
DR12 -5.86 dB -21.84 dB 0:46 108-Pièces de clavecin, Op. 5, suite in E Minor/E Major: VII. Le Fagotto
DR12 -5.39 dB -20.41 dB 2:10 109-Pièces de clavecin, Op. 5, suite in E Minor/E Major: VIII. Seconde rigaudon
DR12 -6.46 dB -19.78 dB 1:40 110-Pièces de clavecin, Op. 5, suite in E Minor/E Major: IX. Menuet
DR13 -9.88 dB -25.25 dB 0:49 111-Pièces de clavecin, Op. 5, suite in E Minor/E Major: X. Seconde menuet
DR12 -5.73 dB -19.35 dB 1:41 112-Pièces de clavecin, Op. 5, suite in E Minor/E Major: XI. Troisieme menuet
DR12 -6.96 dB -22.03 dB 4:28 113-Pièces de clavecin, Op. 5, suite in E Minor/E Major: XII. La petitte riante
DR13 -6.38 dB -22.10 dB 8:38 114-Pièces de clavecin, Op. 5, suite in E Minor/E Major: XIII. La parissienne, partie I-II
DR13 -5.43 dB -19.79 dB 1:27 115-Pièces de clavecin, Op. 5, suite in E Minor/E Major: XIV. Le croustilleux
DR13 -3.20 dB -19.30 dB 3:27 116-Pièces de clavecin, Op. 5, suite in E Minor/E Major: XV. Le pandoure, rondeau
DR13 -5.35 dB -22.27 dB 4:36 117-Pièces de clavecin, Op. 5, suite in E Minor/E Major: XVI. Le prussien, rondeau
DR12 -3.82 dB -19.52 dB 2:47 118-Pièces de clavecin, Op. 5, suite in E Minor/E Major: XVII. L'azem-beba carmagniole
DR13 -5.34 dB -19.80 dB 6:01 119-Pièces de clavecin, Op. 5, suite in E Minor/E Major: XVIII. Euphrosine
DR13 -4.52 dB -20.68 dB 2:47 120-Pièces de clavecin, Op. 5, suite in E Minor/E Major: XIX. Talië
DR12 -9.62 dB -22.95 dB 1:11 121-Pièces de clavecin, Op. 5, suite in E Minor/E Major: XX. Aglaeé
DR12 -6.63 dB -21.45 dB 3:56 122-Pièces de clavecin, Op. 5, suite in E Minor/E Major: XXI. Ballet des graces. Menuet I-II-III
DR12 -2.96 dB -18.37 dB 3:33 123-Pièces de clavecin, Op. 5, suite in E Minor/E Major: XXII. L'Organisée
DR13 -6.21 dB -22.35 dB 5:25 124-Pièces de clavecin, Op. 5, suite in E Minor/E Major: XXIII. Les cloches d'Orléans, pièce pour l'orgue et le clavecin
DR12 -4.77 dB -19.27 dB 2:12 125-Sinfonia No. 1 in B Minor: I. Vivace
DR11 -6.87 dB -20.91 dB 1:12 126-Sinfonia No. 1 in B Minor: II. Andante
DR12 -5.30 dB -23.15 dB 1:39 127-Sinfonia No. 1 in B Minor: III. Tempo di minuetto
DR12 -4.41 dB -18.84 dB 1:41 128-Sinfonia No. 2 in B-Flat Major: I. Vivace
DR13 -6.24 dB -23.10 dB 1:59 129-Sinfonia No. 2 in B-Flat Major: II. Largo
DR12 -6.51 dB -22.96 dB 1:19 130-Sinfonia No. 2 in B-Flat Major: III. Minuetto
DR12 -6.77 dB -21.21 dB 2:05 131-Sinfonia No. 3 in E Major: I. Vivace
DR15 -8.86 dB -27.14 dB 2:35 132-Sinfonia No. 3 in E Major: II. Adagio
DR12 -6.83 dB -21.16 dB 1:46 133-Sinfonia No. 3 in E Major: III. Minuetto
DR12 -4.51 dB -19.41 dB 2:02 134-Sinfonia No. 4 in E-Flat Major: I. Allegro
DR12 -7.21 dB -23.39 dB 3:09 135-Sinfonia No. 4 in E-Flat Major: II. Adagio
DR12 -8.05 dB -22.23 dB 2:36 136-Sinfonia No. 4 in E-Flat Major: III. Tempo di minuetto, gratioso
DR13 -4.63 dB -18.97 dB 3:38 137-Sinfonia No. 5 in F-Sharp Minor: I. Allegro molto
DR14 -11.84 dB -28.77 dB 2:05 138-Sinfonia No. 5 in F-Sharp Minor: II. Largo
DR13 -6.11 dB -20.92 dB 2:13 139-Sinfonia No. 5 in F-Sharp Minor: III. Tempo di minuetto, Vivace
DR12 -6.10 dB -20.30 dB 1:52 140-Sinfonia No. 6 in F Minor: I. Vivace
DR14 -10.68 dB -26.23 dB 1:05 141-Sinfonia No. 6 in F Minor: II. Largo
DR12 -3.25 dB -19.27 dB 1:34 142-Sinfonia No. 6 in F Minor: III. Tempo di minuetto
DR12 -4.78 dB -19.59 dB 4:17 143-Appendix from, Op. 5: I. Ouverture en E
DR12 -4.85 dB -18.63 dB 5:01 144-Concerto in E Minor: I. Allegro
DR13 -4.66 dB -21.10 dB 2:23 145-Concerto in E Minor: II. Adagio
DR11 -5.35 dB -18.71 dB 2:50 146-Concerto in E Minor: III. Allegro
DR12 -5.03 dB -18.54 dB 4:55 147-Sonate in E Minor: I. Allegro
DR12 -5.40 dB -20.36 dB 3:06 148-Sonate in E Minor: II. Adagio-Vivace
DR12 -4.60 dB -18.74 dB 3:17 149-From, Op. 3, concerto in C Major: I. Allegro
DR13 -6.24 dB -23.44 dB 2:08 150-From, Op. 3, concerto in C Major: II. Adagio
DR12 -4.67 dB -18.80 dB 4:04 151-From, Op. 3, concerto in C Major: III. Allegro
DR12 -4.32 dB -20.74 dB 7:44 152-From, Op. 2, le purgatoire in A Minor: I. Plaintes de morts - Cris lamantables - Redoublemens de cris - Sommeil - Reveil - Douleurs amere - Souffrances aigue - Accablement - Sommeil eternal
––––––––––––––––––––––––––––––––––––––––

Number of tracks: 152
Official DR value: DR12

Samplerate: 44100 Hz
Channels: 2
Bits per sample: 24
Bitrate: 1429 kbps
Codec: FLAC
================================================================================