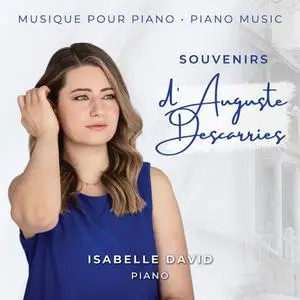 Isabelle David - Souvenirs d'Auguste Descarries (2022)
FLAC (tracks), Lossless | 55:59 | 175 Mb
Genre: Classical / Label: Leaf Music
Montreal pianist Isabelle David's debut solo album includes 14 works from pianist and composer Auguste Descarries. Two of these are previously unreleased contributions to Quebec piano literature. Decarries holds a special place in Ms. David's musical background, as her maternal grandmother was one of the students who benefited from his teaching. This special link and the discovery of the composer's manuscripts led Ms. David to pursue a doctorate in music performance, where she devoted four years of research to Descarries's piano works. She writes: "This album is the culmination of all the work undertaken in the past few years. It is part of an endeavor shared with other musicians and music lovers who wish to raise the profile of Auguste Descarries's great piano legacy. I trust that you will enjoy the composer's unreleased pieces, whose opus makes a very original contribution to the piano literature of Quebec. Happy listening!"