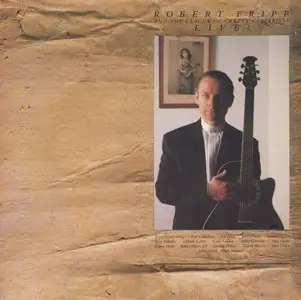 The Robert Fripp & League Of Crafty Guitarists - Live!
Vinyl | LP Cover (1:1) | FLAC + cue | 24bit/96kHz | 900mb
Label: Editions EG/EGED 43 | Released: 1986 | Genre: Acoustic-Fusion

A1 Guitar Craft Theme I: Invocation
A2 Tight Muscle Party At Love Beach
A3 The Chords That Bind
A4 Guitar Craft Theme III: Eye Of The Needle
A5 All Or Nothing II
A6 Guitar Craft Theme II: Aspiration
-
B1 All Or Nothing I
B2 Circulation
B3 A Fearful Symmetry
B4 The New World
B5 Crafty March

Acoustic Guitar – Andrew Essex, Bryan Helm, Claude Gillet, Curt Golden, Danny Howes, David Mazza, James Hines III, John Durso, John Miley, John Novak, Jon Diaz, Mark Tomacci, Mike Gorman (3), Roy Capellaro, Terry Blankenship, Tony Geballe, Trey Gunn
Acoustic Guitar, Guitar – Robert Fripp
Artwork By [Cover Photograph Of Robert Fripp] – Richard Haughton
Artwork By [Cover] – Bill Smith Studio
Artwork By [Photograph Of The Lcg At George Washington University] – Toyah Willcox
Engineer [Assistant] – Mark Shane
Engineer [Executive] – Tony Arnold
Engineer [Location Recording] – Effanel Music
Engineer [Mixing Assistant] – Gary Jones
Engineer [Recording] – Randy Ezratty
Producer – Robert Fripp, Tony Arnold
Producer [Concert Production] – Jon Paige
Written-By – Fripp* (tracks: A1, A3 to B5)
Notes
The members of this particular configuration of the League of Crafty Guitarists represents the larger body of Crafty Guitarists.

Mixed at: Arny's Shack, Parkstone, Dorset (U.K.).

Produced for Editions EG
Marketed by Jem Records Inc.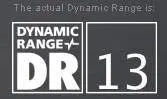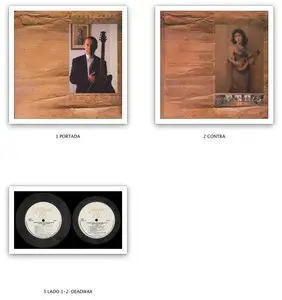 This Rip: 2014
This LP: NM- / From my personal collection
Cleaning: RCM Moth MkII Pro Vinyl
Direct Drive Turntable: Marantz 6170
Cartridge: SHURE M97xE
Amplifier: Sansui 9090DB
ADC: E-MU 0404
LP Rip & Full Scan LP Cover: Fran Solo
Password: WITHOUT PASSWORD
This album is a report from Robert Fripp's guitar craft courses he gave in the 1980's, where he in a tight schedule disciplined the course attendees to approach their instrument from a new angle provided; His own tuning system was introduced, and with only a little time for sleeping the course attendees were educated to be the most committed players. In Tamm's book about Fripp he was asked that how many people had gone crazy during the course, and the reply was "Only few". In the end of the courses Robert booked a local restaurant for the guitar cadets to perform live on stage the stuff which they had studied, and this album brings us one of those results, culminating mostly as a wall of slowly morphing acoustic guitar chord layers. This is quite fascinating material if you are interested in guitar playing technics and Fripp's ideas, or soothing ambient music. I find this as a nice relaxation album but it's not the most essential record in Fripp's solo works discography for me.


progarchives.com
Vinyl / CUE/ FLAC/ High Definition Cover: