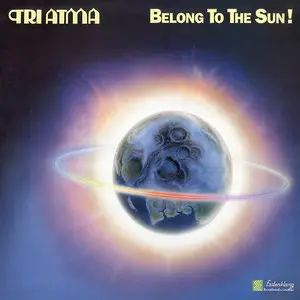 Tri Atma – Belong To The Sun! (1989)
XLD Flac 24Bit/44.1kHz = 592 MB | Mp3 VBR0 = 126 MB | Scans 400 dpi jpg | RAR
Vinyl LP | Erdenklang IRS 842.483 | Krautrock · New Age | Bremen · Germany
Here you can experience how some progressive krautrock pioneers manage to melt their roots with new musical influences like synths, electronic, lounge, new age. If you want to hear 70ies prog, you better search for 70ies prog ;-)
From Rateyourmusic:
Tri Atma is back with many good new songs! Let me forget the Jummy moon-shit from before! This is an up-to date Tri Atma record, more electronics but also great rhythm and india-feeling mixes … not as unique as the first three records but always a pleasure to hear!
From "The Crack In The Cosmic Egg":
Highly acclaimed winners at the Nachwuchs Pop '78 music festival, the Bremen band Tri Atma managed to secure a contract with RCA and gain international marketing. A remarkable feat really, as Tri Atma played a most unusual fusion of jazz and ethnic musics, very much towards the likes of what Between and Embryo were doing at the same time (who were shunned by the major labels) but with even stronger Eastern roots. Their debut TRI ATMA presented a mainly acoustic brand of ethnic fusion, very percussive and full of vitality, whereas MIGHTY LOTUS brought in a lot of electric instruments and more variety, and the use of authentic-sounding Asian-Indian vocals adds yet another dimension. INSTEAD OF DRUGS is their most accomplished work, with the addition of multi-keyboards/synthesizers and a lot of rock awareness, a new vitality is felt as well as a greater dimension in the arrangements. After this they lost any cohesive style. Gyan Nishabda on SEHNSUCHT UND EINKLANG is actually Klaus Netzle and his light synthetic style was at odds with Tri Atma music, and subsequent albums offered a techno ethnic dance music. Since Tri Atma's demise, the various musicians have been quite prolific. Whilst Asim has gone back to his ethnic roots, others have moved on. Jens Fischer has since done some interesting solo work, and especially worth checking out is his AUMAKAÚ. He is also featured on fellow Tri Atma cohort Achim Gieseler's unusual ethnic electronic excursion L'AIR, LA TERRE from 1990.
Tracks
1. Taschi delek 07:29
2. Ramuka 05:26
3. Meeting of the invisibles 07:23
4. Belong to the sun ! 04:53
5. Shadows of the heat 05:37
6. Blue caravan 04:57
7. Das Auge des Magiers 04:00
8. Namaskar 06:03
9. Ekdin 04:28
Total time: 50:13
Musicians
Ruby Bose: vocals
Asim Saha: vocals, tabla
Jens Fischer: guitars, keyboards, programming
These rips are several years old, 24Bit/44.1kHz resolution was my limit in those days.
Record Player: Dual CS series, Ortofon pickup, or Thorens TD 160
Pre-/Amplifier: Kenwood KR 5030
Link
A-D converter: MiniDisc recorder Sony MDS-JB 920, 24 Bit S/PDIF output
Link
Mac G4 with Audiowerk 8-channel PCI Audio Card, S/PDIF input
Sound editing: SonicWorx