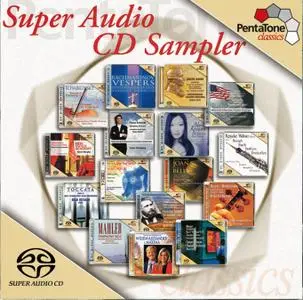 V.A. - Super Audio CD Sampler: PentaTone classics (2003) [SACD] PS3 ISO
Classics | SACD ISO: DST64 2.0, DST64 5.1 > 1-bit/2.8224 MHz
Run Time: 1:14:00 | 4.31 GB + 5% Recovery | Booklet 23,48 Mb
Label: PentaTone classics | Release Year: 2003
These CDs serve their purpose well offering complete movements or sections of recordings available on Pentatone. The only listing of contents is on the back jewel-box cover; the booklet(s) are actually catalogs of what is available in the format. Each CD is given a full page in the booklet with complete track listings and performer informtion. I'm surprised each of the CD booklets doesn't list all of the multi-channel recordings (both new and RQR) on the label. One features excerpts from new multi-channel recordings; the most impressive sonically are those by the Concertgebouw Chamber Orchestra, New Dutch Academy, Russian National Orchestra and the Netherlands Philharmonic Orchestra Dvorak/Tchaikovsky coupling. All of these are 5 channel recordings (left/right, front and rear, and center front).
Tracklist:
01 - Wolfgang Amadeus Mozart (1765-1791) - Serenade in G KV 525 - "Eine kleine Nachtmusik" Movement 1: Allegro (8:02)
02 - Ludwig van Beethoven (1770-1827) - Piano Sonata No.23 in F minor, "Appassionata" - Movement 3: Allegro ma non troppo (5:11)
03 - Felix Mendelssohn-Bartholdy (1809-1847) - Violin concerto in D minor - Movement 3: Allegro (4:47)
04 - Franz Schmidt (1876-1939) - Orchestral Music from "Notre Dame" - Carnival Music (5:15)
05 - Gustav Mahler (1860-1911) - Symphony No. 5 in C sharp minor - Movement 4: Adagietto (Sehr langsam) (8:58)
06 - Johann Sebastian Bach (1685-1750) - Toccata et Fuga in D minor BWV 565 - Toccata (2:48)
07 - Johann Sebastian Bach (1685-1750) - Toccata et Fuga in D minor BWV 565 - Fuga (6:57)
08 - Franz Schubert (1797-1828) - Ave Maria D. 839 (Hymne andie Jungfrau) (4:42)
09 - Wolfgang Amadeus Mozart (1765-1791) - Quartet in F, K 370 (368b) for Oboe, Violin, Viola and Cello - III. Rondeau: Allegro (4:25)
10 - Sergei Rachmaninov (1873-1945) - Vespers, Op.37 - Bogoroditse Devo (2:27)
11 - Sergei Rachmaninov (1873-1945) - Vespers, Op.37 - Slava v vyshnikh Bogu (2:30)
12 - Peter Ilyich Tchaikovsky (1840-1893) - Serenade for String Orchestra in C Op. 48 - Movement 2: Waltz: Moderato (3:52)
13 - George Frideric Handel (1685-1759) - from: Messiah "Hallelujah" (3:49)
14 - Franz Xavier Richter (1709-1789) - Sinfonia a Quatro in B flat - Movement 2: Andante (3:15)
15 - Peter Ilyich Tchaikovsky (1840-1893) - Piano Concerto No.1 in B flat minor, Op.23 - Movement 3: Allegro con fuoco (7:01)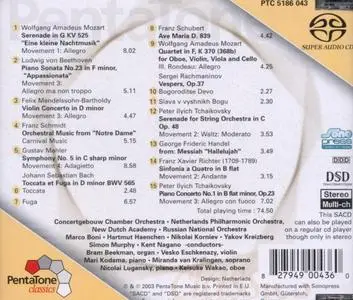 Composers:
Wolfgang Amadeus Mozart, Ludwig van Beethoven, Felix Mendelssohn-Bartholdy, Franz Schmidt, Gustav Mahler
Performers:
Marco Boni, Hartmut Haenchen, Nikolai Korniev, Yakov Kreizberg, Simon Murphy, Kent Nagano, Bram Beekman, Vesko Eschkenazy, Mari Kodama, Miranda van Kralingen, Nikolai Lugansky, Keisuke Wakao, Concertgebouw Chamber Orchestra
foobar2000 1.3.10 / Dynamic Range Meter 1.1.1
log date: 2016-05-22 12:53:08

––––––––––––––––––––––––––––––––––––––––
Analyzed: Various / Compilation SACD PentaTone
––––––––––––––––––––––––––––––––––––––––

DR Peak RMS Duration Track
––––––––––––––––––––––––––––––––––––––––
DR14 -5.82 dB -27.17 dB 8:02 01-Serenade in G KV 525 - "Eine kleine Nachtmusik" Movement 1: Allegro
DR13 -2.36 dB -22.08 dB 5:11 02-Piano Sonata No.23 in F minor, "Appassionata" - Movement 3: Allegro ma non troppo
DR16 -0.57 dB -23.88 dB 4:47 03-Violin concerto in D minor - Movement 3: Allegro
DR15 -3.79 dB -25.42 dB 5:15 04-Orchestral Music from "Notre Dame" - Carnival Music
DR13 -15.84 dB -36.05 dB 8:58 05-Symphony No. 5 in C sharp minor - Movement 4: Adagietto (Sehr langsam)
DR12 -4.09 dB -21.43 dB 2:48 06-Toccata et Fuga in D minor BWV 565 - Toccata
DR12 -4.99 dB -23.25 dB 6:57 07-Toccata et Fuga in D minor BWV 565 - Fuga
DR13 -5.17 dB -25.88 dB 4:42 08-Ave Maria D. 839 (Hymne andie Jungfrau)
DR13 -7.61 dB -27.50 dB 4:25 09-Quartet in F, K 370 (368b) for Oboe, Violin, Viola and Cello - III. Rondeau: Allegro
DR15 -5.03 dB -29.07 dB 2:27 10-Vespers, Op.37 - Bogoroditse Devo
DR13 -10.11 dB -33.73 dB 2:30 11-Vespers, Op.37 - Slava v vyshnikh Bogu
DR12 -6.18 dB -25.88 dB 3:52 12-Serenade for String Orchestra in C Op. 48 - Movement 2: Waltz: Moderato
DR13 0.00 dB -18.42 dB 3:49 13-from: Messiah "Hallelujah"
DR12 -10.00 dB -28.60 dB 3:15 14-Sinfonia a Quatro in B flat - Movement 2: Andante
DR14 -0.02 dB -20.74 dB 7:01 15-Piano Concerto No.1 in B flat minor, Op.23 - Movement 3: Allegro con fuoco
––––––––––––––––––––––––––––––––––––––––

Number of tracks: 15
Official DR value: DR13

Samplerate: 2822400 Hz / PCM Samplerate: 88200 Hz
Channels: 5
Bits per sample: 24
Bitrate: 14112 kbps
Codec: DST64
================================================================================

––––––––––––––––––––––––––––––––––––––––
Analyzed: Various / Compilation SACD PentaTone
––––––––––––––––––––––––––––––––––––––––

DR Peak RMS Duration Track
––––––––––––––––––––––––––––––––––––––––
DR14 -4.57 dB -23.44 dB 8:02 01-Serenade in G KV 525 - "Eine kleine Nachtmusik" Movement 1: Allegro
DR14 -2.07 dB -20.94 dB 5:11 02-Piano Sonata No.23 in F minor, "Appassionata" - Movement 3: Allegro ma non troppo
DR15 -2.78 dB -23.67 dB 4:47 03-Violin concerto in D minor - Movement 3: Allegro
DR15 -1.54 dB -23.23 dB 5:15 04-Orchestral Music from "Notre Dame" - Carnival Music
DR13 -15.84 dB -35.63 dB 8:58 05-Symphony No. 5 in C sharp minor - Movement 4: Adagietto (Sehr langsam)
DR12 -3.74 dB -20.74 dB 2:48 06-Toccata et Fuga in D minor BWV 565 - Toccata
DR13 -4.62 dB -22.42 dB 6:57 07-Toccata et Fuga in D minor BWV 565 - Fuga
DR12 -8.68 dB -25.44 dB 4:42 08-Ave Maria D. 839 (Hymne andie Jungfrau)
DR13 -6.72 dB -23.08 dB 4:25 09-Quartet in F, K 370 (368b) for Oboe, Violin, Viola and Cello - III. Rondeau: Allegro
DR15 -0.89 dB -24.41 dB 2:27 10-Vespers, Op.37 - Bogoroditse Devo
DR13 -7.93 dB -29.32 dB 2:30 11-Vespers, Op.37 - Slava v vyshnikh Bogu
DR12 -4.51 dB -21.78 dB 3:52 12-Serenade for String Orchestra in C Op. 48 - Movement 2: Waltz: Moderato
DR13 -0.98 dB -18.53 dB 3:49 13-from: Messiah "Hallelujah"
DR13 -7.33 dB -24.49 dB 3:15 14-Sinfonia a Quatro in B flat - Movement 2: Andante
DR13 -0.06 dB -19.15 dB 7:01 15-Piano Concerto No.1 in B flat minor, Op.23 - Movement 3: Allegro con fuoco
––––––––––––––––––––––––––––––––––––––––

Number of tracks: 15
Official DR value: DR13

Samplerate: 2822400 Hz / PCM Samplerate: 88200 Hz
Channels: 2
Bits per sample: 24
Bitrate: 5645 kbps
Codec: DST64
================================================================================