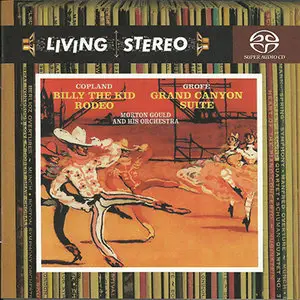 Aaron Copland - Billy the Kid & Rodeo Suite / Ferde Grofé - Grand Canyon Suite
Morton Gould & His Orchestra
SACD ISO (2.0/5.0): 3,16 GB | 24B/88,2kHz Stereo FLAC: 1,39 | Full Artwork | 5% Recovery Info
Label/Cat#: RCA Red Seal "Living Stereo" # 82876-67904-2 | Country/Year: Europe 2006, 1960
Genre: Classical | Style: Contemporary
MD5 [X] CUE [] LOG [X] INFO TEXT [X] ARTWORK [X]
my rip [] not my rip [X]

16908361[0x1020049]: SACD-Ripper Version 0.36
16908361[0x1020049]: config: 00 00 00 0c 00 00 00 00 ff 41 00 04 00 00 00 00
16908361[0x1020049]: config: 00 00 00 00 00 00 00 00 00 00 00 00 00 00 00 00
16908361[0x1020049]: config: 00 00 00 00 00 00 00 00 00 00 00 00 00 00 00 00
16908361[0x1020049]: config: 00 00 00 00 00 00 00 00 00 00 00 00 00 00 00 00
16908361[0x1020049]: device_info: 75 6e 6e 61 6d 65 5c 10 80 00 00 00 00 53 a0 00
16908361[0x1020049]: device_info: 80 00 00 00 10 13 de 70 80 00 00 00 00 55 50 00
16908361[0x1020049]: device_info: 00 00 00 00 00 00 00 00 00 00 00 00 7f ff ff ff
16908361[0x1020049]: device_info: 00 00 08 00 00 00 00 01 00 01 01 00 00 00 00 01
16908361[0x1020049]: disc inserted..
16908361[0x1020049]: config: 00 00 00 0c 00 00 00 10 ff 41 01 04 00 00 00 00
16908361[0x1020049]: config: 00 00 00 00 00 00 00 00 00 00 00 00 00 00 00 00
16908361[0x1020049]: config: 00 00 00 00 00 00 00 00 00 00 00 00 00 00 00 00
16908361[0x1020049]: config: 00 00 00 00 00 00 00 00 00 00 00 00 00 00 00 00
16908361[0x1020049]: device_info: 75 6e 6e 61 6d 65 5c 10 80 00 00 00 00 53 a0 00
16908361[0x1020049]: device_info: 80 00 00 00 10 13 de 70 80 00 00 00 00 55 50 00
16908361[0x1020049]: device_info: 00 00 00 00 00 00 00 00 00 00 00 00 00 19 52 a0
16908361[0x1020049]: device_info: 00 00 08 00 00 00 00 01 00 01 01 00 00 00 00 01
16908361[0x1020049]: Album Title: Copland: Billy the Kid & Rodeo; Grofe: Grand Canyo
16908361[0x1020049]: Album Artist: Morton Gould and His Orchestra
16908361[0x1020049]: Disc Version: 01.20
16908361[0x1020049]: config: 00 00 00 0c 00 00 00 10 ff 41 01 04 00 00 00 00
16908361[0x1020049]: config: 00 00 00 00 00 00 00 00 00 00 00 00 00 00 00 00
16908361[0x1020049]: config: 00 00 00 00 00 00 00 00 00 00 00 00 00 00 00 00
16908361[0x1020049]: config: 00 00 00 00 00 00 00 00 00 00 00 00 00 00 00 00
16908361[0x1020049]: device_info: 75 6e 6e 61 6d 65 5c 10 80 00 00 00 00 53 a0 00
16908361[0x1020049]: device_info: 80 00 00 00 10 13 de 70 80 00 00 00 00 55 50 00
16908361[0x1020049]: device_info: 00 00 00 00 00 00 00 00 00 00 00 00 00 19 52 a0
16908361[0x1020049]: device_info: 00 00 08 00 00 00 00 01 00 01 01 00 00 00 00 01
16908361[0x1020049]: succeeded. raw_spu number is 0
16908361[0x1020049]: succeeded. entry d0
16908361[0x1020049]: Establishing the interrupt tag on the interrupt PPU thread.
16908361[0x1020049]: ioctl_report_key1[45023901] 0
16908361[0x1020049]: sac_exec_generate_key 0 c9 0
16908361[0x1020049]: ioctl_send_key[2] c9 0
16908361[0x1020049]: ioctl_report_key[2] c8 0
16908361[0x1020049]: sac_exec_validate_key_1[0]
16908361[0x1020049]: sac_exec_generate_key_2[ae] 0
16908361[0x1020049]: ioctl_send_key[3] ae 0
16908361[0x1020049]: ioctl_report_key[3] b0 0
16908361[0x1020049]: sac_exec_validate_key_2[0]
16908361[0x1020049]: ioctl_report_key[4] 30 0
16908361[0x1020049]: sac_exec_validate_key_3[0]
16908361[0x1020049]: ioctl_report_finish [0xff] 0
16908361[0x1020049]: Queuing raw: /dev_usb002/Morton Gould and His Orchestra - Copland Billy the Kid & Rodeo.iso, start_lsn: 0, length_lsn: 1659552
16908361[0x1020049]: disc ejected..
16908361[0x1020049]: config: 00 00 00 0c 00 00 00 00 ff 41 00 04 00 00 00 00
16908361[0x1020049]: config: 00 00 00 00 00 00 00 00 00 00 00 00 00 00 00 00
16908361[0x1020049]: config: 00 00 00 00 00 00 00 00 00 00 00 00 00 00 00 00
16908361[0x1020049]: config: 00 00 00 00 00 00 00 00 00 00 00 00 00 00 00 00
16908361[0x1020049]: device_info: 75 6e 6e 61 6d 65 5c 10 80 00 00 00 00 53 a0 00
16908361[0x1020049]: device_info: 80 00 00 00 10 13 de 70 80 00 00 00 00 55 50 00
16908361[0x1020049]: device_info: 00 00 00 00 00 00 00 00 00 00 00 00 00 19 52 a0
16908361[0x1020049]: device_info: 00 00 08 00 00 00 00 01 00 01 01 00 00 00 00 01

Morton Gould And His Orchestra - [2005] Copland [2.0] (SACD[PS3] - 24bit88.2kHz)
======================================================================================
SACD[PS3]ISO to flac conversion using SACD_Conversion_script version 0.5

Track list
–––––

01 Introduction: The Open Prairie 03:30.69
02 Street In A Frontier Town 03:11.87
03 Mexican Dance And Finale 03:07.00
04 Prairie Night: Card Game 03:18.08
05 Gun Battle 01:46.84
06 Celebration: After Billy's Capture 02:12.71
07 Billy's Death 01:21.52
08 The Open Prairie (Reprise) 01:45.44
09 Billy The Kid - Waltz 04:09.00
10 Buckaroo Holiday 07:42.36
11 Corral Nocturne 03:53.35
12 Honky Tonk Interlude 01:44.88
13 Saturday Night Waltz 04:26.79
14 Hoe-Down 03:34.56
15 Sunrise 05:38.33
16 Painted Desert 05:32.21
17 On The Trail 07:40.47
18 Sunset 05:00.04
19 Cloudburst 08:33.45

Technical Details
––––––––-

01) ISO image created using sacd-ripper for PS3

02) Edited Master Dff file extracted using SACD_Extract

03) Edited Master Dff file analysed using foobar + foo_input_sacd and DR Meter plugins to find peak track(s)

04) Dff files for loudest tracks extracted from the ISO using SACD_Extract and converted using Weiss Saracon 1.61-27 at 24bit/88.2kHz with -6.00dB gain

05) Non-clipping gain calculated using SoX

06) Final pass conversion using Weiss Saracon 1.61-27 at 24bit/88.2kHz with 4.87dB gain as calculated above

07) Final pass PCM file split into individual tracks (discarding first 41 samples) using track lengths calculated from cue file generated by SACD_Extract

08) Spikes at beginning of first/end of last tracks eliminated by deleting 24 samples and replacing with the adjacent 24 samples using SoX to give the correct track length

09) Finalised tracks converted to flac [level 8] and tagged using tag.exe

10) Dynamic Range measured using Foobar DR Meter plugin

foobar2000 1.1.11 / Dynamic Range Meter 1.1.1
log date: 2013-06-25 20:41:52

––––––––––––––––––––––––––––––––––––––––
Analyzed: Morton Gould And His Orchestra / Copland
––––––––––––––––––––––––––––––––––––––––

DR Peak RMS Duration Track
––––––––––––––––––––––––––––––––––––––––
DR11 -1.13 dB -18.77 dB 3:31 01-Introduction: The Open Prairie
DR13 -1.75 dB -20.21 dB 3:12 02-Street In A Frontier Town
DR11 -2.33 dB -19.82 dB 3:07 03-Mexican Dance And Finale
DR13 -9.98 dB -27.93 dB 3:18 04-Prairie Night: Card Game
DR11 -2.73 dB -16.41 dB 1:47 05-Gun Battle
DR12 -0.64 dB -18.03 dB 2:13 06-Celebration: After Billy's Capture
DR10 -8.82 dB -23.56 dB 1:22 07-Billy's Death
DR10 -0.89 dB -15.19 dB 1:45 08-The Open Prairie (Reprise)
DR12 -4.33 dB -23.29 dB 4:09 09-Billy The Kid - Waltz
DR12 -1.35 dB -19.12 dB 7:42 10-Buckaroo Holiday
DR12 -7.41 dB -25.50 dB 3:53 11-Corral Nocturne
DR10 -10.29 dB -26.02 dB 1:45 12-Honky Tonk Interlude
DR13 -5.66 dB -25.22 dB 4:27 13-Saturday Night Waltz
DR12 -1.65 dB -19.47 dB 3:35 14-Hoe-Down
DR10 -1.17 dB -17.58 dB 5:38 15-Sunrise
DR13 -0.56 dB -21.84 dB 5:32 16-Painted Desert
DR11 -0.01 dB -18.75 dB 7:40 17-On The Trail
DR10 -2.42 dB -19.35 dB 5:00 18-Sunset
DR10 -1.26 dB -16.72 dB 8:33 19-Cloudburst
––––––––––––––––––––––––––––––––––––––––

Number of tracks: 19
Official DR value: DR11

Samplerate: 88200 Hz
Channels: 2
Bits per sample: 24
Bitrate: 2627 kbps
Codec: FLAC
================================================================================


==================================================
foobar2000 1.1.11 / Dynamic Range Meter 1.1.1
log date: 2012-05-04 15:37:47
––––––––––––––––––––––––––––––––––––––––-
Analyzed: Morton Gould and his Orchestra /
Copland: Billy the Kid & Rodeo; Grofe: Grand Canyon Suite
––––––––––––––––––––––––––––––––––––––––-
DR Peak RMS Duration Track (iso @ 0dB gain)
––––––––––––––––––––––––––––––––––––––––-
DR32 -4.88 dB -25.33 dB 3:30 01-Introduction: The Open Prairie
DR33 -6.41 dB -26.99 dB 3:12 02-Street in a Frontier Town
DR32 -6.80 dB -26.34 dB 3:07 03-Mexican Dance and Finale
DR33 -12.85 dB -34.66 dB 3:18 04-Prairie Night: Card Game
DR31 -6.63 dB -22.91 dB 1:47 05-Gun Battle
DR32 -4.95 dB -24.61 dB 2:13 06-Celebration: After Billy's Capture
DR30 -12.36 dB -30.41 dB 1:22 07-Billy's Death
DR30 -4.78 dB -21.61 dB 1:45 08-The Open Prairie (reprise)
DR33 -8.69 dB -29.90 dB 4:09 09-Billy the Kid - Waltz
DR35* -4.54 dB -25.75 dB 7:42 10-Buckaroo Holiday
DR33 -11.06 dB -32.25 dB 3:53 11-Corral Nocturne
DR31 -13.20 dB -32.74 dB 1:45 12-Honky Tonk Interlude
DR34 -8.97 dB -31.75 dB 4:27 13-Saturday Night Waltz
DR33 -6.73 dB -26.10 dB 3:29 14-Hoe-Down
DR32 -5.77 dB -24.30 dB 5:38 15-Sunrise
DR34 -5.71 dB -28.62 dB 5:32 16-Painted Desert
DR33 -5.27 dB -26.69 dB 7:40 17-On the Trail
DR32 -6.69 dB -25.93 dB 5:00 18-Sunset
DR33 -5.58 dB -23.39 dB 8:33 19-Cloudburst
––––––––––––––––––––––––––––––––––––––––-
Number of tracks: 19
Official DR value: DR32

Samplerate: 2822400 Hz / PCM Samplerate: 176400 Hz
Channels: 5
Bits per sample: 24
Bitrate: 14112 kbps
Codec: DSD64
==================================================


SACD Info:
Aaron Copland - Billy the Kid & Rodeo Suite / Ferde Grofé - Grand Canyon Suite
Morton Gould & His Orchestra
Label: RCA Red Seal
Series: Living Stereo
Catalog#: 82876-67904-2
Format: Hybrid-SACD, Album, Stereo, Multichannel
Country: Europe
Released: 2006
Genre: Classical
Style: Contemporary
Tracklist:
Billy The Kid: Suite
1 Introduction: The Open Prairie 3:31
2 Street In A Frontier Town 3:12
3 Mexican Dance And Finale 3:07
4 Prairie Night: Card Game 3:18
5 Gun Battle 1:47
6 Celebration: After Billy's Capture 2:13
7 Billy's Death 1:22
8 The Open Prairie (Reprise) 1:45
9 Billy The Kid - Waltz 4:09*
Rodeo: Suite
10 Buckaroo Holiday 7:42
11 Corral Nocturne 3:53
12 Honky Tonk Interlude 1:45
13 Saturday Night Waltz 4:27
14 Hoe-Down 3:35
Recorded October 1 & 2, 1957
Grand Canyon Suite
15 Sunrise 5:38
16 Painted Desert 5:32
17 On The Trail 7:40
18 Sunset 5:00
19 Cloudburst 8:33
Recorded February 19, 1960
*First release on CD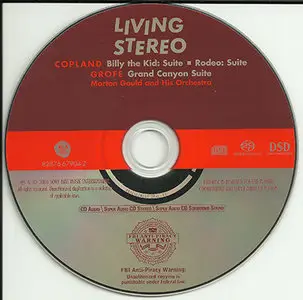 I'm familiar with two other major interpretations on RBCD of the Copland ballets: Bernstein's with NY Phil and Slatkin's with St. Louis. While the Slatkin rendition was very satisfying in its simple approach, Morton Gould and his orchestra play these works as if it were for an old classic western movie. The style is very old fashioned but highly effective, and listening made me feel nostalgic even though I'm too young to have grown up in that just-after-WWII era. The Grand Canyon Suite by Grofe has that same cozy nostalgic feel further enhanced by some UNusual instrument placement and editing. A serious recording technician would probably laugh at the approach used by this orchestra and Living Stereo, but to me it's a silly but highly enjoyable masterpiece. The SACD Stereo sound is fantastic, and this is one of my SACD Top Picks! sacd_fan @ SA-CD.net
With kind permission by
ManWhoCan
. Thanks my friend!