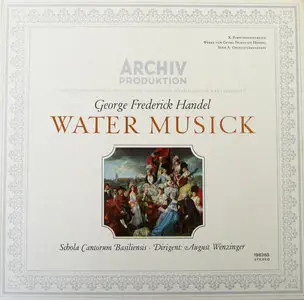 G.F. Handel – Water Music: Schola Cantorum Basiliensis, Dir. August Wenzinger (1966)
Vinyl rip @ 24/96 | FLAC | Artwork | 1.08Gb
Rapidshare, Hotfile | Classical, Baroque | 1973 German repress | Archiv 198365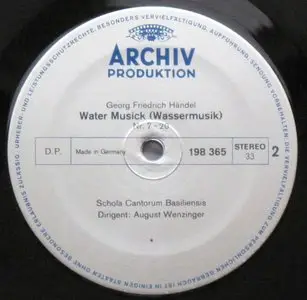 The Water Music is a collection of orchestral movements composed by George Frideric Handel. It premiered on 17 July 1717 after King George I had requested a concert on the River Thames. The concert was performed by 50 musicians playing on a barge near the royal barge from which the King listened with close friends, including the Duchess of Bolton, the Duchess of Newcastle, the Countess of Godolphin, Madam Kilmarnock, and the Earl of Orkney. George I was said to have enjoyed the music so much that he made the exhausted musicians play it three times over during the course of the outing.
Wikipedia
Following painstaking studies of the earliest sources of information we are presenting the work in the present recording as a single large-scale suite…Of prime importance to us was the solution to the problem of selecting continuo instruments appropriate to the circumstances under which the work was originally performed. There was room on barges of that day for a sizeable orchestra to play at open-air concerts, but scarcely a concert harpsichord…we have made use of a continuo group consisting of a small harpsichord, a harp and two lutes…The stringed instruments used in the orchestra are all period instruments fitted as in Handel's day, as is the solo oboe. The other wind instruments were…reconstructed after historical models.
Dr. Hans Hickman - from the sleeve notes.
Movements:
01. Ouvertüre (Largo) - Allegro
02. Adagio e staccato
03. Allegro - Andante - Allegro
04. (Minuet)
05. Air
06. Minuet
07. Bourrée
08. Hornpipe
09. (Andante)
10. (Allegro)
11. Alla Hornpipe
12. Minuet
13. Lentement
14. Bourrée
15. (Minuet)
16. Aria
17. Minuet
18. (Minuet)
19. Country Dance I & II
Recorded at Neumünsterkirche, Zürich, Switzerland
20th to the 24th September 1965
Producer: Dr. Manfred Richter
Technical Supervisor: Peter Schweigmann
Knosti RCM
Pink Triangle LPT with
Funk Firm Achromat.
Moth Arm.
Audio Technica AT33PTG MC Cart.
Harman Kardon PM660 Integrated Amp.
Creative S80300 ADC. Gold Interconnects.
Click Repair.
Split and manual de-click with Adobie Audition.