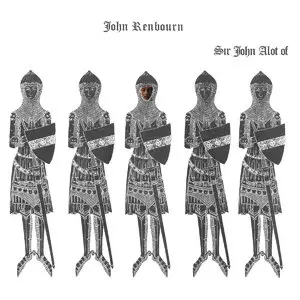 John Renbourn - Sir John Alot of Merrie Englandes Musyk Thyng & ye Grene Knyghte (1968)
Vinyl rip @ 24/96 | FLAC | Artwork | 647Mb
Rapidshare, Hotfile | Folk | 1968 UK LP | Transatlantic TRA 167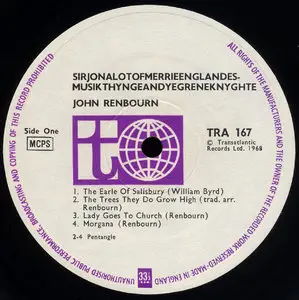 An instrumental album (originally called Sir John Alot of Merrie England) featuring John Renbourn with his Pentangle bandmate Terry Cox on percussion and Ray Warleigh on flute. Originally released in England in 1968, the same year that Pentangle started to record, Sir John Alot was steeped largely in English folk music. Highlights include "The Trees They Do Grow High" (aka "Long A-Growing"), solo guitar miniatures such as "Lady Goes to Church," the epic "Morgana," with its sharply nuanced tempo and timbre changes, and the sprightly "My Dear Boy." Some parts of this album are surprisingly contemporary sounding, such as the bluesy "Transfusion," which sounds like "What'd I Say" transposed for acoustic guitar and African drums; "White Fishes," which veers dangerously close to quoting George Gershwin's "It Ain't Necessarily So" and Rodgers & Hammerstein's "My Favorite Things"; and "Sweet Potato," which sounds like a folk-rock song without words, even as Renbourn quotes "Satisfaction" at one point.
Bruce Eder AMG
Many thanks to Avax member 'Pink Island' for kindly loaning this LP.
Track listing:
A1. The Earle of Salisbury
A2. The Trees They Do Grow High
A3. Lady Goes To Church
A4. Morgana
B1. Transfusion
B2. Forty-Eight
B3. My Dear Boy
B4. White Fishes
B5. Sweet Potato
B6. Seven Up
Personnel:
John Renbourn: guitar
Terry Cox: finger cymbals, African drums, glockenspiel
Ray Warleigh: flute
Recorded at Sound Techniques, London
Produced by Nathan Joseph
Engineer: John Wood.
Knosti RCM
Pink Triangle LPT with
Funk Firm Achromat.
Moth Arm.
Audio Technica AT33PTG MC Cart.
Harman Kardon PM660 Integrated Amp.
Creative S80300 ADC. Gold Interconnects.
Click Repair.
Split and manual de-click with Adobie Audition.