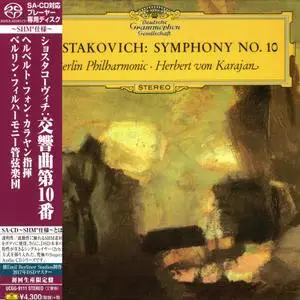 Herbert von Karajan, Berlin Philharmonic - Shostakovich: Symphony No. 10 (1967) [Japan 2017]
PS3 Rip | SACD ISO | DSD64 2.0 > 1-bit/2.8224 MHz | 51:26 minutes | Basic Scans included | 1,36 GB
or FLAC Stereo (converted with foobar2000 to tracks) 24bit/96kHz | Basic Scans included | 1,15 GB
While not one of Shostakovich's best works, the Symphony #10 has many wonderful passages that illustrate the tumultuous time period from which it came. Herbert von Karajan rendered yet another nuanced and stunning performance from his great orchestra. His admiration of Shostakovich as a composer and a man comes through in the beautiful phrasing and balancing evident in the recording.
Deutsche Grammophon group this recording as one of their "legendary recordings" and for once this is not merely promoter's hype. Written in 1953 after the death of Stalin, it is one of the key works of 20th century music. It is not an easy ride for any conductor or orchestra. The first movement is full of long, slow introspective passages in which the conductor dare not let the orchestra "go to sleep" as the predominant mood is tense, nervous and anxious - a difficult combination. The most commonly used adjective to describe the second movement is "brutal" and BPO/Karajan play it with appropriate clinical savagery. The final movement is also difficult for conductors due to the extreme contrasts of slow, elegaic passages, with many woodwind solos, and some extremely fast tutti. It is difficult to imagine a better performance of this challenging symphony than this one. The Berlin Philharmonic seems to have 100 virtuoso soloists playing together and Karajan's instinctive understanding of this of this demanding piece,both musically and intellectually, will rarely be matched. Shostakovich was a master of irony and ambiguity and the ending has been described very variously as "unrealistic" and "optimistic tragedy".
Tracklist:
01. Symphony No.10 in E minor, Op.93 - 1. Moderato
02. Symphony No.10 in E minor, Op.93 - 2. Allegro
03. Symphony No.10 in E minor, Op.93 - 3. Allegretto
04. Symphony No.10 in E minor, Op.93 - 4. Andante / Allegro
Recorded on November 18 & 30, 1966 in Berlin.
Japanese original release.
Features SHM-SACD format and the DSD master newly produced by Emil Berliner Studios in 2017, using the original master tapes.
foobar2000 1.5.2 / Dynamic Range Meter 1.1.1

––––––––––––––––––––––––––––––––––––––––
Analyzed: Herbert von Karajan / Shostakovich: Symphony No.10
––––––––––––––––––––––––––––––––––––––––

DR Peak RMS Duration Track
––––––––––––––––––––––––––––––––––––––––
DR13 -5.97 dB -24.62 dB 22:11 01-Symphony No.10 in E minor, Op.93 1. Moderato
DR11 -5.64 dB -20.20 dB 4:11 02-Symphony No.10 in E minor, Op.93 2. Allegro
DR14 -6.95 dB -27.02 dB 11:21 03-Symphony No.10 in E minor, Op.93 3. Allegretto
DR13 -5.99 dB -24.83 dB 13:43 04-Symphony No.10 in E minor, Op.93 4. Andante - Allegro
––––––––––––––––––––––––––––––––––––––––

Number of tracks: 4
Official DR value: DR13

Samplerate: 2822400 Hz / PCM Samplerate: 176400 Hz
Channels: 2
Bits per sample: 1
Bitrate: 5645 kbps
Codec: DSD64


Thanks to the Original ripper!
Deutsche Grammophon / Universal Japan # UCGG-9111
Uncompressed SACD ISO size > 2,06 GB
>