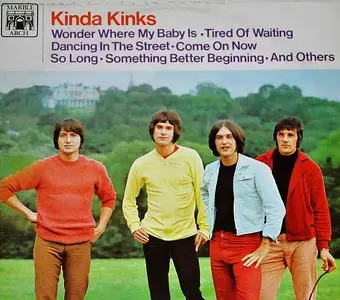 The Kinks - Kinda Kinks
Canadian Marble Arch Fake Stereo Fold Down
1965 | Rock | Flac | 291MG
No Art Cue Or Log
Megaupload and Multiupload
This is the Canadian Marble Arch fake stereo pressing. One channel has no bass, the other has no treble. So I normalized both and did a fold down. I did this because it has the original UK tracking order including a few songs not on the original US Reprise vinyl. Hopefully between this and the American copy you can create your own "Ultimate Kinda Kinks" 24/96 vinyl rip.
There's a 180g reissue but I don't trust those things so until an original PYE mono shows up, this is the best you'll get from me.
pass = tubed
01 - Look For Me Baby
02 - Got My Feet On The Ground
03 - Nothin' In The World Can Stop Me Worryin' 'bout That Girl
04 - Naggin' Woman
05 - Wonder Where My Baby Is Tonight
06 - Tired Of Waiting
07 - Dancing In The Street
08 - Don't Ever Change
09 - Come On Now
10 - So Long
11 - You Shouldn't Be Sad
12 - Something Better Beginning
http://www.megaupload.com/?d=F8P61UDG
or
http://www.multiupload.com/YPG6WKU7NJ

Table: Pioneer PL-707
Cartridge: Audio Technica AT14sa/Shibata
Preamp: Dynaco Pas 3x Modified by tubert
Tube Compliment: 4x Original Telefunken "Flat Plate" 12ax7, 1 Sylvania 12x4
Soundcard: M-Audio Delta 24/96
I'd like to give a shout out to my Canadian brothers from, your vinyl playmate. -tubert