Mike Westbrook Concert Band - Release (1969)
Vinyl rip @ 24/96 | FLAC | Artwork | 534MB
Rapidshare | British Jazz | 1969 UK mono LP | Deram DML 1031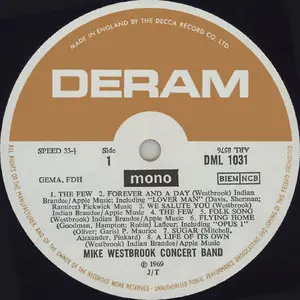 Mike Westbrook is an English jazz pianist, composer, and writer of orchestrated jazz pieces. He became a key figure in the development of British Jazz in the late 1960s.
Westbrook spent his childhood in Torquay and went to art school in Plymouth where he began his first bands with such musicians as John Surman, Lou Gare and Keith Rowe. After moving to London, he became a key figure in the development of British Jazz in the late 1960s, producing several big band records between 1967 and 1969 for the Deram label, featuring such musicians as John Surman, Mike Osborne and Harry Miller.
Wikipedia
Quite different – a tumbling, roaring, affectionate salute to the swing age and contemporary experimentation – is the Mike Westbrook Concert Band's "Release" (Deram). Westbrook's skills in using exciting ensemble sounds to launch a stream of virile and varied soloists (John Surman and Mike Osborne especially) are exceptional. Here there is wit and originality and cacophonous concord distilled at a strength which few American bands today could possibly equal.
Derek Jewell, Sunday Times, 1969.
Many thanks to Avax member 'Pink Island' who kindly loaned this rare LP.Track listing:
A1. The Few (I)
A2. For Ever And A Day including Lover Man
A3. We Salute You!
A4. The Few (II)
A5. Folk Song (I)
A6. Flying Home
A7. Sugar
A8. A Life Of It's Own
B1. Take Me Back (I)
B2. Rosie
B3. Who's Who
B4. Gee Baby, Ain't I Good To You?
B5. Can't Get It Out Of My Mind
B6. The Girl From Ipanema
B7. Folk Song (II)
B8. Take Me Back (II)
Mike Westbrook: Piano
John Surman: Baritone Saxophone
Mike Osborne: Alto Saxophone
Bernie Living: Alto Saxophone
Nisar Ahmed Khan: Tenor Saxophone
Dave Holdsworth: Trumpet/Flugel Horn
Malcolm Griffiths: Trombone
Paul Rutherford: Trombone
Harry Miller: Bass
Alan Jackson: Drums
Recorded on the 7th and 9th of August 1968
Arrangements and adaptations by Mike Westbrook
Produced by Peter Eden
Knosti RCM
Pink Triangle LPT with
Funk Firm Achromat.
Moth Arm.
Audio Technica AT33PTG MC Cart.
Harman Kardon PM660 Integrated Amp.
Creative S80300 ADC. Gold Interconnects.
Click Repair.
Split and manual de-click with Adobie Audition.