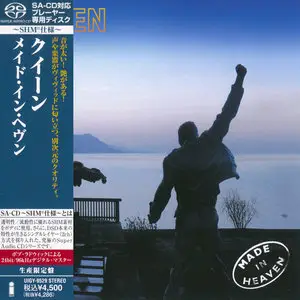 Queen - Made In Heaven (1995) [Japanese Limited SHM-SACD 2012 # UIGY-9529]
PS3 Rip | SACD ISO | DSD64 2.0 > 1-bit/2.8224 MHz | 70:28 minutes | Scans included | 2,04 GB
or FLAC (converted with foobar2000 to tracks) 24bit/96 kHz | Full Scans included | 1,59 GB
based on Digital Remaster 2011
Made in Heaven is the fifteenth and final studio album by the British rock band Queen, released on 6 November 1995 by Parlophone Records in the United Kingdom and by Hollywood Records in the United States. It was the band's first release after the death of lead singer Freddie Mercury in 1991. Following Mercury's death, guitarist Brian May, drummer Roger Taylor, and bass guitarist John Deacon worked with vocal and piano parts that Mercury recorded before his death, adding new instrumentation to the recordings. Both stages of recording, before and after Mercury's death, were completed at the band's studio in Montreux, Switzerland. The album debuted at number 1 in the UK where it went 5× platinum. The album has sold around 20 million copies around the world.
During the 1980s, Queen ceased to be a big record seller in the U.S., but maintained its superstar status at home. In the '90s, following the death of Freddie Mercury, there was a brief resurgence of interest in America triggered by the inclusion of "Bohemian Rhapsody" in the movie Wayne's World. But in 1995, when the surviving members got around to releasing the final recordings done with Mercury in the form of Made in Heaven, the status quo had returned. The album topped the charts in Western Europe, with its single, "Heaven for Everyone," reaching the Top Ten, while in the U.S. it was on and off the charts within weeks. Musically, Made in Heaven harked back to Queen's 1970s heyday with its strong melodies and hard rock guitar playing, topped by Mercury's bravura singing and some of the massed choir effects familiar from "Bohemian Rhapsody." Even if one did not know that these songs were sung in the shadow of death, that subject would be obvious. The lyrics were imbued with life-and-death issues, from the titles – "Let Me Live," "My Life Has Been Saved," and "Too Much Love Will Kill You" – to lines like "It's hopeless – so hopeless to even try" ("It's a Beautiful Day"), "Waiting for possibilities/Don't see too many around" ("Made in Heaven"), and "I long for peace before I die" ("Mother Love"). The odd thing about this was that Mercury's over-the-top singing had always contained a hint of camp humor, and it continued to here, even when the sentiments clearly were as heartfelt as they were theatrically overstated. Maybe Mercury was determined to go out the same way he had come in, as a diva. If so, he succeeded.
Tracklist:
01. It's A Beautiful Day
02. Made In Heaven
03. Let Me Live
04. Mother Love
05. My Life Has Been Saved
06. I Was Born To Love You
07. Heaven For Everyone
08. Too Much Love Will Kill You
09. You Don't Fool Me
10. A Winter's Tale
11. It's A Beautiful Day (Reprise)
12. Yeah
13. Untitled Hidden Track ("13")
Track 13 was an experiment by producer David Richards with an Ensoniq ASR-10 sampler. He took the opening chords of "It's a Beautiful Day" and made them loop, and then added Mercury's voice through strange echoes. May and Taylor also added some ideas to the track.
This 2011 version has been meticulously re-created using the finest modern analogue and digital technology from the original first-generation master mixes.
Mastered by Bob Ludwig, Gateway Mastering Studios, Portland, ME. SA-CD Authoring: Gus Skinas.
foobar2000 1.4.4 / Dynamic Range Meter 1.1.1

––––––––––––––––––––––––––––––––––––––––
Analyzed: Queen / Made In Heaven
––––––––––––––––––––––––––––––––––––––––

DR Peak RMS Duration Track
––––––––––––––––––––––––––––––––––––––––
DR12 -5.33 dB -20.87 dB 2:33 01-It's A Beautiful Day
DR8 -5.05 dB -14.78 dB 5:25 02-Made In Heaven
DR8 -5.03 dB -15.11 dB 4:46 03-Let Me Live
DR8 -5.20 dB -16.70 dB 4:49 04-Mother Love
DR8 -6.07 dB -16.06 dB 3:15 05-My Life Has Been Saved
DR8 -5.14 dB -14.68 dB 4:51 06-I Was Born To Love You
DR9 -5.14 dB -17.84 dB 5:35 07-Heaven For Everyone
DR8 -4.99 dB -16.60 dB 4:20 08-Too Much Love Will Kill You
DR7 -5.01 dB -15.03 dB 5:25 09-You Don't Fool Me
DR8 -5.12 dB -15.43 dB 3:50 10-A Winter's Tale
DR8 -4.90 dB -16.38 dB 3:01 11-It's A Beautiful Day (Reprise)
DR17 -5.35 dB -22.11 dB 0:04 12-Yeah
DR13 -5.08 dB -24.17 dB 22:33 13-Track 13
––––––––––––––––––––––––––––––––––––––––

Number of tracks: 13
Official DR value: DR9

Samplerate: 2822400 Hz / PCM Samplerate: 176400 Hz
Channels: 2
Bits per sample: 1
Bitrate: 5645 kbps
Codec: DSD64


Thanks to PS³SACD!
Uncompressed SACD ISO size > 2,14 GB
>