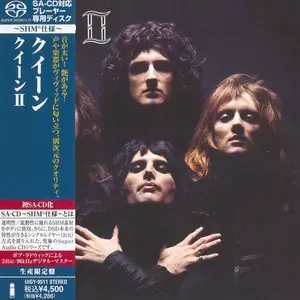 Queen - Queen II (1974) [Japanese Limited SHM-SACD 2011 # UIGY-9511]
PS3 Rip | SACD ISO | DSD64 2.0 > 1-bit/2.8224 MHz | 40:47 minutes | Scans included | 1,32 GB
or FLAC (converted with foobar2000 to tracks) 24bit/96 kHz | Full Scans included | 988 MB
based on Digital Remaster 2011
Queen II is the second studio album by the British rock band Queen. It was released on 8 March 1974 by EMI Records at midnight in the UK and by Elektra Records in the US. It was recorded at Trident Studios and Langham 1 Studios, London, in August 1973 with co-producers Roy Thomas Baker and Robin Geoffrey Cable, and engineered by Mike Stone. Described as "arguably the heaviest Queen album", Queen II is notable for its combination of a heavy rock sound with an art rock sensibility and has been called "a pillar of grandiose, assaultive hard rock" by the Rock and Roll Hall of Fame.
In one regard, Queen II does indeed provide more of the same thing as on the band's debut. Certainly, of all the other albums in Queen's catalog it bears the closest resemblance to its immediate predecessor, particularly in its lean, hard attack and in how it has only one song that is well-known to listeners outside of their hardcore cult: in this case, it's "Seven Seas of Rhye," which is itself more elliptical than "Keep Yourself Alive," the big song from the debut. But these similarities are superficial and Queen II is a very different beast than its predecessor, an album that is richer, darker, and weirder, an album that finds Queen growing as a band by leaps and bounds. There is still a surplus of ideas, but their energies are better focused this time around, channeled into a over-inflated, pompous rock that could be called prog if it wasn't so heavy. Even with all the queens and ogres that populate Queen II, this never feels as fantastical as Genesis or Uriah Heep, and that's because Queen hits hard as a rock band here, where even the blasts of vocal harmonies feel like power chords, no matter how florid they are. Besides, these grandiose harmonies, along with the handful of wistful ballads here, are overshadowed by the onslaught of guitars and pummeling rhythms that give Queen II majesty and menace. Queen is coiled, tense, and vicious here, delivering on their inherent sense of drama, and that gives Queen II real power as music, as well as a true cohesion. The one thing that is missing is any semblance of a pop sensibility, even when they flirt with a mock Phil Spector production on "Funny How Love Is." This hits like heavy metal but has an art-rock sensibility through and through, which also means that it has no true hook in for those who don't want to succumb to Queen's world. But that kind of insular drama is quite alluring in its own right, which is why Queen II is one of the favorites of their hardcore fans. At the very least, it illustrates that Queen is starting to pull all their ambitions and influences into a signature sound, and it's quite powerful in that regard.
Tracklist:
01. Procession
02. Father To Son
03. White Queen (As It Began)
04. Some Day One Day
05. The Loser In The End
06. Ogre Battle
07. The Fairy Feller's Master-Stroke
08. Nevermore
09. The March Of The Black Queen
10. Funny How Love Is
11. Seven Seas Of Rhye
This 2011 version has been meticulously re-created using the finest modern analogue and digital technology from the original first-generation master mixes.
Mastered by Bob Ludwig, Gateway Mastering Studios, Portland, ME. SA-CD Authoring: Gus Skinas.
foobar2000 1.4.4 / Dynamic Range Meter 1.1.1

––––––––––––––––––––––––––––––––––––––––
Analyzed: Queen / Queen II
––––––––––––––––––––––––––––––––––––––––

DR Peak RMS Duration Track
––––––––––––––––––––––––––––––––––––––––
DR13 -10.74 dB -25.75 dB 1:12 01-Procession
DR9 -5.50 dB -17.50 dB 6:14 02-Father To Son
DR10 -4.75 dB -18.58 dB 4:36 03-White Queen (As It Began)
DR11 -5.07 dB -19.00 dB 4:22 04-Some Day One Day
DR9 -4.71 dB -16.03 dB 4:04 05-The Loser In The End
DR10 -4.94 dB -16.69 dB 4:09 06-Ogre Battle
DR10 -4.86 dB -17.15 dB 2:41 07-The Fairy Feller's Master-Stroke
DR10 -4.98 dB -18.45 dB 1:19 08-Nevermore
DR9 -4.73 dB -16.78 dB 6:33 09-The March Of The Black Queen
DR10 -4.97 dB -16.91 dB 2:48 10-Funny How Love Is
DR8 -4.85 dB -15.05 dB 2:50 11-Seven Seas Of Rhye
––––––––––––––––––––––––––––––––––––––––

Number of tracks: 11
Official DR value: DR10

Samplerate: 2822400 Hz / PCM Samplerate: 176400 Hz
Channels: 2
Bits per sample: 1
Bitrate: 5645 kbps
Codec: DSD64


Thanks to PS³SACD!
Uncompressed SACD ISO size > 1,66 GB
>