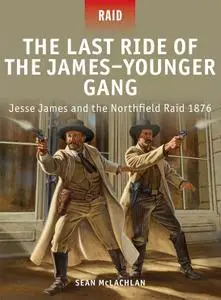 The Last Ride of the James–Younger Gang: Jesse James and the Northfield Raid 1876 (Raid) by Sean McLachlan
English | October 23rd, 2012 | ISBN: 1849085994 | 80 pages | EPUB | 15.82 MB
It was the beginning of the end for the James gang. In the past ten years Frank and Jesse James had gone from unknown ex-Confederate guerrillas to the most famous outlaws in the world. A string of daring robberies of banks, trains, and stagecoaches had brought them fame, admiration, hatred, and a surprisingly small amount of wealth. In 1876 they planned their most daring raid yet—to ride hundreds of miles from their home state of Missouri to rob the First National Bank at Northfield, Minnesota.