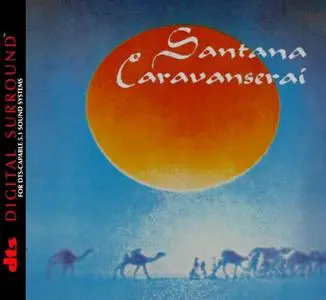 Santana - Caravanserai {Q8 to DVD-Audio} (1972) (ISO) {1973 Columbia}
ISO Rip | DVD-Audio with no CUE or log | 1 gb + 1 gb + 1 gb + 462 mb
Genre: rock, progressive rock
Caravanserai
is the 1972 album by San Francisco band Santana, fronted by Carlos Santana. This is taken from the quadraphonic 8-track tape and is an ISO file for the DVD-Audio format.
01. Eternal Caravan Of Reincarnation (4:28)
02. Waves Within (3:54)
03. Look Up (To See What's Coming Down) (3:00)
04. Just In Time To See The Sun (2:18)
05. Song Of The Wind (6:04)
06. All The Love Of The Universe (7:40)
07. Future Primitive (4:12)
08. Stone Flower (6:15)
09. La Fuente del Ritmo (4:34)
10. Every Step Of The Way (9:05)
The Audio_TS contains the Quad mix in 24/96
The Video_TS contains the Dolby Digital version
The BONUS folder has the artwork, plus a DTS-CD WAV/CUE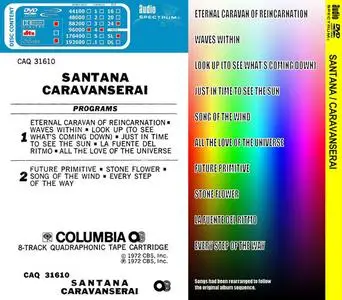 Thank you to the original uploader.