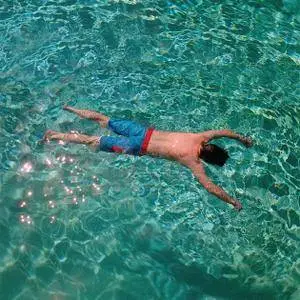 Conor Oberst - Salutations (2017)
FLAC (tracks) 24-bit/88.2 kHz | Time - 67:47 minutes | 1.42 GB
Studio Master, Official Digital Download | Artwork: Digital Booklet
The album is a companion piece to 2016's Ruminations. When Oberst wrote and recorded the songs on Ruminations, entirely solo – with just voice, piano, guitar and harmonica – he intended to ultimately record them with a full band. In the midst of putting together that band – upstate New York's The Felice Brothers plus the legendary drummer Jim Keltner (Neil Young, Jackson Browne, George Harrison, Bob Dylan, John Lennon, and many more) – the passionate responses Oberst was getting to those first solo recordings, from friends and colleagues, encouraged him to release the songs as-is, in their original sparse form, as his seventh solo album: Ruminations, which was released in October 2016.
Meanwhile, Oberst simultaneously moved ahead with his plans to record with the band, heading to the famed Shangri-la Studios in Malibu to record Salutations – co-produced with Keltner and engineered by long-time musical compadre Andy LeMaster. Guest contributions come courtesy of Jim James, Blake Mills, Maria Taylor, M Ward, Gillian Welch, Gus Seyffert, Pearl Charles, Nathaniel Walcott, and Jonathan Wilson.
Salutations includes full band versions of the ten songs from Ruminations, plus seven additional songs, some from an additional session at Five Star Studios in Echo Park in fall 2016. Oberst, with The Felice Brothers as his backing band, will tour in celebration of Salutations beginning March 9 in his hometown of Omaha, with stops at LA's Greek Theater in May and Celebrate Brooklyn in July.
"A companion album to 2016's Ruminations, Salutations is the fully produced, fully realized version of its skeletal predecessor. Where most artists release demos some time after the finished record hits the shelves, Conor Oberst decided to rush the monochromatic, vaguely pained versions of his 2016 compositions out first, then chose to succeed it with Technicolor renditions just a few months afterward. Salutations finds Oberst running through the same songs from Ruminations, adding seven new songs to the mix so it runs the length of a double album, all with the assistance of Fleet Foxes and ace drummer Jim Keltner. This full band is key to the success of Salutations. Comparing it to Ruminations, what impresses is the musicality – robust and sinewy, Oberst sometimes seems like he's sprinting to keep pace with his band, and he's grinning that he's being outrun. Often, these moments crystallize on the new songs, songs that seemed designed for a full-throttle band, including "Napalm," where Oberst and friends replicate the thin, wild mercury sound of Bob Dylan in his mid-'60s amphetamine prime. Dylan is a common touchstone throughout Salutations but if Oberst sometimes revives the Greeenwich troubadour imitation of his earliest days, the album truly gains traction when he decides to lean into the kineticism of this band. This is the big revelation of Salutations: where Ruminations sounded like a pained howl, this is a softer, soulful record, one where the delivery matters more than the content. Stripped to the bone, these songs could seem nervy, but surrounded by fellow travelers, they feel like a balm, and that also indicates just far Oberst has traveled. He's no longer a busker preaching the truth only he knows. He's no longer so confident – he gains confidence through collaboration – and the result is rich and resonant, a testament to the power of communal music over solo soul-baring." (Stephen Thomas Erlewine, AMG)
Tracklist:
01. Too Late to Fixate
02. Gossamer Thin
03. Overdue
04. Afterthought
05. Next Of Kin
06. Napalm
07. Mamah Borthwick (A Sketch)
08. Till St. Dymphna Kicks Us Out
09. Barbary Coast (Later)
10. Tachycardia
11. Empty Hotel by the Sea
12. Anytime Soon
13. Counting Sheep
14. Rain Follows the Plow
15. You All Loved Him Once
16. A Little Uncanny
17. Salutations
foobar2000 1.3.7 / Dynamic Range Meter 1.1.1
log date: 2017-11-22 22:36:05

––––––––––––––––––––––––––––––––––––––––
Analyzed: Conor Oberst / Salutations
––––––––––––––––––––––––––––––––––––––––

DR Peak RMS Duration Track
––––––––––––––––––––––––––––––––––––––––
DR8 0.00 dB -10.50 dB 4:02 01-Too Late to Fixate
DR8 -0.10 dB -9.77 dB 3:35 02-Gossamer Thin
DR8 -0.07 dB -9.41 dB 3:49 03-Overdue
DR7 0.00 dB -8.24 dB 3:37 04-Afterthought
DR8 -0.10 dB -9.77 dB 3:44 05-Next Of Kin
DR8 -0.03 dB -9.28 dB 5:00 06-Napalm
DR8 -0.09 dB -9.98 dB 4:17 07-Mamah Borthwick (A Sketch)
DR8 -0.09 dB -10.31 dB 4:02 08-Till St. Dymphna Kicks Us Out
DR7 -0.06 dB -9.57 dB 4:30 09-Barbary Coast (Later)
DR8 -0.08 dB -9.11 dB 3:27 10-Tachycardia
DR8 -0.07 dB -9.63 dB 4:25 11-Empty Hotel by the Sea
DR7 -0.09 dB -8.69 dB 2:55 12-Anytime Soon
DR9 -0.10 dB -11.60 dB 3:29 13-Counting Sheep
DR8 -0.08 dB -10.58 dB 3:44 14-Rain Follows the Plow
DR9 -0.08 dB -9.79 dB 4:28 15-You All Loved Him Once
DR7 0.00 dB -9.37 dB 4:57 16-A Little Uncanny
DR8 -0.09 dB -9.91 dB 3:55 17-Salutations
––––––––––––––––––––––––––––––––––––––––

Number of tracks: 17
Official DR value: DR8

Samplerate: 88200 Hz
Channels: 2
Bits per sample: 24
Bitrate: 2854 kbps
Codec: FLAC
================================================================================
Thanks to the Original customer.