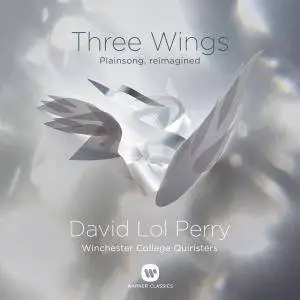 David Lol Perry - Three Wings (2017)
FLAC (tracks) 24-bit/96 kHz | Time - 65:26 minutes | 1.15 GB
Studio Master, Official Digital Download | Artwork: Digital Booklet
Three Wings is a sublime collection of 14th Century plainsong reimagined for the 21st Century with added electro-acoustic instrumentation by composer/producer David Lol Perry, and featuring the heavenly voices of the Winchester College Quiristers.
In 2014, Malcolm Archer, Director of Chapel Music at Winchester College, keen to broaden the audience for his boy Quiristers' sound, invited composer/producer David Lol Perry to record with them, suggesting he add new, contemporary arrangements to Plainsong to be sung by the Quiristers, pieces traditionally sung a cappella.
The project began with the complex task of recording the assembled boy Quiristers within the walls of the 14th Century College Chapel, and to overcome its unique set of acoustic challenges. Keen to avoid the clichéd sound of sample-based, overly-quantised arrangements, Perry's aim was to create an ethereal sound that added intimacy, serving to complement rather than dominate the centuries-old sung melodies. He set about this by employing an array of electro-acoustic studio production techniques to create contemporary, sympathetic arrangements, building a 'sonic journey' into each piece to maintain its traditional structure and lyrical narrative.
'The concept 'Three Wings' is taken from Abbess St Hildegard of Bingen's 'O Virtus Sapientiae', a medieval plainsong text in which she sees 'Divine Wisdom' (Sapientia), a figure personified in the Old Testament, as 'having three wings, of which one soars to the heights and another sweats on the earth and a third flies everywhere' and was one of Hildegard's most constant visionary companions.' (David Lol Perry)
Tracklist:
01. Salve Virgo Virginum
02. Flos Regalis Virginalis
03. Ave Maris Stella
04. Gaudens In Domino
05. Peperit Virgo
06. Laudemus Virginem
07. Puer Natus Est Nobis
08. Sainte Nicholaes Solem
09. Missa de Angelis Sanctus
10. Missa de Angelis Agnus Dei
11. O Filii Et Filiae
12. Creator Alme Siderum
13. Paradisi Portae
14. Missa de Angelis Kyrie Eleison
15. Salve Regina
16. Perry: Sainte Nicholaes Gloria
17. Uterus Hodie Virginis Floruit
Personnel:
David Lol Perry, all instrumentation
Winchester College Quiristers
Malcolm Archer, conductor
foobar2000 1.3.7 / Dynamic Range Meter 1.1.1
log date: 2017-11-10 10:52:07

––––––––––––––––––––––––––––––––––––––––
Analyzed: Winchester College Quiristers / Three Wings - Plainsong, Reimagined
––––––––––––––––––––––––––––––––––––––––

DR Peak RMS Duration Track
––––––––––––––––––––––––––––––––––––––––
DR13 -1.42 dB -22.96 dB 3:41 01-Salve Virgo Virginum
DR13 -3.38 dB -23.34 dB 4:15 02-Flos Regalis Virginalis
DR14 -1.87 dB -22.88 dB 4:03 03-Ave Maris Stella
DR13 -5.60 dB -23.19 dB 2:35 04-Gaudens In Domino
DR14 -1.60 dB -22.51 dB 5:47 05-Peperit Virgo
DR13 -1.85 dB -22.69 dB 2:18 06-Laudemus Virginem
DR14 -2.05 dB -22.26 dB 7:18 07-Puer Natus Est Nobis
DR12 -15.98 dB -33.14 dB 1:20 08-Sainte Nicholaes Solem
DR14 -8.76 dB -28.50 dB 4:10 09-Missa de Angelis Sanctus
DR13 -2.46 dB -23.08 dB 3:03 10-Missa de Angelis Agnus Dei
DR13 -1.70 dB -20.06 dB 5:51 11-O Filii Et Filiae
DR14 -1.76 dB -21.75 dB 3:14 12-Creator Alme Siderum
DR13 -0.89 dB -20.64 dB 4:39 13-Paradisi Portae
DR12 -0.51 dB -19.29 dB 2:40 14-Missa de Angelis Kyrie Eleison
DR13 -0.81 dB -20.57 dB 4:41 15-Salve Regina
DR13 -1.45 dB -20.36 dB 2:48 16-Perry: Sainte Nicholaes Gloria
DR12 -2.16 dB -20.24 dB 3:12 17-Uterus Hodie Virginis Floruit
––––––––––––––––––––––––––––––––––––––––

Number of tracks: 17
Official DR value: DR13

Samplerate: 96000 Hz
Channels: 2
Bits per sample: 24
Bitrate: 2510 kbps
Codec: FLAC
================================================================================
Thanks to the Original customer.