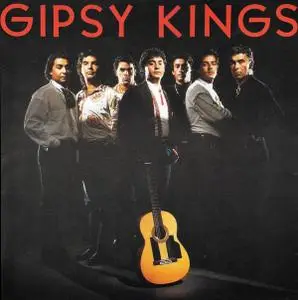 Gipsy Kings - Gipsy Kings (1988) [LP, DSD128]
Latin, Pop, Flamenco | DSD128 (*.dsf, tracks), 1-bit/5.64 MHz
Run Time: 00:43:32 | 3.61 GB + 5% Recovery
Label: Elektra | Release Year: 1988
The Gipsy Kings are a group of flamenco, salsa and pop musicians from Arles and Montpellier in the south of France who perform in Andalusian Spanish. Although group members were born in France, their parents were mostly gitanos, Spanish gypsies who fled Catalonia during the 1930s Spanish Civil War. They are known for bringing Catalan rumba, a pop-oriented music distantly derived from traditional flamenco music, to worldwide audiences. The group originally called itself Los Reyes.
Their music has a particular rumba flamenca style, with pop influences; many songs of the Gipsy Kings fit social dances, such as salsa and rumba. Their music has been described as a place where "Spanish flamenco and gypsy rhapsody meet salsa funk".
Gipsy Kings is the third album by the French Rumba Catalana band Gipsy Kings, which was released in 1987. The album was their first to reach a worldwide audience, going gold across France, the UK, USA and other countries. The US and European versions of this album are identical except in some cases the song order may differ. The Japanese version released in 1995 includes an alternate version of "Vamos A Bailar" from their latest albums. The song "Inspiration" from this album famously appeared in the season five episode of Miami Vice, "World Of Trouble", in June 1988.
Tracklist:

Side 1
A1. Bamboléo
A2. Tú Quieres Volver
A3. Moorea
A4. Bem, Bem, María
A5. Un Amor
A6. Inspiration
Side 2
B1. A Mi Manera
B2. Djobi Djoba
B3. Faena
B4. Quiero Saber
B5. Amor, Amor
B6. Duende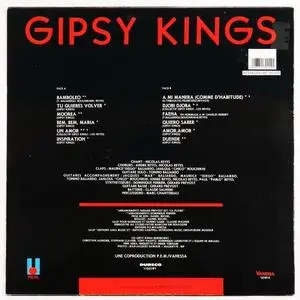 Members
Nicolas Reyes – founder, lead singer, son of Jose Reyes
François (Canut) Reyes – vocal, guitar, son of Jose Reyes
Andre Reyes – vocal, guitar, son of Jose Reyes
Patchai Reyes – vocal, guitar, son of Jose Reyes
Pablo (Paul) Reyes – guitar, son of Jose Reyes
Tonino Baliardo – founder, lead guitarist
Diego Baliardo – guitar
Paco Baliardo – guitar
foobar2000 1.4 / Dynamic Range Meter 1.1.1
log date: 2019-09-13 17:54:31

––––––––––––––––––––––––––––––––––––––––
Analyzed: Gipsy Kings / Gipsy Kings (Vinyl, LP, Album)
––––––––––––––––––––––––––––––––––––––––

DR Peak RMS Duration Track
––––––––––––––––––––––––––––––––––––––––
DR13 -6.41 dB -20.93 dB 3:25 A1-Bamboléo
DR11 -6.43 dB -18.96 dB 3:14 A2-Tú Quieres Volver
DR11 -6.54 dB -19.98 dB 4:02 A3-Moorea
DR13 -6.39 dB -20.96 dB 3:05 A4-Bem, Bem, María
DR11 -7.01 dB -20.58 dB 3:39 A5-Un Amor
DR11 -7.23 dB -21.14 dB 3:43 A6-Inspiration
DR12 -6.87 dB -22.13 dB 3:54 B1-A Mi Manera
DR12 -6.51 dB -19.89 dB 3:26 B2-Djobi Djoba
DR13 -6.78 dB -21.15 dB 3:28 B3-Faena
DR13 -6.67 dB -21.34 dB 4:08 B4-Quiero Saber
DR12 -6.44 dB -20.76 dB 3:09 B5-Amor, Amor
DR13 -7.29 dB -22.67 dB 4:20 B6-Duende
––––––––––––––––––––––––––––––––––––––––

Number of tracks: 12
Official DR value: DR12

Samplerate: 5644800 Hz / PCM Samplerate: 88200 Hz
Channels: 2
Bits per sample: 1
Bitrate: 11290 kbps
Codec: DSD128
================================================================================
Thanks to the original releaser!