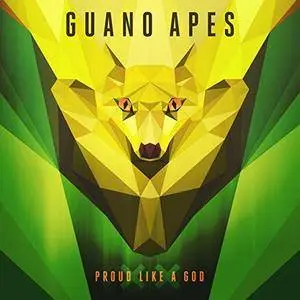 Guano Apes - Proud Like A God XX (2017)
FLAC (tracks) 24-bit/48 kHz | Time - 66:34 minutes | 845 MB
Studio Master, Official Digital Download | Artwork: Front cover
Originally financed with the winners' prize from a newcomer contest, the pieces of 'Proud Like A God' have never lost anything of their unbridled kick-ass power. Together with the producer Fabio Trentini, with whom they had already developed the original demos in 1994, the Guano Apes have now dug the analogue original tapes especially for the anniversary edition from dark archives, the songs completely dedusted and give them a modern, contemporary Sound-Make Over awarded.
With 'Proud Like A God XX', the Guano Apes now look back on their early crossover monoliths and present themselves on the other hand firmly anchored in the present with all eight legs: album 1 contains 10 songs of the original album from the year 1997 in new mixed and remastered form as well as a previously unpublished song. On album 2 you will find completely new, updated versions of the songs 'Get Busy', 'Rain', 'Crossing The Deadline', 'Suzie', 'Neverborn' and of course the Classic 'Open Your Eyes' Less than Danko Jones took the duet to the studio. "Although the original versions stand for themselves, we have once again taken a look at them and interpreted them in the modern sound garb for the year 2017," continues Henning Rümenapp. 'We have tried many different ways to approach the songs again from today's music view. And I think we have just found the right approach! ' As a special anniversary gift to their faithful fans, Sandra Nasic and her guys with 'This Is Not America' (David Bowie), 'Precious' (Depeche Mode) and 'Lose Yourself' (Eminem) have three more favorite songs to celebrate the day and immortalized in 'guanofized' form.
And also with Danko Jones, the Guano Apes combines a very special relationship. 'We have always met them at different festivals and have developed a real friendship in the last years. Your uncompromisingness is really to be admired; just as far as singing is concerned! Our common version of 'Open Your Eyes' shows again a completely different facet of the track. It is a great feeling to experience the original songs in a modernized soundscape. It has been very exciting for us to observe that everything that makes this band today was already at an early stage. Like a rough diamond, which has been sharpened more and more. Somehow, our producer Wolfgang Stach has managed to squeeze something out of a rather rumpy bunch of teenagers with a lot of musical ideas, which already had an international format. We are still proud of Bolle on what we have created then.
Tracklist:
CD1:
01. Open Your Eyes (2017 Mix)
02. Maria (2017 Mix)
03. Rain (2017 Mix)
04. Lords of the Boards (Remastered)
05. Crossing the Deadline (2017 Mix)
06. We Use the Pain (2017 Mix)
07. Never Born (2017 Mix)
08. Wash It Down (2017 Mix)
09. Get Busy (2017 Mix)
10. Suzie (2017 Mix)
11. Score (2017 Mix)
CD2:
01. Open Your Eyes (2017 Version) (feat. Danko Jones)
02. Lose Yourself
03. Rain (2017 Version)
04. Crossing the Deadline (2017 Version)
05. This Is Not America
06. Never Born (2017 Version)
07. Precious
08. Suzie (2017 Version)
09. Get Busy (2017 Version)
Personnal:
Sandra Nasić - vocal
Henning Rümenapp - guitar
Stefan Ude - bass
Dennis Poschwatta - drums
foobar2000 1.3.7 / Dynamic Range Meter 1.1.1
log date: 2017-10-12 12:08:15

––––––––––––––––––––––––––––––––––––––––
Analyzed: Guano Apes / Proud Like A God XX
––––––––––––––––––––––––––––––––––––––––

DR Peak RMS Duration Track
––––––––––––––––––––––––––––––––––––––––
DR7 -0.80 dB -9.18 dB 3:09 01-Open Your Eyes (2017 Mix)
DR8 -0.80 dB -11.44 dB 3:43 02-Maria (2017 Mix)
DR8 -0.80 dB -11.11 dB 4:37 03-Rain (2017 Mix)
DR8 0.00 dB -11.29 dB 3:44 04-Lords of the Boards (Remastered)
DR8 -0.80 dB -10.13 dB 3:25 05-Crossing the Deadline (2017 Mix)
DR8 -0.80 dB -11.41 dB 2:31 06-We Use the Pain (2017 Mix)
DR8 -0.80 dB -10.95 dB 5:18 07-Never Born (2017 Mix)
DR8 -0.80 dB -9.96 dB 3:06 08-Wash It Down (2017 Mix)
DR8 -0.80 dB -11.19 dB 3:27 09-Get Busy (2017 Mix)
DR7 -0.80 dB -10.26 dB 2:54 10-Suzie (2017 Mix)
DR8 -0.80 dB -9.64 dB 2:31 11-Score (2017 Mix)
DR9 0.00 dB -9.54 dB 3:04 01-Open Your Eyes (2017 Version) (feat. Danko Jones)
DR7 -0.26 dB -9.37 dB 2:51 02-Lose Yourself
DR8 -0.44 dB -9.75 dB 4:29 03-Rain (2017 Version)
DR8 -0.41 dB -10.09 dB 2:35 04-Crossing the Deadline (2017 Version)
DR8 -0.30 dB -9.97 dB 2:41 05-This Is Not America
DR7 -0.71 dB -9.52 dB 2:56 06-Never Born (2017 Version)
DR9 -0.32 dB -11.54 dB 3:47 07-Precious
DR8 -0.33 dB -10.75 dB 2:46 08-Suzie (2017 Version)
DR10 -0.45 dB -13.66 dB 3:11 09-Get Busy (2017 Version)
––––––––––––––––––––––––––––––––––––––––

Number of tracks: 20
Official DR value: DR8

Samplerate: 48000 Hz
Channels: 2
Bits per sample: 24
Bitrate: 1585 kbps
Codec: FLAC
================================================================================
All thanks go to the original releaser