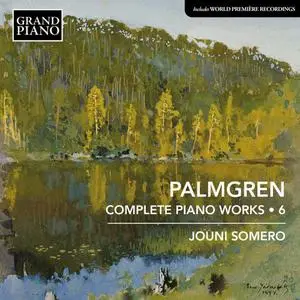 Jouni Somero - Palmgren: Complete Piano Works, Vol. 6 (2023) [Official Digital Download]
FLAC (tracks), Lossless [24bit-96kHz] | 69:23 | 1,14 Gb
Genre: Classical / Label:Grand Piano
Selim Palmgren's piano miniatures were extremely popular during his lifetime and were played by the great virtuosos of the day. The sixth volume in this acclaimed series presents a panorama of Palmgren's works and includes two of his greatest and most important solo pieces – the suite Ungdom, Op. 28 laced with Impressionist and Finnish folk elements, and the Three Piano Pieces, Op. 54 which includes Raindrops and Moonlight, two of his best-known and most atmospheric works. Also included are Lisztian virtuoso studies, Hungarian evocations, and a beautiful, moving Prélude funèbre that was played at Palmgren's own funeral. Jouni Somero, Palmgren's greatest modern exponent, continues his historic survey of piano music by one of Finland's most respected and admired composers.
Track List:
1. Festpräludium, Op. 93b (4:26)
2. Prélude funèbre, SP225 (4:50)
3. Pieni legenda, SP217 (1:53)
4. No. 1, Praeludium (2:01)
5. No. 2, Skuggornas ö (3:55)
6. No. 3, Saga (2:57)
7. No. 4, Mor sjunger (4:34)
8. No. 5, Svanen (3:28)
9. No. 6, Ringdans (1:44)
10. No. 1, Regndroppar (4:38)
11. No. 2, Valse Mignonne (4:41)
12. No. 3, Månsken (3:18)
13. Preludi for Piano, SP226 (0:58)
14. Harjoitelma in C Major for Piano, SP76 (0:33)
15. Arietta, SP10 (0:38)
16. Harjoitelma in A Major for Piano, SP75 (0:24)
17. Aurinkoa, SP12 (0:17)
18. Scherzo in E Major for Piano, SP247 (3:12)
19. Ungarischer Tanz, Op. Posth. (2:47)
20. No. 1, Allegro grazioso (1:12)
21. No. 2, Non troppo vivace (1:17)
22. No. 1, Tanz-Humoresque I (1:33)
23. No. 2, Altfinnisches Wiegenlied (1:50)
24. No. 3, Irrlicht (1:18)
25. No. 4, Tanz-Humoresque II (2:18)
26. Valse-caprice for Piano, Op. 1 No. 4 (5:34)
27. Mephistowaltzer, Op. 37a (3:24)
foobar2000 1.6.10 / Dynamic Range Meter 1.1.1
log date: 2023-01-12 20:46:56

––––––––––––––––––––––––––––––––––––––––
Analyzed: Jouni Somero / Palmgren: Complete Piano Works, Vol. 6
––––––––––––––––––––––––––––––––––––––––

DR Peak RMS Duration Track
––––––––––––––––––––––––––––––––––––––––
DR12 -0.10 dB -17.14 dB 4:26 01-Festpräludium, Op. 93b
DR14 -0.85 dB -20.74 dB 4:50 02-Prélude funèbre, SP225
DR12 -12.46 dB -28.04 dB 1:53 03-Pieni legenda, SP217
DR12 -1.32 dB -15.05 dB 2:01 04-6 Lyric Pieces for Piano, Op. 28 "Youth": No. 1, Praeludium
DR14 -4.57 dB -25.71 dB 3:55 05-6 Lyric Pieces for Piano, Op. 28 "Youth": No. 2, Skuggornas ö
DR12 -14.26 dB -31.35 dB 2:57 06-6 Lyric Pieces for Piano, Op. 28 "Youth": No. 3, Saga
DR15 -13.45 dB -31.67 dB 4:34 07-6 Lyric Pieces for Piano, Op. 28 "Youth": No. 4, Mor sjunger
DR14 -2.47 dB -23.08 dB 3:28 08-6 Lyric Pieces for Piano, Op. 28 "Youth": No. 5, Svanen
DR13 -4.70 dB -20.27 dB 1:44 09-6 Lyric Pieces for Piano, Op. 28 "Youth": No. 6, Ringdans
DR14 -11.49 dB -30.37 dB 4:38 10-3 Piano Pieces, Op. 54: No. 1, Regndroppar
DR12 -3.87 dB -20.37 dB 4:41 11-3 Piano Pieces, Op. 54: No. 2, Valse Mignonne
DR13 -4.83 dB -23.91 dB 3:18 12-3 Piano Pieces, Op. 54: No. 3, Månsken
DR12 -10.05 dB -27.99 dB 0:58 13-Preludi for Piano, SP226
DR9 -7.75 dB -22.30 dB 0:33 14-Harjoitelma in C Major for Piano, SP76
DR10 -11.82 dB -25.85 dB 0:38 15-Arietta, SP10
DR11 -5.09 dB -20.03 dB 0:24 16-Harjoitelma in A Major for Piano, SP75
DR10 -8.55 dB -21.77 dB 0:17 17-Aurinkoa, SP12
DR14 -1.90 dB -18.45 dB 3:12 18-Scherzo in E Major for Piano, SP247
DR13 -1.46 dB -19.00 dB 2:47 19-Ungarischer Tanz, Op. Posth.
DR10 -2.27 dB -17.61 dB 1:12 20-2 Studien, SP351: No. 1, Allegro grazioso
DR14 -0.10 dB -16.88 dB 1:17 21-2 Studien, SP351: No. 2, Non troppo vivace
DR12 -3.75 dB -20.06 dB 1:33 22-4 Klavierskizzen, Op. 35: No. 1, Tanz-Humoresque I
DR13 -13.34 dB -30.74 dB 1:50 23-4 Klavierskizzen, Op. 35: No. 2, Altfinnisches Wiegenlied
DR11 -6.67 dB -21.78 dB 1:18 24-4 Klavierskizzen, Op. 35: No. 3, Irrlicht
DR12 -2.38 dB -18.08 dB 2:18 25-4 Klavierskizzen, Op. 35: No. 4, Tanz-Humoresque II
DR14 -0.20 dB -18.46 dB 5:34 26-Valse-caprice for Piano, Op. 1 No. 4
DR12 -0.10 dB -15.39 dB 3:24 27-Mephistowaltzer, Op. 37a
––––––––––––––––––––––––––––––––––––––––

Number of tracks: 27
Official DR value: DR12

Samplerate: 96000 Hz
Channels: 2
Bits per sample: 24
Bitrate: 2506 kbps
Codec: FLAC
================================================================================