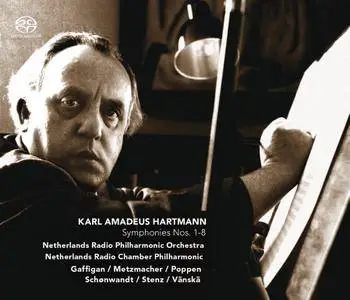 Karl Amadeus Hartmann - Symphonies Nos. 1-8 (2014)
DSF (Tracks) 2.0 ch | DSD64 2.0 (2,8 MHz/1 bit) | Digital Booklet | 8,27 Gb | 5% Recovery
FLAC (Tracks) 2.0 ch, 24bit/88,2 kHz (converted with foobar2000) | Digital Booklet | 3,34 Gb | 5% Recovery
Classical, Symphony | © 2014 Challenge Classics
A native of Munich, Karl Amadeus Hartmann (1905-1963) was without a shadow of a doubt the greatest symphonist in the Central European tradition since Bruckner and Mahler. The sketches and early versions of six of his eight symphonies had their origins in one of the darkest periods in world history – from 1933 to 1945 – when the Nazis were in power and Hartmann gradually withdrew completely from public life. This period, which culminated in Hartmann's own 'Innere Emigration' (inner emigration), represented a decisive turning point in his creative development. The question of what his music might have become had the Second World War and the period immediately preceding it not occurred, is thus an intriguing one. After all, in the years before, he had adopted a playful, neoclassical style influenced by jazz and Dadaism with which he hardly distinguished himself from his contemporaries. But after that (and, it should be noted, with no prospect of performance in sight), Hartmann created a musical language that was highly indebted to those composers whose music the Nazis had banned, such as Mahler, Berg, Stravinsky, Prokofiev and Bartók. Accordingly, that language can be seen as Hartmann's resounding declaration of solidarity with those victims. Indeed, he fully employs this language not only in his eight monumental symphonies, but also in his opera Simplicius Simplicissimus (composed in 1936 and revised in 1957), based on the 1669 novel Der abenteuerliche Simplicissimus by Hans Jakob Christoffel von Grimmelshausen (1621-1676). To some extent, this opera can be seen as the foundation for Hartmann's orchestral oeuvre.
***************
Karl Amadeus Hartmann (1905—1963)
Symphonies Nos. 1-8
Markus Stenz, James Gaffigan, Michael Schønwandt, Christoph Poppen, Osmo Vänskä, Ingo Metzmacher
Netherlands Radio Philharmonic Orchestra, Netherlands Radio Chamber Philharmonic
Track List:Symphony No. 1 "Versuch eines requiems" (1948 rev. 1954-55)
Markus Stenz, Kismara Pessati & Netherlands Radio Philharmonic Orchestra
01. I. Introduktion: Elend "Ich sitze und schaue aus"
02. II. Frühling – "Als jüngst der Flieder blühte"
03. III. Thema mit vier Variationen
04. IV. Tränen – "In der Nacht der Einsamkeit"
05. V. Epilog: Bitte – "Ich hörte die Allmutter"
Symphony No. 2 "Adagio" (1945-1946)
James Gaffigan & Netherlands Radio Philharmonic Orchestra
06. Adagio
Symphony No. 3 (1948-1949)
James Gaffigan & Netherlands Radio Philharmonic Orchestra
07. Largo ma non troppo – Allegro con fuoco (Virtuose Fuge)
08. Adagio – Andante – Allegro moderato – Andante – Adagio
Symphony No. 4 (1947-1948)
Markus Stenz & Netherlands Radio Philharmonic Orchestra
09. I. Lento assai – Con passione
10. II. Allegro di molto, risoluto
11. III. Adagio appassionato
Symphony No. 5 "Sinfonia concertante" (1950)
Michael Schønwandt & Netherlands Radio Chamber Philharmonic
12. Toccata
13. Melodie
14. Rondo
Symphony No. 6 (1951-1953)
Christoph Poppen & Netherlands Radio Philharmonic Orchestra
15. I. Adagio
16. II. Toccata variata
Symphony No. 7 (1957-1958)
Osmo Vänskä & Netherlands Radio Philharmonic Orchestra
17. I. Introduction und Ricercare
18. II. Adagio mesto cantanto e tranquillo
Symphony No. 8 (1960-1962)
Ingo Metzmacher & Netherlands Radio Philharmonic Orchestra
19. I. Cantilene
20. II. Dithyrambe: Scherzo – Fuga
foobar2000 1.3.8 / Dynamic Range Meter 1.1.1
log date: 2017-01-26 01:04:57

––––––––––––––––––––––––––––––––––––––––
Analyzed: Christoph Poppen & Netherlands Radio Philharmonic Orchestra / Hartmann: Symphonies Nos. 1-8 (1-2)
Ingo Metzmacher & Netherlands Radio Philharmonic Orchestra / Hartmann: Symphonies Nos. 1-8 (3-4)
James Gaffigan & Netherlands Radio Philharmonic Orchestra / Hartmann: Symphonies Nos. 1-8 (5-7)
Markus Stenz & Netherlands Radio Philharmonic Orchestra / Hartmann: Symphonies Nos. 1-8 (8-10)
Markus Stenz, Kismara Pessati & Netherlands Radio Philharmonic Orchestra / Hartmann: Symphonies Nos. 1-8 (11-15)
Michael Schønwandt & Netherlands Radio Chamber Philharmonic / Hartmann: Symphonies Nos. 1-8 (16-18)
Osmo Vänskä & Netherlands Radio Philharmonic Orchestra / Hartmann: Symphonies Nos. 1-8 (19-20)
––––––––––––––––––––––––––––––––––––––––

DR Peak RMS Duration Track
––––––––––––––––––––––––––––––––––––––––
DR14 -6.33 dB -26.40 dB 13:23 15-Symphony No. 6 (1951-1953): I. Adagio
DR13 -6.37 dB -24.84 dB 12:01 16-Symphony No. 6 (1951-1953): II. Toccata variata
DR16 -6.52 dB -29.11 dB 13:46 19-Symphony No. 8 (1960-1962): I. Cantilene
DR15 -6.40 dB -26.99 dB 9:50 20-Symphony No. 8 (1960-1962): II. Dithyrambe: Scherzo – Fuga
DR13 -6.30 dB -26.22 dB 17:02 06-Symphony No. 2 "Adagio" (1945-1946): Adagio
DR13 -6.19 dB -25.68 dB 16:46 07-Symphony No. 3 (1948-1949): Largo ma non troppo – Allegro con fuoco (Virtuose Fuge)
DR16 -6.21 dB -28.44 dB 15:15 08-Symphony No. 3 (1948-1949): Adagio – Andante – Allegro moderato – Andante – Adagio
DR15 -7.37 dB -30.15 dB 14:49 09-Symphony No. 4 (1947-1948): I. Lento assai – Con passione
DR14 -7.34 dB -26.12 dB 9:19 10-Symphony No. 4 (1947-1948): II. Allegro di molto, risoluto
DR12 -9.38 dB -28.27 dB 6:49 11-Symphony No. 4 (1947-1948): III. Adagio appassionato
DR10 -6.28 dB -23.15 dB 3:21 01-Symphony No. 1 "Versuch eines requiems" (1948 rev. 1954-55): I. Introduktion: Elend "Ich sitze und schaue aus"
DR15 -6.47 dB -28.95 dB 4:48 02-Symphony No. 1 "Versuch eines requiems" (1948 rev. 1954-55): II. Frühling – "Als jüngst der Flieder blühte"
DR19 -6.37 dB -32.35 dB 7:32 03-Symphony No. 1 "Versuch eines requiems" (1948 rev. 1954-55): III. Thema mit vier Variationen
DR18 -6.41 dB -31.15 dB 7:43 04-Symphony No. 1 "Versuch eines requiems" (1948 rev. 1954-55): IV. Tränen – "In der Nacht der Einsamkeit"
DR15 -6.40 dB -29.22 dB 2:56 05-Symphony No. 1 "Versuch eines requiems" (1948 rev. 1954-55): V. Epilog: Bitte – "Ich hörte die Allmutter"
DR16 -6.34 dB -27.26 dB 4:47 12-Symphony No. 5 "Sinfonia concertante" (1950): Toccata
DR19 -9.73 dB -35.81 dB 7:00 13-Symphony No. 5 "Sinfonia concertante" (1950): Melodie
DR16 -6.38 dB -27.84 dB 4:08 14-Symphony No. 5 "Sinfonia concertante" (1950): Rondo
DR14 -6.44 dB -26.68 dB 9:18 17-Symphony No. 7 (1957-1958): I. Introduction und Ricercare
DR16 -6.44 dB -28.18 dB 18:25 18-Symphony No. 7 (1957-1958): II. Adagio mesto cantanto e tranquillo
––––––––––––––––––––––––––––––––––––––––

Number of tracks: 20
Official DR value: DR15

Samplerate: 2822400 Hz / PCM Samplerate: 88200 Hz
Channels: 2
Bits per sample: 24
Bitrate: 5645 kbps
Codec: DSD64
================================================================================
foobar2000 1.2.6 / Dynamic Range Meter 1.1.1
log date: 2017-01-26 02:16:52

––––––––––––––––––––––––––––––––––––––––
Analyzed: Christoph Poppen & Netherlands Radio Philharmonic Orchestra / Hartmann: Symphonies Nos. 1-8 (1-2)
Ingo Metzmacher & Netherlands Radio Philharmonic Orchestra / Hartmann: Symphonies Nos. 1-8 (3-4)
James Gaffigan & Netherlands Radio Philharmonic Orchestra / Hartmann: Symphonies Nos. 1-8 (5-7)
Markus Stenz & Netherlands Radio Philharmonic Orchestra / Hartmann: Symphonies Nos. 1-8 (8-10)
Markus Stenz, Kismara Pessati & Netherlands Radio Philharmonic Orchestra / Hartmann: Symphonies Nos. 1-8 (11-15)
Michael Schønwandt & Netherlands Radio Chamber Philharmonic / Hartmann: Symphonies Nos. 1-8 (16-18)
Osmo Vänskä & Netherlands Radio Philharmonic Orchestra / Hartmann: Symphonies Nos. 1-8 (19-20)
––––––––––––––––––––––––––––––––––––––––

DR Peak RMS Duration Track
––––––––––––––––––––––––––––––––––––––––
DR14 -6.33 dB -26.40 dB 13:23 15-Symphony No. 6 (1951-1953): I. Adagio
DR13 -6.37 dB -24.84 dB 12:01 16-Symphony No. 6 (1951-1953): II. Toccata variata
DR16 -6.52 dB -29.11 dB 13:46 19-Symphony No. 8 (1960-1962): I. Cantilene
DR15 -6.40 dB -26.99 dB 9:50 20-Symphony No. 8 (1960-1962): II. Dithyrambe: Scherzo – Fuga
DR13 -6.30 dB -26.22 dB 17:02 06-Symphony No. 2 "Adagio" (1945-1946): Adagio
DR13 -6.19 dB -25.68 dB 16:46 07-Symphony No. 3 (1948-1949): Largo ma non troppo – Allegro con fuoco (Virtuose Fuge)
DR16 -6.21 dB -28.44 dB 15:15 08-Symphony No. 3 (1948-1949): Adagio – Andante – Allegro moderato – Andante – Adagio
DR15 -7.37 dB -30.14 dB 14:50 09-Symphony No. 4 (1947-1948): I. Lento assai – Con passione
DR14 -7.34 dB -26.12 dB 9:20 10-Symphony No. 4 (1947-1948): II. Allegro di molto, risoluto
DR12 -9.38 dB -28.27 dB 6:49 11-Symphony No. 4 (1947-1948): III. Adagio appassionato
DR10 -6.28 dB -23.15 dB 3:22 01-Symphony No. 1 "Versuch eines requiems" (1948 rev. 1954-55): I. Introduktion: Elend "Ich sitze und schaue aus"
DR15 -6.47 dB -28.95 dB 4:49 02-Symphony No. 1 "Versuch eines requiems" (1948 rev. 1954-55): II. Frühling – "Als jüngst der Flieder blühte"
DR19 -6.37 dB -32.35 dB 7:32 03-Symphony No. 1 "Versuch eines requiems" (1948 rev. 1954-55): III. Thema mit vier Variationen
DR18 -6.41 dB -31.15 dB 7:44 04-Symphony No. 1 "Versuch eines requiems" (1948 rev. 1954-55): IV. Tränen – "In der Nacht der Einsamkeit"
DR15 -6.40 dB -29.22 dB 2:56 05-Symphony No. 1 "Versuch eines requiems" (1948 rev. 1954-55): V. Epilog: Bitte – "Ich hörte die Allmutter"
DR16 -6.34 dB -27.26 dB 4:47 12-Symphony No. 5 "Sinfonia concertante" (1950): Toccata
DR19 -9.73 dB -35.81 dB 7:01 13-Symphony No. 5 "Sinfonia concertante" (1950): Melodie
DR16 -6.38 dB -27.84 dB 4:09 14-Symphony No. 5 "Sinfonia concertante" (1950): Rondo
DR14 -6.44 dB -26.68 dB 9:18 17-Symphony No. 7 (1957-1958): I. Introduction und Ricercare
DR16 -6.44 dB -28.18 dB 18:25 18-Symphony No. 7 (1957-1958): II. Adagio mesto cantanto e tranquillo
––––––––––––––––––––––––––––––––––––––––

Number of tracks: 20
Official DR value: DR15

Samplerate: 88200 Hz
Channels: 2
Bits per sample: 24
Bitrate: 2322 kbps
Codec: FLAC
================================================================================