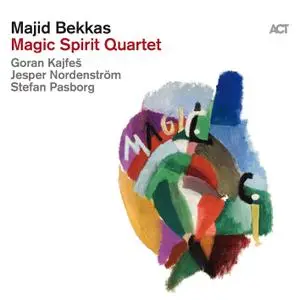 Majid Bekkas - Magic Spirit Quartet (2020)
FLAC (tracks) 24-bit/44.1 kHz | Time - 55:16 minutes | 589 MB
Studio Master, Official Digital Download | Artwork: Digital Booklet
Trance, ritual, mysticism, psychedelia, magic…however one chooses to describe the way that gnawa music affects people, there can be no denying the fascination for it which reaches right across the world. And Majid Bekkas, one of the most dazzling exponents of modern gnawa is also probably the musician who has managed to find the most varied and interesting ways to make this music interact with other genres. Now, with Magic Spirit Quartet, he has had taken the boldly imaginative step of building a bridge to connect North Africa and Scandinavia, to align the ancestral with the ambient. It is an inspired move which seems to catch the very spirit of 21st century jazz.
The origins of gnawa have never been fully explained, and that hint of darkness in its very distant past adds to its mystique. The Gnawa ethnic group were probably trafficked as slaves from Mali, Niger or Ghana to the former great empire of Morocco, where they were able to preserve their culture, to conjure up spirits in night-long rituals called lila, ceremonies during which diseases were healed. Over the past two centuries, this music, with its powerful singing, the rattling of the giant castanets and the inescapable groove of the guembri bass lute, has become inseparably linked to Moroccan culture. And an important development in the past few decades has been how jazz musicians such as Randy Weston or dub master Bill Laswell have discovered the potency of Gnawa music and brought it to Western ears in new and interesting ways.
The Moroccan Majid Bekkas stands out in our time as one of the most exciting internationalisers of gnawa. Although he was born and still lives in Salé, across the river from the Moroccan capital Rabat, his origins are further South, in Zagora in the Moroccan Sahara. Back in the mid-1970s he set up a group inspired by the pioneering Moroccan rock band Nass El Ghiwane and also took up the guembri. Since then he has overcome all cultural barriers using this totemic and large box-lute, but has also made a major impact both with the oud and with his charismatic voice. Album releases such as "Out Of The Desert" with Joachim Kühn, (released 2009 by ACT), and collaborations with Archie Shepp, Pharoah Sanders and Klaus Doldinger are just the tip of Bekkas' musical iceberg: his wide-ranging activity extends from his native Morocco to the blues and also the sound worlds of Indian music.
With the Magic Spirit Quartet Bekkas has teamed up with three artists with Nordic roots whose sound spectrums reflect their truly international outlook: Trumpeter Goran Kajfeš, born in Stockholm of Croatian parents, is equally at home in jazz futurism and minimalism as well as in the Middle East and Africa. He is the leader of the Subtropic Arkestra, a role in which he has previously brought Bekkas in as a guest. Also participating in this group is keyboard genius Jesper Nordenström, who has made his mark in just about every facet of the Swedish scene. The ensemble is underpinned by Danish drummer Stefan Pasborg. He works in many different contexts: together with f.ex. Ibrahim Electric, Carsten Dahl Trinity (album on ACT), and also in a duo with the kora virtuoso Dawda Jobarteh from the Gambia besides past collaborations with musicians like Tomasz Stanko, John Tchicai and Marc Ducret. So the question is: what does the meeting or collision of these two worlds, the Maghreb and the Nordic, actually sound like?
The story of "Aicha" unfolds during a remarkable twelve minutes, starting with an introduction which twists and turns, evolving into a captivating dialogue between voice and trumpet, and then introducing a majestically circulating theme. The listener is then caught up as the pace gradually quickens towards a heart-poundingly fast conclusion, followed by a final moment of exhausted repose. "Hassania", with its other-worldly guitar riffs over an insistent beat, immediately lands the listener in the desert, with Bekkas thoroughly and authentically inhabiting the vocal style of the people of the Moroccan Sahara, Mauritania and Northern Mali; the collective improvisation in the finale seems like an acoustic mirage. With a crisp, funky groove, "Bania" reflects the danceable side of the gnawa ceremonies, the call-and-response songs hover over the band going at full tilt, enriched by shimmering shafts of light from the keyboards. Bekkas brings his artistry on the oud to "Chahia Taiba" establishing a friendly conversation with Goran Kajfeš against the SciFi backdrop of a cool Moog. The freely played introduction to "Mrhaba" is like a salute to the rising sun, and leads into a powerful gnawa melody interspersed with trumpet phrases over an Afrobeat groove. "Annabi" remains consistently in a meditative mood, with a tender melody. And in the finale "MSQ", the sheer quality of this quartet's players as instrumental improvisers is fully unleashed once again.
Glorious improvisation, crisp poly-rhythms, an extraordinary yet natural-seeming collision of electronic flair and spirituality – all this and more is to be found in this exciting rapprochement of the continents and the centuries.
Tracklist:
1. Aicha (12:30)
2. Hassania (7:40)
3. Bania (6:47)
4. Taiba (7:37)
5. Mrhaba (10:08)
6. Annabi (5:39)
7. Msq (4:58)
Personnel:
Majid Bekkas / vocals, guembri, oud & electric guitar
Goran Kajfeš / trumpet, electric trumpet & percussion
Jesper Nordenström / piano, organ, synthesizers & spinet piano
Stefan Pasborg / drums, percussion & tuned gongs
foobar2000 1.3.7 / Dynamic Range Meter 1.1.1
log date: 2020-01-29 14:26:11

––––––––––––––––––––––––––––––––––––––––
Analyzed: Majid Bekkas / Magic Spirit Quartet
––––––––––––––––––––––––––––––––––––––––

DR Peak RMS Duration Track
––––––––––––––––––––––––––––––––––––––––
DR10 -0.72 dB -14.12 dB 12:30 01-Aicha
DR10 -0.72 dB -13.80 dB 7:40 02-Hassania
DR10 -0.72 dB -12.65 dB 6:47 03-Bania
DR12 -0.72 dB -16.20 dB 7:37 04-Taiba
DR10 -0.72 dB -13.69 dB 10:08 05-Mrhaba
DR11 -3.30 dB -17.14 dB 5:39 06-Annabi
DR11 -0.72 dB -14.67 dB 4:58 07-Msq
––––––––––––––––––––––––––––––––––––––––

Number of tracks: 7
Official DR value: DR11

Samplerate: 44100 Hz
Channels: 2
Bits per sample: 24
Bitrate: 1543 kbps
Codec: FLAC
================================================================================
Thanks to the Original customer.