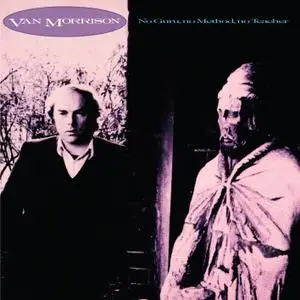 Van Morrison - No Guru, No Method, No Teacher (Remastered) (1986/2020)
FLAC (tracks) 24-bit/96 kHz | Time - 60:17 minutes | 1.26 GB
Studio Master, Official Digital Download | Artwork: Front Cover
"No Guru, No Method, No Teacher" is the sixteenth studio album by Northern Irish singer-songwriter Van Morrison.
The album was recorded at Studio D and Record Plant Studios in Sausalito, California in 1985 with Jim Stern as engineer. The basic takes were recorded at Studio D with Chris Michie, Jef Labes, Babatunde Lea (credited as "Baba Trunde"), David Hayes and Morrison. Overdubs, guitar solos, strings and back-up vocals were added at the Record Plant with the masters taken to Townhouse Studios in London. Overdubs with Ritchie Buckley on saxophone, Martin Drover on trumpet and oboe played by Kate St. John were added in the London studio.
The album title is evocative of a 1966 quotation by Jiddu Krishnamurti: "…there is no teacher, no pupil; there is no leader; there is no guru; there is no Master, no Saviour. You yourself are the teacher and the pupil; you are the Master; you are the guru; you are the leader; you are everything."
"No Guru, No Method, No Teacher was Van Morrison's second studio album for Mercury, following A Sense of Wonder and Live at the Grand Opera House Belfast. Recorded at the height of his spiritual period, it is among the most empathic records in his career. Morrison's seeking of and obsession with "reclaiming the previous" is everywhere, beginning with the set's opener, "Got to Go Back." With a striking wide-open acoustic piano, accompanied by an oboe solo (by Kate St. John) twinned by Richie Buckley's soprano saxophone and an acoustic guitar, Morrison offers, in waltz tempo, these reflections: "When I was a young boy back in Orangefield/I used to look out my classroom window and dream/And then go home and listen to Ray sing/'I Believe to My Soul' after school/Oh that love that was within me/You know it carried me through/Well it lifted me up and it filled me/Got to go back/Got to go back/To the feeling." The album is consumptive in its focus on spiritual innocence as it struggles with notions of God and liberation from earthly constraints. That said, the struggle is visceral; he is immersed in the latter by the sheer physicality of his music even at its most ethereal. "Oh the Warm Feeling" underscores the notion of memory and lost innocence amid lovely oboe, acoustic guitar, organ, and vibes as Morrison sings in the past tense, juxtaposing it against the present. The Celtic soul that comes elegiacally forth from "Foreign Window" is among the album's finest tracks. Nakedly spiritual, Morrison's poetic lyrics addressed to an Other come out of a past that is simultaneously part of his eternal present in a love song; its multivalent textural and dynamic arrangement is gorgeous. This album is an extended meditation that reflects a willingness to stay inside the cloud of the soul's tensions as it seeks; the melodies are often mantra-like. "A Town Called Paradise," however, is the exception. It is a classic midtempo rocker that seems to come from as far back as Astral Weeks with its woven, pulsing layers of acoustic guitars, though punctuated by female backing vocals, tenor saxophone, and an electric solo guitar. Interestingly, there is a play on words here, called "Here Comes the Knight," which doesn't reference the earlier version he recorded with Them, and is elliptical in terms of its lyrics. There are some longer selections here as well, in the Celtic R&B of "Tir Na Nog"; the glorious "In the Garden" (a concert staple); and the righteous frustration in "Thanks for the Information," detailing the pitfalls of the spiritual path. Combined, these tunes make for a deeply satisfying album in the least and a major – if provocative for casual fans – Morrison work that hones a fine point on the songwriter's search for transformation and transcendence as part and parcel of the spiritual process, while making music in real time." (Thom Jurek, AMG)
Tracklist:
1. Got to Go Back (5:00)
2. Oh the Warm Feeling (3:20)
3. Foreign Window (5:26)
4. A Town Called Paradise (6:18)
5. In the Garden (5:47)
6. Tir Na Nog (7:19)
7. Here Comes the Knight (3:45)
8. Thanks for the Information (7:19)
9. One Irish Rover (3:31)
10. Ivory Tower (3:44)
11. Oh the Warm Feeling (Alternative Take) (4:37)
12. Lonely at the Top (4:16)
Personnel:
Van Morrison, guitar, harmonica, vocals
Teressa "Terry" Adams, cello, string section leader on "Tir Na Nog"
Richie Buckley, tenor and soprano saxophones
Nadine Cox, harp on "Tir Na Nog"
Martin Drover, trumpet
Jef Labes, piano, synthesizer, string arrangement on "Tir Na Nog"
Chris Michie, guitar
John Platania, guitar
Rebecca Sebring, viola
Kate St. John, cor anglais, oboe
John Tenney, violin
Joseph Edelberg, violin
David Hayes, bass
Babatunde Lea, drums
June Boyce, backing vocals
Rosie Hunter, backing vocals
Bianca Thornton, backing vocals
Jeanie Tracy, backing vocals
Digitally remastered
foobar2000 1.3.7 / Dynamic Range Meter 1.1.1
log date: 2020-03-08 14:58:25

––––––––––––––––––––––––––––––––––––––––
Analyzed: Van Morrison / No Guru, No Method, No Teacher
––––––––––––––––––––––––––––––––––––––––

DR Peak RMS Duration Track
––––––––––––––––––––––––––––––––––––––––
DR9 -1.00 dB -13.75 dB 5:00 01-Got to Go Back
DR9 -1.00 dB -11.65 dB 3:20 02-Oh the Warm Feeling
DR9 -1.01 dB -13.00 dB 5:26 03-Foreign Window
DR8 -1.01 dB -11.24 dB 6:18 04-A Town Called Paradise
DR9 -1.01 dB -13.55 dB 5:47 05-In the Garden
DR8 -1.01 dB -10.56 dB 7:19 06-Tir Na Nog
DR9 -1.01 dB -13.00 dB 3:45 07-Here Comes the Knight
DR8 -1.01 dB -12.02 dB 7:19 08-Thanks for the Information
DR10 -1.01 dB -12.54 dB 3:31 09-One Irish Rover
DR8 -1.01 dB -10.85 dB 3:44 10-Ivory Tower
DR12 -1.00 dB -15.06 dB 4:37 11-Oh the Warm Feeling (Alternative Take)
DR9 -1.01 dB -11.46 dB 4:16 12-Lonely at the Top
––––––––––––––––––––––––––––––––––––––––

Number of tracks: 12
Official DR value: DR9

Samplerate: 96000 Hz
Channels: 2
Bits per sample: 24
Bitrate: 3008 kbps
Codec: FLAC
================================================================================
Thanks to the Original customer.