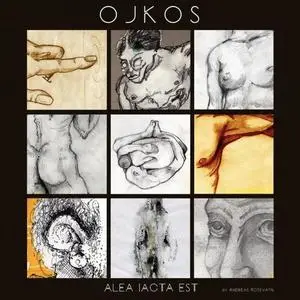 OJKOS - Alea Iacta Est (2020) [Official Digital Download]
FLAC (tracks) 24-bit/48 kHz | Front Cover | Time - 39:42 minutes | 421 MB
Jazz | Label: ODIN, Official Digital Download
When Julius Caesar crossed the Rubicon river along with his army in 49 BC he is said to have stated "Alea iacta est" – "The die is cast". Crossing this river with an army was prohibited, and doing so was seen as a declaration of war. This expression has now become a synonym for reaching a crossroads where an important decision must be made, or passing a point of no return.
Although the everyday life of trombonist and composer Andreas Rotevatn is rather different from that of Julius Caesar, it was nevertheless with a sense of having reached an important crossroads that Rotevatn began the process of establishing a jazz orchestra for composers – OJKOS – in the spring of 2018. After gathering four colleagues with a similar interest in both playing and composing, a call was sent out to find other artists in the Oslo area who would want to participate in the project. The resulting group of 16 musicians began rehearsing in the autumn of 2018, and in October OJKOS – an acronym for "Orchestra of Jazz Composers in Oslo" – held their first concert at Victoria Nasjonal Jazzscene. All of the music was composed by members of the orchestra.
In addition to the prosaic explanation of the group's name, OJKOS (or οἶκος) also means family or household in ancient Greek. And in fact being a sort of musical family for free-lance musicians was also part of the idea of the orchestra–offering a safe harbour that would provide fertile ground for creating new and modern music.
One thing was establishing OJKOS, but Rotevatn again had the feeling of reaching a turning point when it was his turn to compose a full-length concert for OJKOS in March, 2019. The time had arrived for him to make an artistic choice, and to follow his musical instincts. And when the concert date was set, and the music was ready, there was no possibility of pulling out; now the die had to be cast again. Rotevatn recalls the day of the premiere: "There was absolutely a sense of being in the midst of a toss of the die when I stood in front of the audience at Victoria getting ready to present my music. A process had begun and it couldn't be reversed. And even though my thoughts revolved around what the audience would think, it was still a fantastic feeling to stand there when I had a solid musical family behind me."
Rotevatn's aim when he composes music is that it should be advanced but accessible. This might sound like a contradiction in terms. But many of Rotevatn's main sources of inspiration have managed just that, whether it is the deep music of Igor Stravinsky, the pompous compositions of Gustav Holst, the colourful collaboration between Miles Davis and Gil Evans, the surprisingly catchy works of Steve Reich, the imposing jazz rock of Camel, the irresistible teamwork of Rod Temperton and Quincy Jones, or the electronic music of Daft Punk and Avicii.
The three opening tracks, Innsegling (Sailing In) and Breidablik 1 & 2, are based on a chord voicing that was previously Rotevatn's favourite. As he regarded this as the most beautiful of all voicings, the pieces were named after the home of the most beautiful of all Norse gods: Balder.
Following Elegi Karmosin, a piece where the instructions to the OJKOS trumpeters were "Play as if you are old Russian women on the cold tundra", are two pieces that were inspired by African music. The encounters between obscure South African pop, diatonic brass chords in a major key, and the pentatonic language of the western part of the continent are woven together by a bus journey through a minimalistic Steve Reich landscape. The explanation of the titles It's South African Time and It's West African Time is no more advanced than that they represent a wordplay on the concept of so-called African time – that sometimes one might have the impression that the approach to the clock is somewhat more relaxed on the African continent than here in the North.
The next two pieces are meditative: the bright Dikt til H (Poem to H) and the introverted Khorovod Prayer. The composer describes the two compositions: "In the first piece I wanted to show how beautiful dissonances can be. Even though the piece is based on a diatonic cluster chord, it still creates the framework for an uplifting love poem. The second piece was inspired by both The Rite of Spring and the tune Prayer from the Davis/Evans collaboration on the album Porgy & Bess. I feel that there is a similarity between these two. I suspect that Miles had listened to The Rite of Spring, and in any case I know that he was a Stravinsky fan."
The penultimate composition on the album takes its name from the track Helter Skelter on the Beatles' White Album. According to historians of the hippie era, this was one of the songs that convinced mass murderer Charles Manson that there was a race war brewing in the USA. After this revelation he sent several of his LSD-saturated followers out to commit murders. The opening melody of this track is, in fact, a recording of Manson singing, which was then altered in the studio by means of Auto-Tune, and the sound clip in the middle derived from a news report about him. After this "bad trip" of a song, the album comes to a peaceful conclusion with the warm, gospel-inspired Snow in Treschow.
TRACKLIST
1. OJKOS - Innsegling
2. OJKOS - Breidablik 1
3. OJKOS - Breidablik 2
4. OJKOS - Elegi Karmosin
5. OJKOS - It's South African Time
6. OJKOS - It's West African Time
7. OJKOS - Dikt til H
8. OJKOS - The Khorovod Prayer
9. OJKOS - Helter Skelter 2
10. OJKOS - Snow in Treschow
foobar2000 1.3.16 / Dynamic Range Meter 1.1.1
log date: 2020-06-02 01:36:12

––––––––––––––––––––––––––––––––––––––––
Analyzed: OJKOS / Alea Iacta Est
––––––––––––––––––––––––––––––––––––––––

DR Peak RMS Duration Track
––––––––––––––––––––––––––––––––––––––––
DR14 -0.98 dB -20.22 dB 1:21 01-Innsegling
DR12 -0.98 dB -14.75 dB 1:54 02-Breidablik 1
DR6 -0.19 dB -9.34 dB 3:14 03-Breidablik 2
DR9 -0.98 dB -14.85 dB 3:54 04-Elegi Karmosin
DR9 -1.02 dB -14.28 dB 3:50 05-It's South African Time
DR9 -1.02 dB -13.99 dB 3:50 06-It's West African Time
DR11 -0.98 dB -16.10 dB 5:33 07-Dikt til H
DR9 -0.88 dB -15.78 dB 5:24 08-The Khorovod Prayer
DR7 -1.48 dB -12.45 dB 6:01 09-Helter Skelter 2
DR11 -1.14 dB -17.90 dB 4:49 10-Snow in Treschow
––––––––––––––––––––––––––––––––––––––––

Number of tracks: 10
Official DR value: DR10

Samplerate: 48000 Hz
Channels: 2
Bits per sample: 24
Bitrate: 1327 kbps
Codec: FLAC
================================================================================


Thanks to the Original customer.