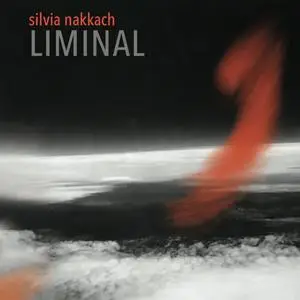 Silvia Nakkach - Liminal (2022)
FLAC (tracks) 24-bit/48 kHz | Time - 53:21 minutes | 560 MB
Studio Master, Official Digital Download | Artwork: Front cover
Liminal conveys a sense of unbounded space, a state in between states, with original music not attached to any particular form. The album is a sound journey inspired by the impermanence of the life of clouds. It invites a more open listening experience where time is dilated and carefully crafted as the space between sound and silence, and density and sparseness. Atmospheres of abstract sound merge with sparks of melodic expression, both spontaneously arising, meeting and dissolving. The musicians choose to not dwell in the center of the music, but rather as another listener. In the aural continuum, the human element becomes part of the ambience finding a new field of possibilities listening and playing with the environment itself.
"The evolution of music will be impossible without composers and musicians as Silvia Nakkach, multi-talented time-traveler, melody driven , harmonious soundscaper whom with sensitive knowledge of the higher senses translates Tone and Texture into a refined emotional and intelligent piece of Art. Lush contemporary harmonies and creative melodies that echoes on the Ancient teachings of East and West . Crystal clear production by Todd Boston and flawless performances makes the experience complete. Her new ground-breaking work "LIMINAL"opens a whole new category in music to enhance our own evolution as listeners. I welcome the return to creativity, with visionary works like this the future of Higher music is safe.Highly recommended !!!!! " - Review by Jorge Alfano, musician and producer, that have collaborated with legendary artists as Astor Piazzolla, Mercedes Sosa, Richie Havens, Peter Erskine and Robert Thomas Jr. (from Weather Report), and Glen Velez, among many others.
"Liminal is astonishing. I've been listening to it and listening to it and listening to it. This album is so important and so addictive. I have always been a cloud watcher, often dreaming of gliding on a 'magic carpet' in and through and above and beyond the cloud realm. This album is the music I will play on my carpet journeys. Each track fully embodies its name. The fluid yet deliberate creative expression of sound color, is transforming. Its subtlety catches you in its web, and later you'll understand that you have been traveling through space and you'll want to travel again, and again, and again." - Kathy (Kaby) Birdsall
Tracklist:
01. Silvia Nakkach - Liminal Clouds
02. Silvia Nakkach - Liminal Beauty
03. Silvia Nakkach - Liminal Motion
04. Silvia Nakkach - Liminal Space
05. Silvia Nakkach - Liminal Light
06. Silvia Nakkach - Liminal Rays
07. Silvia Nakkach - Liminal Glow
08. Silvia Nakkach - Liminal Dream
09. Silvia Nakkach - Liminal Moon
Personnel:
Silvia Nakkach, vocals, piano, sound design
Todd Boston, guitar, piano, keyboards, guitar-viol, sound design
David Darling, violoncello
Jeff Oster, flugelhorn, trumpet
Val Serrant, percussion, voice
foobar2000 1.3.7 / Dynamic Range Meter 1.1.1
log date: 2022-04-04 07:45:32

––––––––––––––––––––––––––––––––––––––––
Analyzed: Silvia Nakkach / Liminal
––––––––––––––––––––––––––––––––––––––––

DR Peak RMS Duration Track
––––––––––––––––––––––––––––––––––––––––
DR11 -1.58 dB -16.12 dB 5:21 01-Liminal Clouds
DR10 -1.80 dB -16.10 dB 8:47 02-Liminal Beauty
DR11 -0.06 dB -15.53 dB 6:17 03-Liminal Motion
DR11 -0.96 dB -16.48 dB 6:53 04-Liminal Space
DR11 -2.01 dB -17.64 dB 5:50 05-Liminal Light
DR10 -0.36 dB -14.88 dB 3:12 06-Liminal Rays
DR11 -0.22 dB -15.42 dB 5:45 07-Liminal Glow
DR12 0.00 dB -14.75 dB 6:12 08-Liminal Dream
DR9 -0.63 dB -15.59 dB 5:11 09-Liminal Moon
––––––––––––––––––––––––––––––––––––––––

Number of tracks: 9
Official DR value: DR11

Samplerate: 48000 Hz
Channels: 2
Bits per sample: 24
Bitrate: 1476 kbps
Codec: FLAC
================================================================================
All thanks go to the original releaser