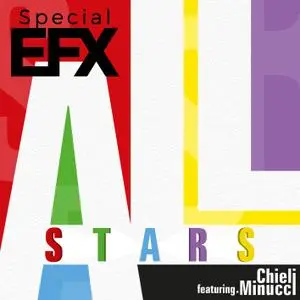 Special EFX - Special EFX Allstars (2020)
FLAC (tracks) 24-bit/48 kHz | Time - 57:24 minutes | 699 MB
Studio Master, Official Digital Download | Artwork: Front Cover
Three and a half decades after releasing Special EFX's self-titled debut album, multi-faceted composer/guitarist Chieli Minucci is still blazing innovative trails in contemporary jazz, continuously finding that musical sweet spot between in the pocket, radio ready pop/soul/funk and progressive, freewheeling world fusion.
Launching a fresh chapter in the ever-evolving, Grammy nominated group's career, their 2017 Trippin 'N' Rhythm debut Deep As The Night featured four Billboard charting singles, including the #1 "Lavish" and #2 "Deep as The Night" – the latter of which was Billboard Song of the Year for 2018.
Special EFX featuring Chieli Minucci's latest album, the intriguingly titled All Stars, is one of their most ambitious, eclectic and adventurous ever, capturing the explosive yet well-attuned synergy the guitarist has shared on the road with various lineups of renowned longtime musical collaborators these past few years. Special EFX now is a true collective, with varying elements and artists coming together to execute and build powerfully upon Minucci's expansive musical vision.
Composed, produced, arranged by Minucci, the 14-track album captures the current eclectic yet cohesive group dynamic with a multitude of colorful styles, from big brass funk and smooth jazz to powerhouse rock/soul re-imagining of Jimi Hendrix's "Little Wing", featuring jazz/R&B singer Maysa. Although Minucci's acoustic and electric guitars (and his occasional keyboards, organ and colorful beats) are prominently featured throughout, All Stars (true to its title) is fashioned as a diverse ensemble in the spirit of classic fusion outfits like Return to Forever and Weather Report – where every player gets ample time in the spotlight and some songs are written as exclusive showcases for them.
As with Special EFX's live performance gigs on the East and West coasts and numerous venues in between, there's a lot of mixing and matching on All Stars, with eighteen musicians participating in all, starting with Minucci's core NYC guys Jerry Brooks (bass), Jay Rowe (acoustic piano, keyboards), Joel Rosenblatt (drums), David Mann (saxophones, flute). In addition, the lineup includes keyboardist Lao Tizer (piano, Hammond Organ), Lionel Cordew (drums), Gerald Veasley (bass), Fernando Saunders (fretless bassist from the classic SFX lineup), Eric Marienthal (saxophone), Nelson Rangell (saxophone, flute), Regina Carter (violin), Antoine Silverman (violin), Mino Cinélu (percussion), Steve Adelson (Chapman Stick), Lin Rountree (trumpet) and the horn section of Tatum Greenblatt (trumpet, flugelhorn) and Mike Davis (trombone).
"I'm pleased to say that we've had an amazing touring situation these past few years and I've been on the road a lot, billing these different lineups as the Special EFX All-stars," Minucci says. "I have been pushing a long time to do this kind of recording and create a true family of musicians that play a lot together. Everything came together serendipitously. If there's a concept to this album, it's all about the personnel. It's much more than a 'guitar player's' album." Minucci considers two of the first three tracks on All-Stars to be "sister tunes," in that both "Mr. Marzipan" and "Hanky Panky Boys" are intense high-octane jams (the first synth-funk with rock-jazz edges, the second fiery blues-jazz swing) featuring the NY cats and the blazing horn section, with Rountree soloing on the first and Marienthal on the second. Sandwiched between those is the colorfully titled "Sunset Passion Juice," an ambient mystical piece created mostly by Minucci by himself in the studio that entwines, his electric guitar and Mann's sax.
All Stars moves into its exploratory core with the Maysa vocal "Little Wing" and the guitarist's favorite tune "Empathy," a simmering ambient rock/soul ballad featuring Mann, Tizer and Saunders, who previously played on and off with Special EFX from 1983-2000. For a long time, Minucci had been wanting to write a song for two violins, and found the perfect vehicle for Carter and Silverman with "Two Dancing," a spirited, soca-influenced global fusion track pairing the two masters of their instruments over Minucci's hypnotic beats. The All Stars journey continues with two thematically linked tunes, the violin laced classical/world music influenced "Arise" (featuring Silverman, with Tizer on acoustic grand piano) and the grooving urban jazz/rocker "Wake Up" featuring Rangell alternating on alto sax, flute and piccolo. "Sweet Memories of You" features Minucci at his melodic best, expressing a heart full of emotion with just his nylon string guitar.
Though Special EFX's vibe is different now than in their early GRP/JVC heyday when everything centered on the duo of Minucci and master percussionist George Jinda (who passed away in early 2002), the guitarist loves to pay homage to their classic style. "Kampala" features an exotic, percussion- based arrangement straight out of the globally conscious Jinda aesthetic. Written by Minucci on acoustic in a hotel room on the road, fuses a speedy shuffling locomotive groove with a fuzzy-warm electric guitar lead, Rowe's lively electric piano and Cinelu's rhythmic textures. The classic SFX blend of spacious atmospheres and rhythmic variation also drives the unique suite of "Great Escape, part 1" (a lush bass/piano interlude) and "Great Escape, part 2," which finds the NY guys dreaming up a simmering hypnotic flow that builds towards a more robust rock/fusion edge.
It's also not hard for first generation Special EFX fans to feel Jinda's spirit in the album's two closing tracks, the rollicking "Flows Like Water" (a fiery blend of bass, sax, piano, percussion and guitar) and the atmospheric, seductively hypnotic "One Stick and a Stone," which builds slowly towards an improvisational Chapman Stick and electric guitar crescendo.
In addition to co-founding Special EFX and keeping the essence of the group and its aesthetic evolving through various incarnations, Chieli Minucci has amassed a catalog of solo albums since the mid-90s, including Jewels, Renaissance, It's Gonna Be Good, Sweet on You, Night Grooves, Got It Goin' On and Travels. He has also recorded and performed with many contemporary and classic pop artists, such as Celine Dion, Lou Reed, Chaka Khan, Lionel Richie, Jennifer Lopez, Jewel, Mark Anthony, Michael Bolton, Eartha Kitt, Eddie Fisher, Anastasia, as well as fellow jazz artists Kirk Whalum, Jeff Lorber, Norman Brown, Bernie Williams, Marion Meadows, Mindi Abair, Rick Braun, Omar Hakim, and many others.
Although renowned in the jazz and pop worlds, Minucci is also a prolific TV and film composer who has won three Emmy Awards (with 10 nominations) for his eclectic compositional work on CBS' long-running soap opera "The Guiding Light." He has contributed music to films like Bowfinger, Legally Blonde and Panic, the TV shows "Dancing With The Stars," "American Idol," "Good Morning America" (theme) and Bloomberg Radio (theme), and his original scoring work can be heard in live stage productions of among others, Peter Pan, Dora the Explorer and Thomas the Tank Engine.
"Whether I'm working on TV and film, my solo projects or these Special EFX albums, my favorite aspect of creating music is the arranging," says Minucci. "Once the melodies and chords are decided on, everything people hear depends on the right production and arrangements. I liken it to putting on clothing, where the rhythm, melody and chords are like a person's body, and the styles and instruments of the arrangement are like the clothes that allow you to present yourself to the world in a stylish way. I'm blessed to have so many stellar musicians as part of the Special EFX All-Stars family – and you never know how these arrangements will take off and evolve once we hit the road again."
Tracklist:
01. Mr. Marzipan (5:10)
02. Sunset Passion Juice (4:18)
03. Hanky Panky Boys (5:04)
04. Little Wing (5:31)
05. Empathy (3:35)
06. Two Dancing (4:32)
07. Arise (1:14)
08. Wake Up (4:44)
09. Sweet Memories Of You (2:05)
10. Kampala (6:00)
11. Great Escape, Pt. 1 (1:11)
12. Great Escape, Pt. 2 (5:05)
13. Flows Like Water (5:54)
14. One Stick and a Stone (3:08)
Personnel:
Chieli Minucci, electric & acoustic guitars
Joel Rosenblatt, drums
Jerry Brooks, bass
Jay Rowe, keyboards
foobar2000 1.3.7 / Dynamic Range Meter 1.1.1
log date: 2020-02-12 00:33:16

––––––––––––––––––––––––––––––––––––––––
Analyzed: Special EFX / Special EFX Allstars
––––––––––––––––––––––––––––––––––––––––

DR Peak RMS Duration Track
––––––––––––––––––––––––––––––––––––––––
DR9 -1.21 dB -12.11 dB 5:10 01-Mr. Marzipan
DR9 -1.21 dB -11.77 dB 4:18 02-Sunset Passion Juice
DR10 -1.17 dB -12.45 dB 5:04 03-Hanky Panky Boys
DR9 -1.21 dB -11.57 dB 5:31 04-Little Wing
DR8 -1.21 dB -11.07 dB 3:35 05-Empathy
DR10 -1.31 dB -12.22 dB 4:32 06-Two Dancing
DR9 -1.21 dB -13.34 dB 1:14 07-Arise
DR10 -1.21 dB -11.90 dB 4:44 08-Wake Up
DR10 -0.79 dB -13.98 dB 2:05 09-Sweet Memories Of You
DR10 -1.16 dB -12.47 dB 6:00 10-Kampala
DR12 -0.77 dB -16.38 dB 1:11 11-Great Escape, Pt. 1
DR9 -0.61 dB -12.37 dB 5:05 12-Great Escape, Pt. 2
DR11 -0.60 dB -13.10 dB 5:54 13-Flows Like Water
DR9 -0.70 dB -12.35 dB 3:08 14-One Stick and a Stone
––––––––––––––––––––––––––––––––––––––––

Number of tracks: 14
Official DR value: DR10

Samplerate: 48000 Hz
Channels: 2
Bits per sample: 24
Bitrate: 1596 kbps
Codec: FLAC
================================================================================
Thanks to the Original customer.