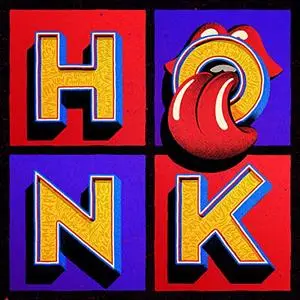 The Rolling Stones - Honk (Deluxe) (2019/2020)
FLAC (tracks) 24-bit/44.1 kHz | Time - 200:36 minutes | 2,35 GB
Studio Master, Official Digital Download | Artwork: Front cover
The Rolling Stones release a brand-new Best Of compilation album, Honk, featuring the biggest hits and classic cuts from every Rolling Stones studio album from 1971 - 2016's Blue & Lonesome. The 47-track release includes eight Top 10 singles, "Brown Sugar," "Tumbling Dice," "Angie," "It's Only Rock'n'Roll (But I Like It)," "Fool To Cry," "Miss You," "Emotional Rescue" and "Start Me Up." and more. Exclusive to the Deluxe edition is a 10-track offering of live recordings taken from various concerts in the band's storied touring history.
Tracklist:
01 - The Rolling Stones - Living In A Ghost Town
02 - The Rolling Stones - Start Me Up
03 - The Rolling Stones - Doom And Gloom
04 - The Rolling Stones - Brown Sugar
05 - The Rolling Stones - Beast Of Burden
06 - The Rolling Stones - Wild Horses
07 - The Rolling Stones - Angie
08 - The Rolling Stones - Miss You
09 - The Rolling Stones - Rocks Off
10 - The Rolling Stones - Don't Stop
11 - The Rolling Stones - Tumbling Dice
12 - The Rolling Stones - Ride 'Em On Down
13 - The Rolling Stones - Rain Fall Down
14 - The Rolling Stones - Love Is Strong
15 - The Rolling Stones - Mixed Emotions
16 - The Rolling Stones - Doo Doo Doo Doo Doo (Heartbreaker)
17 - The Rolling Stones - It's Only Rock'n'Roll (But I Like It)
18 - The Rolling Stones - Emotional Rescue
19 - The Rolling Stones - Waiting On A Friend
20 - The Rolling Stones - Just Your Fool
21 - The Rolling Stones - Dancing With Mr. D
22 - The Rolling Stones - Streets Of Love
23 - The Rolling Stones - Fool To Cry
24 - The Rolling Stones - Harlem Shuffle
25 - The Rolling Stones - Bitch
26 - The Rolling Stones - Hot Stuff
27 - The Rolling Stones - Respectable
28 - The Rolling Stones - Undercover (Of The Night)
29 - The Rolling Stones - Hate To See You Go
30 - The Rolling Stones - Out Of Control
31 - The Rolling Stones - Rock And A Hard Place
32 - The Rolling Stones - Happy
33 - The Rolling Stones - Out Of Tears
34 - The Rolling Stones - Rough Justice
35 - The Rolling Stones - You Got Me Rocking
36 - The Rolling Stones - Saint Of Me
37 - The Rolling Stones - One More Shot
38 - The Rolling Stones - Get Off Of My Cloud
39 - The Rolling Stones - Dancing With Mr. D
40 - The Rolling Stones - Beast Of Burden
41 - The Rolling Stones - She's A Rainbow
42 - The Rolling Stones - Wild Horses
43 - The Rolling Stones - Let's Spend The Night Together
44 - The Rolling Stones - Dead Flowers
45 - The Rolling Stones - Shine A Light
46 - The Rolling Stones - Under My Thumb
47 - The Rolling Stones - Bitch
foobar2000 1.3.7 / Dynamic Range Meter 1.1.1
log date: 2020-04-26 22:49:26

––––––––––––––––––––––––––––––––––––––––
Analyzed: The Rolling Stones, Brad Paisley / Honk (Deluxe) (1)
The Rolling Stones, Dave Grohl / Honk (Deluxe) (2)
The Rolling Stones, Ed Sheeran / Honk (Deluxe) (3)
The Rolling Stones, Florence Welch / Honk (Deluxe) (4)
The Rolling Stones / Honk (Deluxe) (5-47)
––––––––––––––––––––––––––––––––––––––––

DR Peak RMS Duration Track
––––––––––––––––––––––––––––––––––––––––
DR6 0.00 dB -7.28 dB 5:25 44-Dead Flowers
DR7 0.00 dB -7.45 dB 5:16 47-Bitch
DR6 0.00 dB -7.52 dB 4:16 40-Beast Of Burden
DR6 0.00 dB -8.26 dB 4:49 42-Wild Horses
DR6 0.00 dB -8.61 dB 4:07 01-Living In A Ghost Town
DR8 0.00 dB -9.41 dB 3:33 02-Start Me Up
DR7 0.00 dB -8.72 dB 3:59 03-Doom And Gloom
DR7 0.00 dB -8.29 dB 3:50 04-Brown Sugar
DR8 0.00 dB -9.61 dB 4:25 05-Beast Of Burden
DR7 0.00 dB -10.17 dB 5:43 06-Wild Horses
DR8 0.00 dB -10.40 dB 4:32 07-Angie
DR8 0.00 dB -10.43 dB 4:49 08-Miss You
DR7 0.00 dB -8.94 dB 4:33 09-Rocks Off
DR8 0.00 dB -9.33 dB 3:59 10-Don't Stop
DR8 0.00 dB -9.05 dB 3:46 11-Tumbling Dice
DR7 0.00 dB -8.12 dB 2:50 12-Ride 'Em On Down
DR7 0.00 dB -9.18 dB 4:54 13-Rain Fall Down
DR7 0.00 dB -8.33 dB 3:47 14-Love Is Strong
DR7 0.00 dB -8.54 dB 4:39 15-Mixed Emotions
DR7 -0.62 dB -9.69 dB 3:28 16-Doo Doo Doo Doo Doo (Heartbreaker)
DR7 0.00 dB -8.25 dB 5:08 17-It's Only Rock'n'Roll (But I Like It)
DR9 0.00 dB -10.74 dB 5:40 18-Emotional Rescue
DR9 0.00 dB -10.70 dB 4:35 19-Waiting On A Friend
DR9 0.00 dB -9.88 dB 2:18 20-Just Your Fool
DR6 -0.97 dB -8.63 dB 4:53 21-Dancing With Mr. D
DR7 0.00 dB -10.25 dB 5:09 22-Streets Of Love
DR8 0.00 dB -11.13 dB 5:06 23-Fool To Cry
DR8 0.00 dB -9.23 dB 3:25 24-Harlem Shuffle
DR6 0.00 dB -8.07 dB 3:38 25-Bitch
DR7 0.00 dB -9.39 dB 5:22 26-Hot Stuff
DR7 -0.08 dB -8.58 dB 3:08 27-Respectable
DR8 0.00 dB -9.61 dB 4:33 28-Undercover (Of The Night)
DR8 0.00 dB -8.74 dB 3:22 29-Hate To See You Go
DR7 0.00 dB -11.08 dB 4:45 30-Out Of Control
DR8 0.00 dB -9.33 dB 5:25 31-Rock And A Hard Place
DR7 0.00 dB -8.53 dB 3:06 32-Happy
DR7 -0.07 dB -11.13 dB 5:28 33-Out Of Tears
DR6 0.00 dB -8.23 dB 3:12 34-Rough Justice
DR7 0.00 dB -8.35 dB 3:36 35-You Got Me Rocking
DR8 0.00 dB -9.65 dB 5:16 36-Saint Of Me
DR7 0.00 dB -8.70 dB 3:03 37-One More Shot
DR7 0.00 dB -7.88 dB 3:21 38-Get Off Of My Cloud
DR8 0.00 dB -8.75 dB 4:37 39-Dancing With Mr. D
DR7 0.00 dB -8.31 dB 3:23 41-She's A Rainbow
DR7 0.00 dB -7.31 dB 4:05 43-Let's Spend The Night Together
DR7 0.00 dB -8.25 dB 4:12 45-Shine A Light
DR7 0.00 dB -7.71 dB 4:31 46-Under My Thumb
––––––––––––––––––––––––––––––––––––––––

Number of tracks: 47
Official DR value: DR7

Samplerate: 44100 Hz
Channels: 2
Bits per sample: 24
Bitrate: 1693 kbps
Codec: FLAC
================================================================================
All thanks go to the original releaser