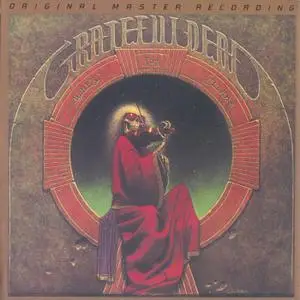 Grateful Dead - Blues For Allah (1975) [MFSL 2019]
PS3 Rip | SACD ISO | DSD64 2.0 > 1-bit/2.8224 MHz | 44:07 minutes | Scans included | 1,22 GB
or FLAC (converted with foobar2000 to tracks) 24bit/96 kHz | Full Scans included | 1017 MB
Mobile Fidelity Sound Lab # UDSACD 2198
"If you get confused, listen to the music play", counsels Grateful Dead leader Jerry Garcia on Blues for Allah. Surely, better advice has never been given. The band's only release during a self-imposed hiatus that lasted nearly 20 months, and the effort that witnessed the welcome return of percussionist Mickey Hart, the 1975 album marks the rebirth of a signature naturalism, spiritualism, and energy that had begun to fray because of ceaseless touring and financial pressures. And as experienced on this audiophile-caliber reissue, such inspired élan and elevated performance facets - embraced literally and figuratively on Bob Weir's hallmark "The Music Never Stopped" anthem - achieve transcendent heights.
Mastered from the original master tapes and strictly limited to 2,500 numbered copies, Mobile Fidelity's hybrid SACD possesses seemingly limitless dynamics, reference-grade presence, expansive soundstages, crystalline transparency, and a wealth of previously obscured information. Strongly informed by jazz themes and organic progressions, the album's arrangements unfold as a series of interlocking puzzle pieces that, together, comprise an adventurous landscape informed by compound structures, angelic harmonies, chiming tones, and brilliant colors. Every member's vocals resound with tube-like clarity and remain entirely free of artificial ceilings or unintended blurring.
The Grateful Dead went into a state of latent activity in the fall of 1974 that lasted until the spring of the following year when the band reconvened at guitarist/vocalist Bob Weir's Ace Studios to record Blues for Allah. The disc was likewise the third to be issued on their own Grateful Dead Records label. When the LP hit shelves in September of 1975, the Dead were still not back on the road – although they had played a few gigs throughout San Francisco. Obviously, the time off had done the band worlds of good, as Blues for Allah – more than any past or future studio album – captures the Dead at their most natural and inspired. The opening combo of "Help on the Way," "Slipknot!," and "Franklin's Tower" is a multifaceted suite, owing as much to Miles Davis circa the E.S.P. album as to anything the Grateful Dead had been associated with. "Slipknot!" contains chord changes, progressions, and time signatures which become musical riddles for the band to solve – which they do in the form of "Franklin's Tower." Another highly evolved piece is the rarely performed "King Solomon's Marbles," an instrumental that spotlights, among other things, Keith Godchaux's tastefully unrestrained Fender Rhodes finger work displaying more than just a tinge of Herbie Hancock inspiration. These more aggressive works contrast the delicate musical and lyrical haiku on "Crazy Fingers" containing some of lyricist Robert Hunter's finest and most beautifully arranged verbal images for the band. Weir's guitar solo in "Sage & Spirit" is based on one of his warm-up fingering exercises. Without a doubt, this is one of Weir's finest moments. The light acoustic melody is tinged with an equally beautiful arrangement. While there is definite merit in Blues for Allah's title suite, the subdued chant-like vocals and meandering melody seems incongruous when compared to the remainder of this thoroughly solid effort.
Tracklist:
01. Help On The Way/Slipknot!
02. Franklin's Tower
03. King Solomon's Marbles
04. The Music Never Stopped
05. Crazy Fingers
06. Sage & Spirit
07. Blues For Allah
Personnel
Jerry Garcia – guitar, vocals
Donna Jean Godchaux – vocals
Bob Weir – guitar, vocals
Keith Godchaux – keyboards, vocals
Phil Lesh – bass guitar
Mickey Hart – percussion, crickets
Bill Kreutzmann – drums, percussion
Mastered by Shawn R. Britton at Mobile Fidelity Sound Lab, Sebastopol, CA.
foobar2000 1.5.2 / Dynamic Range Meter 1.1.1

––––––––––––––––––––––––––––––––––––––––
Analyzed: GRATEFUL DEAD / Blues For Allah
––––––––––––––––––––––––––––––––––––––––

DR Peak RMS Duration Track
––––––––––––––––––––––––––––––––––––––––
DR13 -6.95 dB -22.39 dB 7:20 01-Help On The Way/Slipknot!
DR14 -6.15 dB -22.50 dB 4:33 02-Franklin's Tower
DR13 -7.99 dB -23.50 dB 5:14 03-King Solomon's Marbles
DR13 -7.30 dB -22.74 dB 4:36 04-The Music Never Stopped
DR14 -7.33 dB -23.80 dB 6:41 05-Crazy Fingers
DR12 -7.29 dB -23.40 dB 3:07 06-Sage & Spirit
DR13 -7.61 dB -23.55 dB 12:35 07-Blues For Allah
––––––––––––––––––––––––––––––––––––––––

Number of tracks: 7
Official DR value: DR13

Samplerate: 2822400 Hz / PCM Samplerate: 176400 Hz
Channels: 2
Bits per sample: 1
Bitrate: 5645 kbps
Codec: DSD64


Thanks to PS³SACD!
Uncompressed SACD ISO size > 1,77 GB
Grateful Dead - Workingman's Dead (1970) [MFSL 2014]
Grateful Dead - American Beauty (1970) [MFSL 2014]
Grateful Dead - From The Mars Hotel (1974) [MFSL 2019]
>