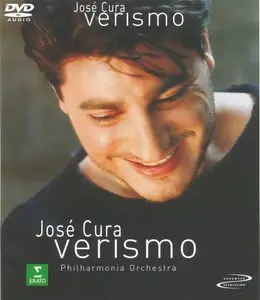 José Cura - Verismo (Philarmonia Orchestra) [1999] (DVD-Audio ISO) [2002]
DVD Audio Image (.ISO) = 3.02 GB | Complete Scans PDF (800 dpi): 25 MB | 400 Mb RARs | Watermarked
MLP 6-channel 96Khz/24-bit | Dolby Digital 5.1 channel surround
Cura set himself a hard act to follow in his outstanding debut disc of Puccini arias, but here he lives up to that reputation with an imaginative programme drawn from no fewer than six verismo composers. Leoncavallo's Pagliacci is the logical place to start, even if the Prologue – effectively a verismo manifesto – is really a baritone piece; the Argentinian tenor's rich, dark tone is well suited to such music, and the only shortcoming here is his indulgent introspection when the character should be addressing his audience. It's all the more surprising giving the gutsy orchestral opening he draws in his dual role as conductor. Pag has to be matched with something from Cav, and Cura is ideal in this music, which can also take his old-fashioned glottal sobs. But just as Pagliacci is not the only Leoncavallo opera represented here, nor is Cavalleria rusticana the only Mascagni, and one of the highlights is the big scene from his Guglielmo Ratcliff. 'Nel verde maggio' from Catalani's Loreley is a welcome reminder that he was more than a one-opera or indeed one-aria composer, and a Giordano rarity, Marcella, is also included. The Franchetti may be of curiosity value only, but Federico's famous aria from Cilea's L'arlesiana reveals Cura at his gentle, lyrical best.
– John Allison, BBC Music Magazine
Track listing

1. - 2. Pagliacci (Ruggero Leoncavallo)
3. Loreley (Alfredo Catalani)
4. - 5. Andrea Chénier (Umberto Giordano)
6. Fedora (Umberto Giordano)
7. - 8. Adriana Lecouvreur (Francesco Cilea)
9. L'Arlesiana (Francesco Cilea)
10. Germania (Alberto Franchetti)
11. Cavalleria Rusticana (Pietro Mascagni)
12. Lodoletta (Pietro Mascagni)
13. Guglielmo Ratcliff (Pietro Mascagni)


Running time: 76 min.

Artists: José Cura

Philarmonia Orchestra
THIS ISO IS WATERMARKED